Implementing mudrooms offers order to any home.
By Laurel Vernazza
Home – the place we unwind from a busy day of work, sports and outdoor activities. Where we drop our stuff and get in our comfy clothes so we can relax – unless, of course, all that stuff you drop is in the middle of your kitchen, living room or all over the counters – not very relaxing. This is where the mudroom comes in.
The mudroom (AKA drop-zone) is probably one of the most important rooms in the house to keep order and sanity, especially with the kids back in school. If you don't have a mudroom or the one you have is too small, renovating or adding a mudroom is a relatively inexpensive addition to your home but the benefits are priceless.
There are so many different options for the mudroom and you can tailor it to your needs, design style and budget. If you are not sure where to start, here are some of the current design trends:
INCREASED SQUARE FOOTAGE
Increased size is a BIG trend. In addition to traditional mudroom gear, many families are opting to include drop spots for Amazon shipments and grocery deliveries. If you're renovating your current mudroom and can't expand on square footage, look to maximize the space you have by installing upper cabinets or floor to ceiling lockers – you may not be able to go out, but you can go up.
If you don't have a mudroom and can't do an addition, look to repurpose the square footage you already have. Change the laundry room into a dual purpose mudroom/laundry station and increase the space you have with a stackable washer and dryer.
PET-WASH STATION
Pets are part of the family as well and unfortunately, they need to go outside in all kinds of weather. From snow to mud, they can be pretty messy when they come in. A pet wash station in your mudroom is a great place to clean off those dirty paws. Pet-wash stations can include everything from simple mats and a cubby for towels, to a special sink/shower area to rinse off whatever your furry friend got into.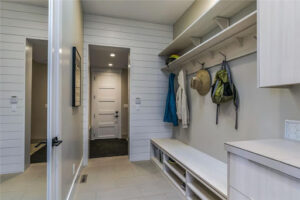 DESIGN
Doors keep the mudroom separate from the house and the style is up to you. Some homeowners like a door with windows so they can see their kids when they come home or to let more natural light in. Some prefer to not have windows since it can get a little messy (especially if combined with the laundry room) and the door "hides" the mess from the rest of the house.
Lighting for the mudroom should be nice and bright with options for softer lighting. Put in those high hats for the days you need lots of light but have a dimmer on them so you can adjust the level of brightness. We've also seen some mudrooms with a chandelier or pendant lighting – the choice is yours.
The use of color on the walls is a great way to hide mud and dirt stains, especially from little hands. If you don't like a darker color, you can lighten it up by adding lighter pillows or bench cushions, this softens the look of the room. Like the look of a crisp clean white/beige mudroom? Then make sure to use materials that can easily be wiped down and cleaned.
Waterproof or water resistant flooring is the best option for a mudroom since it will get wet. There are many types to choose from – vinyl planks, vinyl sheets and ceramic tile (although this could get slippery so use caution). There are styles available to fit everyone's taste.
ORGANIZATION
Lockers, open or closed, are a great way to organize the mudroom allowing everyone their own area for their personal belongings. Shoe cubbies or benches with storage underneath are a great way to declutter. There should also be lots of hooks for jackets or bags. If you have room for big bins, that's also a great way to store sporting equipment such as footballs, soccer balls, basketballs, gloves etc.
No matter your style or budget, there is a mudroom out there for you just waiting to be designed (or built) and with all of the options now available, you're bound to find exactly what you love.
LAUREL VERNAZZA is a Home Design Expert and Busy Mom – The Plan Collection