3 Ways COVID-19 Will Impact the Future of Residential Interior Design
The most important fundamentals have changed thanks to what our society has experienced.
By Josh Kassing
Thanks to the pandemic, homes have become far more than mere living spaces. It doesn't matter whether those homes are multi-family apartments or single-families, small or expansive, humble or luxurious, urban or suburban. People have found new ways to work, study, exercise, play and entertain using existing spaces. This need for adaptive spaces has enormous consequences for the future of residential interior design.
As commercial interior designers for new single-family and multi-family home developments, we read the proverbial tea leaves all the time when we look at psychographics. This data gives us deep insights into consumers' values, opinions, attitudes, interests, lifestyles, aspirations and other relevant psychological criteria. That awareness helps us develop design programs that speak to target markets. Our current research tells us homes aren't going back to their pre-pandemic states anytime soon, if ever.
People have different wants and needs for their homes—and perhaps greater expectations—because of their experiences during the COVID-19 pandemic.
Commercial and Residential Interior Design Is Entering a New Era
The upshot? Builders and developers who want to remain relevant, effective and profitable must step up their products to meet new needs. The need for innovation is especially critical right now, as new home sales have far outstripped the sales of existing homes so far this year.
In fact, the data holds promise for residential builders and developers. July 2020 new home sales soared to 13.9%, the highest level since December 2006, U.S. Census Bureau data shows. Not only are new homes favored over resales, and as more people continue to work from home suburban or even rural areas are more attractive now. They offer greater square footage and more outside space, MarketWatch notes. The same holds true for apartments; suburban areas are gaining renters faster than urban areas in 19 out of nation's top 20 metro areas, RentCafe notes.
As residential builders and developers move forward with new single-family and multi-family developments, they must heed new fundamentals. For example, some of the ways residential design will change will be determined by science. Just as the 1918 Spanish flu pandemic gave us powder rooms close to front entries (so visitors could wash their hands upon entry), COVID-19 will spawn a range of changes.
This is exacerbated by a chilling likelihood that pandemics may become a recurring event. Infectious diseases have been emerging more quickly than ever … Over 40 deadly viruses have been discovered since the 1970s," Forbes notes. And they spread with lightning speed today because we live in densely populated areas and travel frequently.
How Commercial and Residential Interior Design Is Shifting Now
With the risk of future pandemics, will "Zoom rooms" or home gyms become requisites? People have different wants and needs for their homes—and perhaps greater expectations—because of their experiences during the COVID-19 pandemic. While there's no way to make long-term predictions, here are three significant changes we are already implementing:
Spending and pricing will present a new reality. After living with strict constraints for so long, people will be attuned to the flaws they perceived in their residences during the pandemic. In response, they will want "faultless," problem-free residences that draw buyers to new construction. Yet at the same time, thanks to the pandemic's economic fallout and fear that the virus may linger or re-emerge, what constitutes luxury is recalibrating. Spending is shifting to less obvious enhancements of utility, comfort and safety. Overt and expensive is out in everything from fixtures and finishes to architectural elements and furnishings. In our residential interior design projects, we have addressed this with thoughtfully curated palettes of finishes that offer builders and developers economies of scale and high-quality, multipurpose furnishings that will stand the tests of time and use.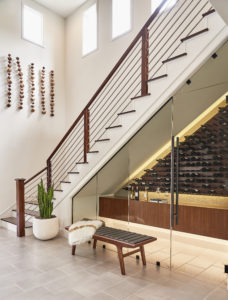 How spaces are programmed will change. While open-plan, ever-larger houses have been trending for almost a half-century, growing from 1,660 square feet in 1973 to 2,687 in 2015, since that time average home sizes have shrunk more than 80 square feet. Millennials have different wants than prior generations—needs now exacerbated by the pandemic. Boomers' tastes have changed as well. Open-plan space will not go away, but floor plans will have to accommodate rooms that can be configured in different ways. Home schooling won't likely be a long-term concern, but the right kind of space for working from home will. Virtual calls are tough to conduct in open-plan spaces—no matter how cleverly furnished a space is to compensate. Also, flexible space is not necessarily open space; rooms may have alcoves that can become Zoom rooms or full-service home offices. Programming spaces to be mutable, and using them creatively, will be key going forward. We have turned large walk-in closets into offices, gaming spaces and music rooms that double as recording studios.
Modern Farmhouse style will give way to Modhouse. Last year, the New York Times proclaimed, "We are living in the age of the Modern Farmhouse," but the nostalgic aesthetic may have run its course. We second that opinion. The style doesn't speak to all, and its most prominent elements—from retro or rustic furnishings to raw lightbulbs and rough-hewn millwork—are relatively homespun and border on kitsch. Plus, to state the obvious, trends come and go. Enter the Modhouse, the phrase we have coined for a more sophisticated, forgiving and fulfilling concept that showcases timelessness, simplicity and character. Its major tenets—clean lines, mixed metals, heavy texture and light, simple but well-appointed treatments on all surfaces and walls—let residents use pieces that tell a more personal story with character pieces, statement-making fixtures, personalized art and global accessories.
Josh Kassing is the founder and principal of Mary Cook Associates, a full-service commercial interior design firm that focuses on the homebuilding and hospitality industries. She may be reached at www.marycook.com.