Craftsmanship of Timeless Design
By Stephanie Consiglio
One of the leaders in the homebuilding industry, McCaffrey Homes has had plentiful success in their communities. A home isn't just a home. It is a place to create memories and McCaffrey Homes doesn't just create homes they build dreams for all types of families. The Company is a family owned and operated and has been for three generations. The Company was started by Jon Bonadelle, who was joined by his daughter Karen and her husband Robert McCaffrey. The Company specializes in residential construction, land development, mortgage brokering as well as farming. McCaffrey Homes has built quality homes and desirable communities throughout California's Central San Joaquin Valley.
Today, McCaffrey Homes has built over 8,000 homes, easily earning the trust and respect of their homeowners year after year. This is prevalent through their many industry awards as well as community accolades. They have won awards in many different areas from Best Landscape Design to Best Product Design. McCaffrey Homes has also won the Eliant Homebuyers award as well as the Fresno Bee's People's Choice Award.
Continuing on with their excellence in homebuilding, their newest project on the market is The Gallery in Clovis, Calif., priced starting at $230,000 that is expectant to sell out by 2015 with half of it already off the market. As the name suggest, The Gallery creates homes that as if the homebuyer is living in art. The design is fluid and more than a construction project. McCaffrey Homes is diligent in their homebuilding process making each step as important as the next. This beautiful community is located in Loma Vista, the desirable master planned urban village. Loma Vista is community nestled at the foot of the Sierra National Forest and east of Old Town Clovis. Thoughtfully designed, Loma Vista encompasses about 3,300 acres and offers small town charm. Themed with timeless "Craftsman" architecture that captures a sense of character. Loma Vista is an environmentally friendly neighborhood village where communities are joined with 20 miles of bicycle and pedestrian paths and many shared open spaces with parks for family enjoyment.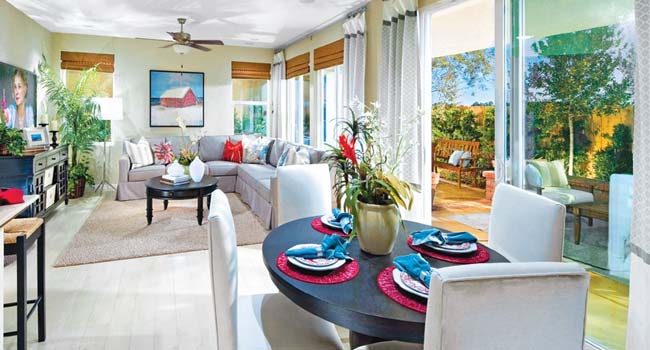 Every home is built with a solid foundation. Homebuyers are a part of the building process from the very beginning as they can personalize their home to as they wish. A fresh, new concept in home designs that artfully blends indoor and outdoor living The Gallery consists of 212 homes ranging from approximately 1,308 square feet to 2, 245 square feet and go up to four bedrooms and three and half baths. Families can personalize by choose the home lay out that matches their own style. These innovative home designs fit every chapter in life with ease. Buyers can have a choice between the timeless Cottage, French Country and the Tuscan either with stone or brick accents, which also vary per exterior design. Dramatic floor plans with highend finishes like granite counters in the kitchen and bathrooms. The flexible living spaces flow seamlessly to the outdoors.
This project is unlike most others in the fact that the single-and two-story residences are designed around the concept of the yard as an extension of the family's home. These architectural styles include three different front and backyard landscaping that add to the neighborhood distinction. The architecturally selected exterior colors were meticulously determined to enhance curb appeal. Private balconies that are the size of rooms, welcome front courtyards, covered back patios and private side gardens expand the options for both indoor and outdoor living areas. Families can be assured that their home in a neighborhood with top-rated schools.
The Gallery is ideally located across from Clovis Unified state-of-the-art Reagan Educational Center, so kids K through 12 can even walk to school. The Gallery is also conveniently located near shopping, dining, and employment centers saving time and energy in commutes. Loma Vista gives that small town feel, but homebuyers still have access to bigger cities. This is McCaffrey Homes' sixth community they have built in Loma Vista, which has become one of the largest submarkets of the Fresno and Clovis Area.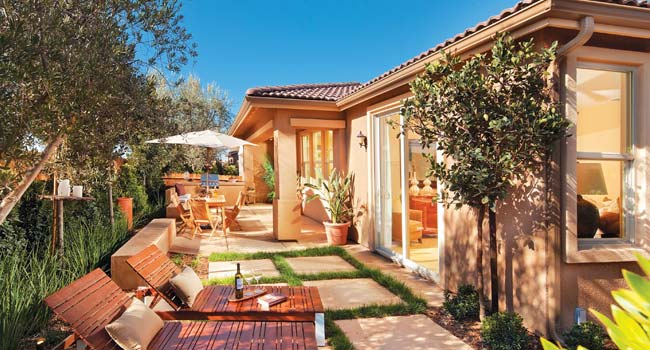 While staying true to their roots as one of the best local builders to the area, McCaffrey Homes has also embraced environmentally friendly features within their homes. The Company has created the program McCaffrey Earth Sense making sustainable solutions from the ground up. Earth Sense is a comprehensive program with smart environmental solutions for livable neighborhoods with quieter, more comfortable homes that consume less energy, water and other natural resources.
McCaffrey homes are filled with numerous energy efficient features such as radiant roof barrier, higher efficiency insulation, insulated stucco system, high performance low-e windows, tankless water heater, and more. The Gallery includes Whirlpool® and ENERGY STAR® appliances, such as the dishwasher, a built-in kitchen cabinet recycle center, and WaterSenseSM labeled bathroom faucets & showerheads to help reduce water consumption. The outdoor living space is also included to reduce the homes carbon footprint with water saving smart irrigation control with moisture sensors and drip irrigation at the shrubs and trees.
McCaffrey Homes isn't only a leading industry homebuilder, but a community leader also. They recently have donated $25,000 in scholarships that will help future planners create sustainable communities. This is the McCaffrey's second scholarship program at Fresno State. The McCaffrey-Knowlton Scholarship will fund two $2,500 scholarships per year for the next five years for students in Fresno State's Department of Geography, City and Regional Planning. This is evidence that the Fresno and Clovis area are on top for the U.S. housing markets.
This year Robert A. and Karen Bonadelle McCaffrey have been selected as Hall of Fame inductees for personifying the quintessence of the homebuilding industry with skill, vision, pliability and fortitude. The McCaffrey family does what know other homebuilder does by not only creating communities from the ground up, but being a huge impact on these communities through building for Habitat for Humanity and HomeAid to donating to schools and hospitals. In a McCaffrey home there is no worry about falling in love with the comfort of the home, but also the comfort of the entire neighborhood.
Stephanie Consiglio is an assistant editor for Builder and Developer magazine. She may be reached at sconsiglio@penpubinc.com.