Creating An Interesting Interior
Functional and aesthetically pleasing space begins with one element
By Barbara Schmidt
In all the years I've been both an interior and set designer, there has always been one element that starts the design process. There is a desired look and feel to a space, and there is desired functionality. Hopefully both are achieved, but rarely do we devise a space without a client involved that is trying to build what is in their imagination. Whether it's commercial or residential interiors, there is an end goal of how a client will feel in a space.
Start with one element that seems to be one that has to be there and then build your room from that element
In our world, I've been asked to design some very interesting spaces to achieve that goal. Many of these interiors were developed into trend pieces for editorials because they were so unique. Most of these interiors appeared in publication and some went on to be shared with some of the retailers' and manufacturers' messaging for marketing. Here are some pointers to consider when developing your dream interior:
Color Your World
A lot of residential interior design these days is very black and white. It's predictable and repetitive, and safe. If you are selling your home, go ahead and stick to the vanilla formula of "farmhouse" or "cottage." However, if your heart jumps a beat when you see a certain color, try to weave it in where you can. Everyday you see that color, your heart will be in its happy place.
With the featured photo, I was asked to create a space with this vintage Vladamir Kagan purple couch. It was a very special piece that had been loaned to us for a paint manufacturer's color story, so an editor asked if I could find other pieces to go with it.
Remarkably, I found a lavender and orange faux wood patterned laminate and placed it on the back wall. It was mod in an organic way. The rug is from one of my favorite trade dealers and the totem from a chain home decor store.
The point is that it all started with the love of that lilac sofa. I made it work by falling a little in love with it, enough to visualize and design with it. This is what I try to do with appliances, countertops, cabinetry, artwork, etc. See the good in a piece or a building material, and then you can imagine shifting your lifestyle to enjoy it. This shot feels very '60s, Moroccan, and modern all at the same time, which ties nicely into my next pointer:
Mix It Up
One of my favorite designers, the world-famous Kelly Wearstler, loves to mix eras and styles. She was the very first person I noticed bringing back '80s silhouettes in furniture and decor. She plays with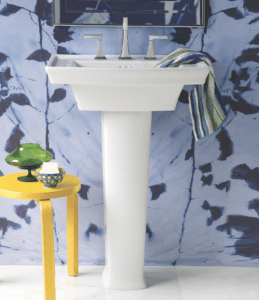 scale and genres so successfully that every time I look at one of her spaces, it feels surprising and comfortable at the same time.
So here is my rule of thumb, if you need comfort first, let's figure out what that means. Is it a chair that swivels? Or a sofa with three seats? Or even a countertop just a bit higher?
The trickiest question of all — what era do you feel most comfortable in? Is it mid century, farmhouse, transitional or modern? At this point in the conversation, I usually share visuals to figure that out with a new client. With existing clients I learn what they like and what they don't like very quickly. Any good designer should be able to design for others as well as themselves.
Right now there is a surging trend of velvet furniture with either '30s or '80s lines to them. These upholstered pieces are bulbous and often fully upholstered, including the legs and feet. The seat shown above is actually an outdoor furniture piece from years ago. It's still sold at a major retailer, so I'm sure it's still fitting this "fat furniture" look that's been trending.
The really unusual part of this design was the round window wall in the lanai. Everything was square and linear so we mixed up the interior design by adding a giant circle for natural light. Blending with architecture is another hallmark of our design process.
Repeat Patterns
Have you seen a lot of murals lately? We have too. There are many choices and you can even create your own and have it printed. Some of my personal favorites are large organic patterns whether for walls or fabric.
This unusual bathroom was designed with the transitional fixtures first, and then we were asked to do something different. So I went to my friend who creates custom wall covering to find out what I could specify.
This artist's work existed already, so I was able to choose the proportion and the color. The manufacturer printed it for me in 4'X 8' sheets. This was simple to install as well.
Some of the latest developments allow for easy removal for rentals and dorm rooms. So, if there is something that the client loves, we can create custom wall covering, fabric, laminate, flooring or artwork for that really interesting touch.
We love to say that anything can be done with time and budget, so dream big because we just might be able to create whatever you are looking for. Start with one element that seems to be one that has to be there and then build your room from that element. Bird by bird, as they say, is the key to building a room design that is curated and carefully collected.
Barbara Schmidt is a nationally published interior designer and marketing expert known for her authentic storytelling about spaces, places and trends @ studiobstyle.com