Drees Boasts Custom-Made Country Estates
These days, homebuilders are creating communities that allow homeowners to have a say in every detail from cabinetry to countertops. This ever-growing trend is allowing homeowners to feel a connection to their home and feel involved throughout the process. Starting in 2014 with construction ongoing, family-owned homebuilder Drees Homes delivers this technique at Morgan Farms in Brentwood, Tennessee.
Developed by Forestar Group, the community includes 173 home sites. The community offers three distinct sections of homes: The Manor, The Glen and The Paddocks. The Paddocks is built by Drees Homes.
With seven floor plans starting from the high $600s, these homes offer buyers a wealth of custom-made options to choose from, surrounded by a countryside setting. "Morgan Farms is being developed to deliver the feel of a sophisticated country estate," said Director of Communications Jocelyn Cates. "The developer, Forestar Group, has gone to great lengths to maintain the natural beauty of the countryside while creating a luxurious, amenity-rich community unlike any other in middle Tennessee," Cates added.
According to the builder, Drees homes at Morgan Farms appeal to a wide range of luxury home buyers, including couples, empty nesters and families who desire expert craftsmanship, unique architectural styling and lavish community amenities. With 34 homes sold and 27 currently under construction, Cates said, "When designing a community, we draw inspiration from the history of the area." Cates continued, "Morgan Farms was mainly influenced by the many horse farms found in Middle Tennessee. We also tied in the horse country from the south of England, which inspired the Tudor-style architecture."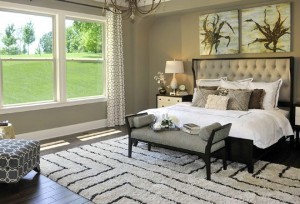 Of the seven floor plans, each offer specific design enhancements that buyers can choose from. Whether a buyer's style is classic or quirky, refined or casual, the homebuilder works with each buyer to deliver a home specific to each desire. "We'll work closely with you to create custom architectural plans that incorporate your ideas and vision, giving you the personal attention you need throughout both the building and design process. With Drees, you tailor your home to fit your life, not the other way around," Cates said.
The homes combine the best features of traditional plans with open floor plans that most homebuyers desire today. For instance, the two-story Pembroke model offers five bedrooms and four-and-a-half bathrooms with 4,291 square feet. The two-story Camden model is 4,098 square feet with four bedrooms, four-and-a-half bathrooms and a three-car garage. Additionally, the two-story Colinas II model includes five bedrooms, fourand- a-half bathrooms and a three-car garage. The plan is notable for the generous amount of space devoted to the master bath, with his and hers walk-in closets and a first-floor laundry room big enough to hold a second refrigerator. A practical "family foyer" with built-in benches leads into the house from the garage, and buyers of this plan can opt to have the foyer blended into the laundry room for one big "family ready room," if the buyer wishes. Other customized options include selected finishes and colors and a wide-range of product selections.
In addition to countryside views and customizable options, the homes were built with eco-friendly elements weaved into the building process and beyond. The DreeSmart features were designed with the environment in mind. These energyefficient features all function with the goal of reducing environmental impact. The homes feature DreeSmart Conservation Innovations, designed to save homeowners on utility costs. Money-saving features include low-E windows, R-38 insulation, LED bulbs, programmable thermostats and much more. Additionally, each Drees home is Energy Star certified for additional peace of mind. The builder's homes score an average of 30 points higher and deliver nearly 40 percent more energy savings over other new homes.
Cates stated, "Drees uses proven best practices and fully vetted contractors to ensure that all homes are built with the utmost craftsmanship and the most modern construction practices available today."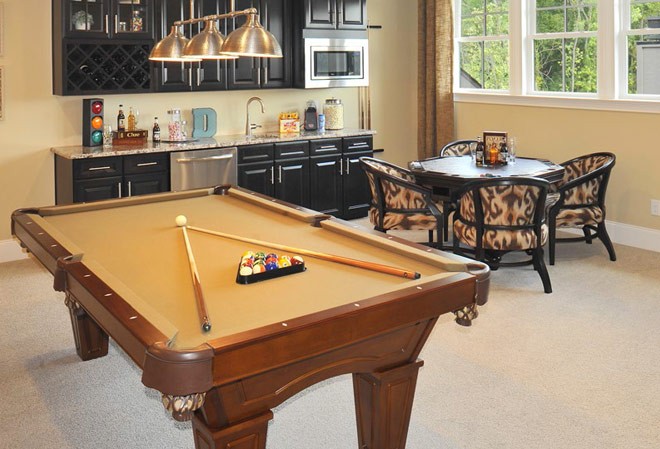 A successful selection of floor plans resulted at a site that was not without its challenges. According to Cates, the site was burdened with a gas line and a large, undevelopable hilltop on site. "Through extensive planning and architecture, we were able to turn these challenges into positives. Working with the gas company, we were able to transform the easement into a series of fields and pedestrian greenways, which enhanced recreation for the residents. Also, by respecting the hilltop and working around it, the community has gained a valuable back drop to its homes," Cates explained.
Not only are the homes with Morgan Farms exceptional, the community itself offers robust amenities throughout. The amenity center, currently under construction, will consist of approximately 2,300 square feet with vaulter ceilings, fireplace and catering space. There will also be a pool with a children's "splash" area, a chapel with a formal lawn, meadow trail and 89 acres of open space and common areas.
Morgan Farms truly meets the needs of homebuyers today. With cost-saving features, customizable options and expansive community amenities, Morgan Farms creates a top-notch setting to call home. Cates said, "Through the entire process, we are able to receive feedback that we can draw on for future developments."
Drees will continue its commitment to build in Williamson County's most prestigious new home communities. The builder recently celebrated the grand opening of two brand new Nolensville communities, with plans also in place for a $1 million luxury community in Franklin set to open this summer. In addition, Drees has plans for four additional new communities across greater Nashville, including Hermitage, Mt. Juliet, Gallatin and Hendersonville.
Carina Calhoun is the Editor-at-Large for Builder and Developer magazine. She may be reached at carinajcalhoun@gmail.com.