Customizable Homes EVOKE Buyer's Interest
By Carly Caumiant
Contemporary comfort at its most luxurious, Quadrant Home's EVOKE gives homeowners personal, tailored authority when developing their new and spaciously open floor plan home.
Sprouted in Seattle, Washington's Eastside, Quadrant Homes is changing the way homeowners purchase a home while EVOKE plants a fresh twist among the luxury home market.
"EVOKE creates balance between the homebuyer, their home, and community by tailoring every aspect of the home buying and owning experience to their lifestyle," said Quadrant Homes President Ken Krivanec.
With construction beginning in September of 2012, EVOKE was open to the public by June 2013 with the opening of Quadrant Home's Expression Center and model homes in Issaquah, Washington.
EVOKE homes span 2,400 to 3,400 square feet with ceilings raising ten feet high. Floor plans are customized by homeowners and are stocked high with premium features and ENERGY STAR rated appliances. Homes sell in the high 800,000s.
Purchasing an EVOKE home is unlike any other home buying experience. "The EVOKE journey begins with a personalized Lifestyle Interview," explained Krivanec. "Once we learn exactly how an individual buyer wants to live, we craft a personalized Experience Proposal — a plan of action that will outline how the EVOKE team will fulfill that buyer's vision of how they want to live in their new home."
Currently residing in three separate Washington cities including Issaquah, Kirkland, and Sammamish, EVOKE is sure to please residents all across the State's Eastside. "We chose these neighborhoods based on feedback from homebuyers about the most important features for them," explained Krivanec.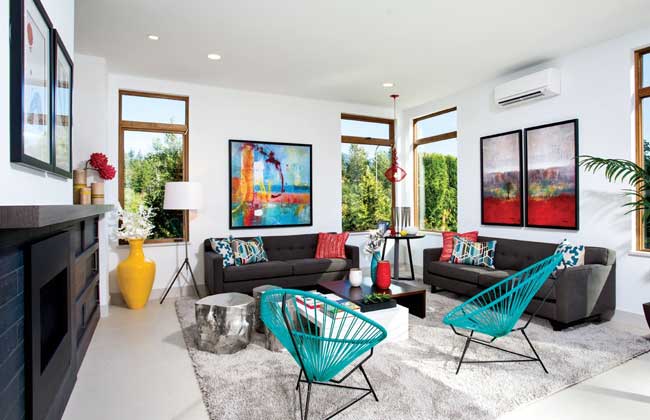 The Sammamish neighborhood features 13 homes and was chosen for its close proximity to a respectable school district and for its quick commute to nearby amenities in Bellevue and Seattle. "Sammamish has been ranked #15 on the list of Best Places to Live in the United States (CNN Money magazine, 2011), and #1 on the list of the Friendliest Towns in the United States (Forbes Magazine, 2012)," Krivanec explained.
The Kirkland location holds seven homes and was also chosen for its highly regarded school district as well as for its shopping convenience and close proximity to Seattle. The Issaquah community holds the convenience of a sales office where buyers can make design and material selections.
Quadrant Homes not only allows buyers to customize their own home, they also provide residents with a green-friendly atmosphere. "Our main goal when creating the EVOKE concept was to truly allow our customers to Live, Better," said Krivanec.
EVOKE's first model home achieved a 66 HERS Index Score during construction. In most communities, rain gardens are installed in order to manage stormwater runoff while encouraging biodiversity. An ultra-efficient zoned hybrid ductless heat pump system, or "ductless mini-split," was installed to provide heating and cooling of the home.
"Our team has the experience and flexibility to find and implement the best solution for the project, and in this case, ductless mini-splits made sense," said Krivanec.
EVOKE homes are built to minimize air infiltration and air leakage thanks to the tight envelope design. "This was achieved by using net and blow insulation (R-23 value), EcoSeal (elastomeric sealant) at all joints, and Structural Insulated Panels (R-40) at the roof. An initial blower door test resulted in a 1.7ACH50," explained Krivanec.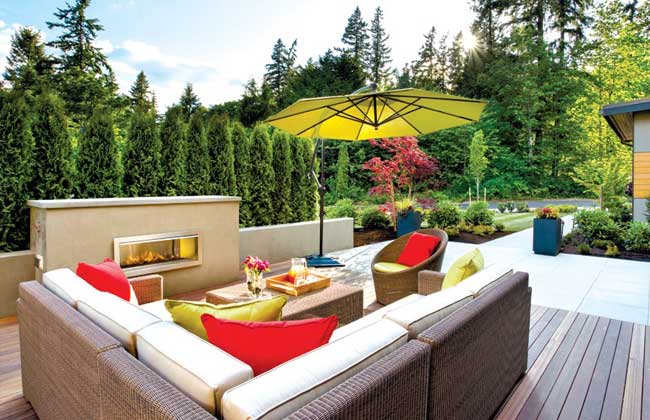 Quadrant Homes implemented new building practices for the EVOKE project by using structural insulated panels (SIPs) for the first time. SIPs are great for the roof of the home due to their structural capability, energy efficiency, speed of construction, and overall look of the thin panel.
Quadrant Homes pursues the creation of contemporary homes that deliver diversity and unique structure, form, and materials, while establishing homey and livable atmospheres for homeowners. And most importantly, Quadrant Homes is in tune with the right way to buy.
"Most brands emphasize the house as an object — they tend to speak first and foremost about the features, the price, or the size," Krivanec explained. "With EVOKE, we understand home buying as a lifestyle choice — one which emphasizes great design, vibrant communities, in combination with your custom choices — to build an ideal way of life."
Rightfully so, positive response is currently at a high. "Buyer surveys show that 99 percent of Quadrant homeowners would refer their friends and family to buy a Quadrant Home," said Krivanec. "EVOKE brings our stellar customer service to luxury homebuyers."
Quadrant Homes has tuned their way into the mind of a buyer while providing the green and modern incentives that are most desired by current home buyers. With their flexibility and customizable opportunities, EVOKE by Quadrant Homes is sure to sell and sure to perfectly please the public.
"With EVOKE, we are lifestyle architects, creating balance between the buyer, their home, and their community," said Krivanec. "We are passionate about design, but also about designing the perfect lifestyle. This means our goals extend beyond the house itself – we connect our customers to local resources, community events, and the world of design."
Carly Caumiant is an editorial assistant at Builder and Developer magazine. She may be contacted at ccaumiant@penpubinc.com.