Daltile Designer Nods To "Noble Simplicity" Trend
Dallas, TX – March 23, 2022 – As part of the newly released Daltile Trend Report 2022, the brand's lead product designer Laura Grilli shares her thoughts on the currently popular trend that she calls "Noble Simplicity".
"Noble Simplicity is a trend about living with less, focusing on the essential and decluttering our spaces and minds," said Laura Grilli, director of product design for Daltile. "It is an invitation to slow down, go back to essentials and reconnect with our inner selves."
"This trend is a response to our fast-paced globalized world, mass consumerism culture, the overwhelming use of technology and the lack of human touch aggravated by the global pandemic," added Grilli. "Purity, minimalism and simplicity are at the forefront of this design trend. Eliminating outside chaos brings a sense of serenity and calmness to the space. We find peace in the purity of this trend. Noble Simplicity is about fine craftsmanship, details and the care that human beings use to create something."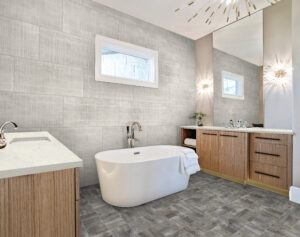 Photo:  (Floor, Daltile Choreo Headliner 10×10) (Wall, Daltile Concrete Masonry Sculpture Grey Deco) (Countertop: Daltile One Quartz Woven Wool Design) 
Daltile Products That Represent This Trend
Within the Daltile Trend Report 2022, the brand showcases several of its tile products that nicely fit into the Noble Simplicity trend:
Panoramic Porcelain Surfaces Chromium
Click here to view the Noble Simplicity trend webpages.
Click here to download the full Daltile Trend Report 2022.
Daltile is the industry-leading brand of ceramic, porcelain, glass, metal, and stone tile as well as mosaics, extra-large slabs, countertops, exteriors, and roofing tile.  Daltile products are distributed through over 250 company-owned sales service centers, stone slab yards, and gallery design centers that service a robust network of trade customers.  Daltile products are also sold through independent flooring retailers.  Dedicated to innovative product development and distinguished style, Daltile provides a rich palette of quality products created to inspire residential and commercial designs.  For more information, visit daltile.com and follow Daltile on Instagram, Facebook, Twitter, LinkedIn, Pinterest, YouTube.