David Weekley Homes focuses balancing sustainable homebuilding and customer satisfaction.
As one of America's top homebuilders, Houston-based David Weekley Homes is one of the largest privately owned builders in the country. Throughout the U.S., David Weekley Homes creates homes for first-time and move-up buyers with energy-efficiency in mind.
Visit the historic feel of David Weekley's newest community in The Woodlands. The homes in Liberty Branch have a traditional design that is very welcoming. This cozy community is sleek and attractive, with wood floors throughout most of the home, including wood staircases. There is an Outdoor Living Space perfect for entertaining your friends and family. Be one of the first to join this up and coming section in The Woodlands.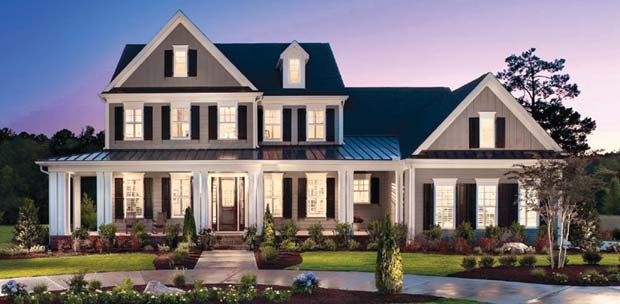 One way the builder stays competitive is by hiring talented, passionate people and training them well. "Growth and job creation — for not only our team members, but also vendors, suppliers and trades — is positive for the company and the economy. Our hiring numbers (2012 vs. 2011) are up 50 percent nationally," said John Johnson, president and CEO, David Weekley Homes
The Houston-based homebuilder was also among five local companies that earned spots on Fortune magazine's annual listing of the 100 Best Companies to Work For." The privately held homebuilder with $861 million in revenue and 1,100 employees nationwide, held steady at number 13.
What makes David Weekley Homes so great? The Texas-based homebuilder flies new hires to the headquarters for a two-day orientation, which includes team activities like building a detailed house out of toy blocks.
"We are proud of our Team's continued commitment to create a culture in which people want to work," said Johnson in a recent announcement. "The focus on our Team Members includes providing each of them with the opportunity to grow and thrive in their career."
The company also matches employees' 401(k) contributions 100 percent, up to 8 percent of salary and provides four-year college scholarships of up to $2,000 a year per child.
The homes by David Weekley don't only offer a one-of-a-kind feel and luxury living qualities; they incorporate the most innovative technologies in eco-friendly efforts. David Weekley EnergySaver™ homes are inspected and certified in many markets by Environments For Living®. "It's important to us to make sure our green program meets both our standards and the standards of a reputable, third-party organization," said Johnson.