David Weekley Showcases Southern Florida Style
WaterColor, an exceptional master-planned community in Panama City, Fla. features award-winning David Weekley homes.
This community stands out with its overall design to fit into the natural surroundings. It also offers great green space and an array of activities for families and children to enjoy. The homes' architecture is studied by architects from around the world who stop by to visit and take tours. It is one of the only communities that not only offers the most beautiful beaches and water in the world, but is also surrounded by the rare coastal dune lake. The architects and town planners for WaterColor are Cooper, Robertson & Partners, based in New York.
The design theme within WaterColor is old Southern style Florida homes and has a clean white interior theme throughout— an extremely peaceful and calming design decision on behalf of the interior design team. With large open rooms there is plenty of space for homeowners to entertain and homes are close enough to visit, but spread out just enough for comfortable space between neighbors. "The community attracts a lot of families who enjoy living in a community where neighbors have an opportunity to meet and connect with one another," said Chris Fuelberg, Panama City Project Manager.
Most of the buyers are from the Southeastern states, including Georgia, Texas, Louisiana, Alabama, and Tennessee. "The average age buyer is in the mid-50s and includes CEOs, entrepreneurs, CFOs, business owners, etc.," said Fuelberg. WaterColor has a Design Review Board (DRB) that approves all new construction and any exterior changes to the home and/or the property. There are two ways this works: 1.) A homebuyer purchases a homesite and then meets with an architect to start the design process or 2.) The architect works directly with the DRB on any changes until the DRB approves and accepts the design. Once approved, the homeowner meets with contractors that are either suggested by the architect or selected by the owner.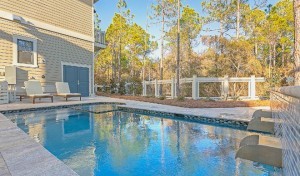 Highlights of these homes include open concept floor plans with kitchen, dining, and living areas that seamlessly blend into one another, allowing families to gather together. A large collection of windows provide the home with bright light and feature beamed and coffered ceilings. The kitchen features appliances with marble and quartz countertops. Many of the walls feature wide plank wood.
WaterColor single family homes range from $1,475,990 to $1,735,789 and 3,070 to 3,874 square feet.
All single family floorplans boast at least two stories with four bedrooms, four full baths, one half bath, and a two-car garage. The Thornley showcases five bedrooms and five full baths.
Though all vacant homesites and homes are sold in the community to either builders or individuals, there is still new construction ongoing by either builders or owners on the remaining homesites. "This community is a big rental community, with about 65 percent of the properties on a rental program," said Fuelberg. "Approximately 35 percent of the owners live in Panama City full time."
Located in Northwest Florida, the community consists of 499 acres. It is a mixed-use community of single family homes, condominiums, and commercial/ retail space. There are roughly 700 single family homes built and approximately 125 condos completed.
The St. Joe Company was the largest landholder in Florida until they started selling commercial parcels and engineering and constructing the new airport in Panama City, Fl. Not only did they develop WaterColor, but they have also developed The Retreat WaterSound West Beach and WaterSound Beach, which are also all located on County Highway 30A.
The WaterColor Inn and WaterColor Beach Club single family homes and condominiums are located on the south side of the highway and feature beautiful views of the Gulf of Mexico. The rest of the community is located on the north side of the highway. There are also a lot of nature preserves and walking/biking trails throughout the community, with approximately 50 percent of WaterColor retained as natural areas. Also, a rare coastal dune lake named "Western Lake" borders WaterColor and offers outdoor activities such as kayaking and fishing.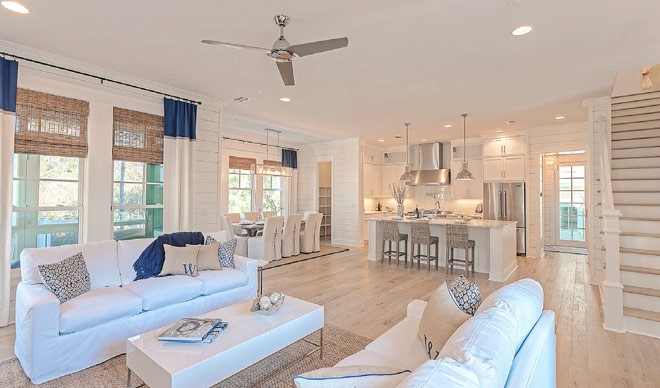 All of the homes among WaterColor are built to their Environments For Living program and are built with green building practices like double pane Low-E glass, radiant barrier roof decking, 2×6 exterior walls with R-19 insulation and R-38 blown-in insulation, and Trane 14 SEER AC systems.
The community is close to South Walton School District for homeowners' children from elementary to high school-aged. In the 2012 Okaloosa and Walton County Parade of Homes (Panama City), David Weekley took home the Blue Ribbon Award $689,000-$729,000 for The Morningdale in Cedar Woods at Watercolor and Blue Ribbon Award $689,000-$729,000 for The Bancroft in Cedar Woods at Watercolor.
David Weekley Homes began in 1976 in Houston, Texas, and has grown to become the largest privately-held homebuilder in the nation.
David Weekley Homes has also had the opportunity to be featured on NBC's TODAY show "TODAY Builds A House." The 12- week segment featured a David Weekley Tampa home in which viewers selected the elevation, floorplan, and options. Auction proceeds of the home went to Habitat for Humanity.
The team is currently building in six communities in Panama City Beach and along Highway 30A, and is looking for additional opportunities.
Tamara Philips is the Managing Editor for Builder & Developer magazine. She may be reached at tamara@penpubinc.com.