Design Lives in the Small Spaces
Focusing on spaces in between the spaces allows for home, connection and wellness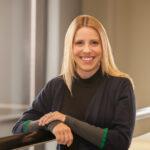 By Sarah Hunter
My path into architecture and design was a little different than what most aspiring architects might picture for themselves. Some kids are inspired by travel and the world's great architectural achievements, they see the Empire State Building for the first time and are inspired to create the world's tallest buildings. 
I grew up in Littleton, Colorado and have yet to visit New York City. I started my path to architecture right after high school, when an art teacher prompted me to explore the profession. I didn't study abroad or go to college out of state. I come from more humble beginnings, my priorities were always practical, even when I was exploring the field. Today I am a mom to three young kids and spend my weekends on the sidelines of soccer games. Design can be something innate to you, and anyone can cultivate their skills if they have passion, determination and grit. 
Design lives in small spaces like a local ice cream shop, or the bike trails that weave neighborhoods together. My goal was never to design the world's tallest building. It has always been to create places that feel like somewhere you want to be. 
I recently studied a site in East Nashville, Tennessee for a proposal. We traveled to the area and spent an entire day walking around, taking pictures and videos and speaking to the residents. We visited adjacent neighborhoods and downtown Nashville. In my work, I cultivate spaces that focus on sustainability, placemaking, community activation and wellness. The key is focusing on forming connections with the community and creating gathering spaces that draw people together. All these concepts offered clues to how our final design solution would be composed. When we take time to fully experience the site, we can better understand how to successfully stitch the project into the urban fabric. 
Design is successful when it puts people first. In multifamily architecture, we look at creating distributed community amenities, promoting overlap of uses within the community, creating a more organic feel to the buildings by softening the edges and integration into the existing context. 
The key is focusing on forming connections with the community and creating gathering spaces that draw people together."
I had the opportunity to bring this thinking forward for a site in Tulsa, Oklahoma located next to the Gathering Place which is a 66.5 acre park. The challenge we faced was how to connect a new multifamily development to the existing neighborhood as well as the park, and the adjacent water amenity of Crow Creek. We studied several different ways that we could blend all these uses together and create a strong development that is closely connected to the physical site. 
After we look at a design in its larger context, we can start to drill down to the details. These are the design elements that people remember long after they leave the site. This includes all the details that the user interacts with, what they can touch and feel. For a prominent site in Denver known as Diamond Hill, we wanted the design to relate in a subtle yet tangible way to its location. Our concept integrated the diamond reference with diamond patterning in the light fixtures, manhole covers, signage and paving pattern. These details stick with the user, they help them identify with the site and form a connection to it. 
My recent work has been focusing on the spaces between buildings, not just the buildings themselves. By being mindful of the building placement, existing context, pedestrian friendly placemaking, and amenity nodes for gathering, we can create communities that cultivate strong neighborhood connections. When we can create a successful design solution, the development will be an asset to the community for years to come. There are examples of this right in my backyard. 
Main street Littleton has been a draw to the area for years. The scale of the buildings is low and not intimidating to a pedestrian. It is walkable with lots of outdoor patios and seating. There is a mix of uses from restaurants to retail, to civic spaces, to residential. It has all the ingredients to make a successful gathering place for the community. 
The path to becoming an architect looks very different for different people. A unique and unconventional path will cultivate unique passions and points of view. Designs are more successful with alternate viewpoints to strengthen them, and diverse and thoughtful implementation. When we focus on the spaces in between the spaces, connection to the community and its unique opportunities, and creating details that engage at the human level, we can create a space that draws people in and strengthens the holistic identity of the community.
Sarah Hunter AIA, LEED AP BD+C, is a Director, Design at KTGY. Sarah can be reached at shunter@ktgy.com.