Design Trends: White is the New Black
Chic white finishes are trending in all design categories
By BARBARA SCHMIDT
There's a huge resurgence of the color white in all interior design, but did you know that color has crept back into the appliance and faucet categories? White was big in the '80s and '90s when all-white rooms took the forefront of design. Now pure white is coming back into room elements — not just in wall color, but also in every single category
I remember staying in Miami over a decade ago at the new Setai Hotel. We had rented a condo on the beach and the floors were finished in a lacquered white gloss. The ocean view literally reflected off the floor. That was when I knew the tide had turned with white color becoming a leading design element.
Currently, the most interesting development is how the color is finished. There are a lot of matte white finishes; and the lacquer finish is one of my all-time favorites. A lot of manufacturers have been offering matte finishes in black and now they are offering matte white. Mixing finishes such as honed, matte, or shiny lacquer in the same color can create a subtle layered interest to the room's design.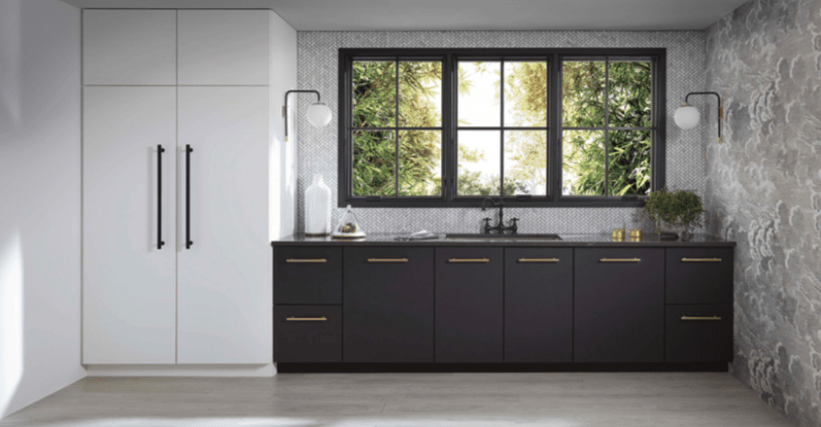 No one can argue that white kitchens are still the most frequently sold by far; however, subtle changes have crept into the roomscapes. Black windows are now the most desirable while white cabinetry is even more prevalent. White has become more than the favorite neutral – it has become one of the focal point neutrals.
Matte White Cabinetry
White cabinetry has been around for a while and so has the full overlay door style. What is different in this custom design is the matte white finish. These softer finishes are fingerprint-resistant and look softer and richer to the eye.
Laminates can be miter folded so that they do not have the black line of the backing showing through around the edges. By miter folding, laminate product doors can be custom made for seamless applications making retrofit and remodels easier than ever.
White Mediterranean Push-Out Windows
We've all seen white double hung cottage windows and typical white casement windows, but have you ever seen a white push-out window? This European style of window reminds me of a cottage on the water overlooking the azure sea.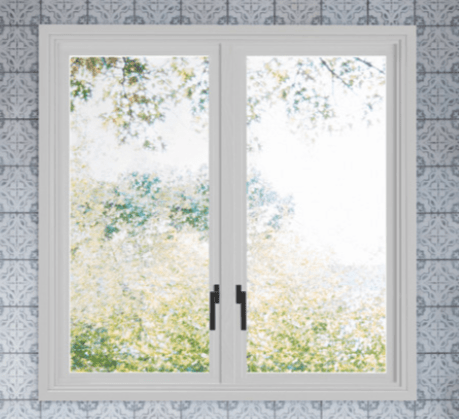 Push-out style windows allow for large panes of glass and wide openings for fresh breezes. Imagine both sides open without a mullion in the middle cutting the view in half. The slim lines of the frame are more modern and transitional in design. Screens can be hinged or retractable for ease of use.
White Appliances
It was several decades ago when the masses bought suites of white appliances from big box stores. White-colored appliances are now offered in the high-end luxury category as a compliment to custom cabinetry and ultra modern design.
Appliances such as a beautiful dual- fuel range turn into the focal point of gourmet cooking. I've been thinking about including such an appliance in a few of my current kitchen designs because of the color, sophisticated style, and superior performance.
White appliances should be designed with restraint, meaning don't buy the entire kitchen suite in white. Rather, cover the refrigeration and dishwasher with panels matching your cabinetry.
Today's white appliances should be a feature or focal point to an otherwise modernized design. A single white range is just enough for an updated look.
Matte White Faucet
I stopped in my tracks at an industry trade show this year when I saw this faucet. It's one that is truly unique in the kitchen faucet category. Why? Because white faucets have been offered in the low end of the market for all of those big box store kitchen designs.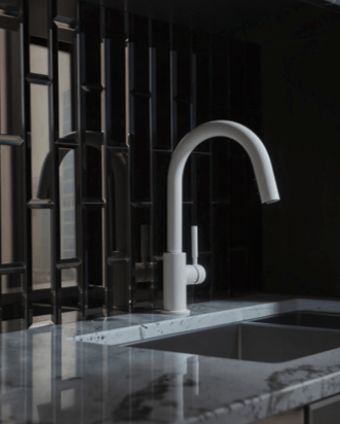 It's unusual to see a sophisticated higher end faucet in matte white and that's the difference – the matte finish. I ran my hand over the arch and loved the simplicity and the texture of the modern finish. Often the kitchen sink is the center of the island or anchors the back wall in a space so make sure to create a focal point with the right style and faucet finish.
White Lacquered Hardware
What is the perfect compliment to a matte white cabinet? A lacquered white hardware finish that melds into the design. For some reason, lacquered white finishes in any category have always felt modern, from the 40s to today. Maybe it's the sheen but whatever the quality it is, lacquered white finishes will endure.
Barbara Schmidt is a nationally recognized Interior Designer and Marketing Expert creating authentic storytelling about spaces, places and trends. To learn more please visit studiobstyle.com.