Dynamic Street Scenes at Toll Brothers' Escena
The Palm Springs community boasts contemporary, international and mid-century architectural styles
By Hanna Heiss
Headquartered out of Fort Washington, Pennsylvania is luxury homebuilder Toll Brothers. The company was founded in 1967 and currently builds in over 60 markets across 24 states. A public builder, Toll Brothers is primarily focused on bringing new home communities to prestigious suburban locations and major metro markets across the United States. Residential products include single-family residences, active adult and active living communities, resort-style master-planned communities, urban residences, luxury rentals and premier student living.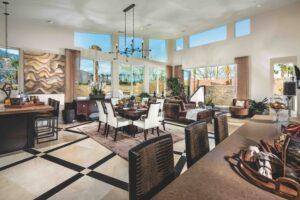 Within the 450-acre master-planned Nicklaus-designed golf course community of Escena, Toll Brothers began its work alongside architect RFT Design constructing homes in June 2014. Acquired by real estate development company New Valley LLC in 2008, other public builders on the project include Standard Pacific, Lennar and Beazer Homes.
Escena is located in Palm Springs, California and fronts the Escena Golf Course with commanding views of the desert and mountains beyond.
The Escena master plan provides for approximately 594 single-family residences, over 600 attached housing and/or multifamily units and a pad for a hotel in addition to the golf course and clubhouse, though there is no specific timeline for the development completion of all products.
Toll Brothers has a long-standing history with RFT Design and selected the architectural firm based on this history of designing projects for Toll Brothers in the Western U.S.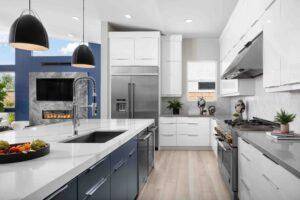 RFT Design is a full-service architecture and planning firm located in Irvine, California with over 30 years of experience in all facets of design including architecture, planning, graphics, 3D modeling/rendering and tenant improvement. Product types range from single-family and multifamily communities to commercial and hospitality projects, as well as master-planned, resort-style and mixed-use communities.
Nine floorplans are offered ranging from 1,800 to 2,700 square feet with prices from $1.35 million to $1.6 million. Target buyers for the homes by Toll Brothers at Escena are active adults and those from the surrounding community.
Designed to reflect the modern architectural style popular in the Palm Springs area, the homes at Escena feature open floorplans with volume ceilings in the great rooms and contemporary design emphasizing indoor/outdoor living common in such a market. Homes can be customized to fit buyers' needs with options for detached casitas, bonus rooms and additional bedrooms.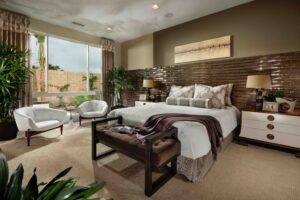 Plans are available in three styles: contemporary, international and mid-century. The contemporary style is accented with horizontal stucco reveals and strong massing and parapet roof elements. International residences offer flat roof forms with deep eaves and trim details expressing the horizontal massing of the plan. Lastly, the mid-century homes feature large sloping shed roof elements with large overhangs and clerestory windows with pipe columns at the rear patios. 
The design team wanted to maximize the views of the golf scene and mountains on a flat site. To achieve this, RFT Design sloped the ceilings in each of the homes to capture such views. A variety of angled walls and window placements also added to this maximization.
To create an exciting and dynamic street scene, the exteriors of each home were designed with different architectural features and massing. These unique exteriors were enhanced with multiple color schemes to further add to the unique community environment.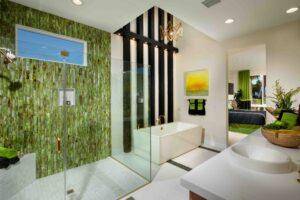 The neighborhood was also designed according to the California Green Building Standards Code, known as CALGreen. This design included stormwater retention, construction waste recycling, electric vehicle charging, water-conserving plumbing fixtures, standard solar systems, high-efficiency energy systems and insulation. Additionally, the large rear window/door systems were shaded from the elements by covered patios to improve the building's efficiency.
Just last year, Toll Brothers released its most recent home designs at Escena, offering four additional single-story floorplans ranging from 2,559 to 2,700+ square feet, with two to three bedrooms, two-and-a-half to three-and-a-half baths, attached two-car garages and an included pool and spa. Prices start at $1.36 million.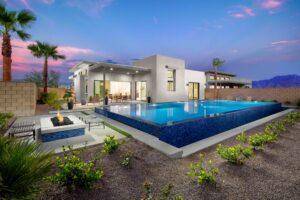 "Our new Esprit and Visage model homes exemplify luxury golf course living, providing incredible views of the top-ranked course and open-concept designs ideal for hosting family and friends," said Toll Brothers Southern California Division President Brad Hare. "The models showcase refined modern finishes that complement the modern exterior architecture, reflecting the history of Palm Springs."
Most recently, Toll Brothers purchased 40 single-family detached lots located within the Escena master plan. Lot sizes range from 5,400 to 9,300 square feet with an average lot size of 6,400 square feet, and are situated on an approximately 8.5-acre parcel in the northwest corner portion of the community.
Hanna Heiss is senior editor for Builder and Developer magazine. She may be reached at hanna@builder.media.