Eastmark Creates Enduring Value
The Southeast Valley of the Phoenix metropolitan area is growing rapidly, and Mesa, Ariz. is expanding in every way possible. Arizona, and especially the Southeast Valley, has become a hot spot for community development as more businesses move their headquarters to Mesa.
Senior Vice President at DMB Associates and General Manager of Eastmark, Dea McDonald, said, "the current jobs/housing imbalance combined with continued population growth and the future demands for residential housing in the Southeast Valley, make Eastmark the primary beneficiary of future growth."
As the second largest city in the Phoenixmetro area, Mesa has been a leader in the Southeast Valley for the past 40 years. DMB Associates saw the opportunity to develop a community that could grow with the surrounding developments and the expansion of the Southeast Valley.
With approximately 3,154 acres just off the Loop 202 interstates, DMB Associates began development of Eastmark community in May 2012. The first phase of the mass grading saw 775 single family homes with 12 neighborhood parks three miles of offsite supporting roadways and utilities, seven acres of the 106-acre Eastmark Great Park ™, and The Eastmark Visitor and Community Center, The 'Mark.
"DMB is focused on the creation of employment and associated housing that will contribute to the economic vitality of the region in the context of sustainable development," McDonald said.
Early on DMB and the City of Mesa partnered to ensure they were creating a framework to allow new employers, attractions, and unique neighborhoods to be developed quickly. "The award-winning plan articulates a compelling vision where the form of the community can and will evolve over time, and the growth can be organic and suited to the companies and people who live, work and visit," McDonald explained.
One of the most unique elements to Eastmark is the zoning framework. The entitlements for Eastmark include "an innovative zoning framework (Planned Community District) that effectively allows for the development of up to 20 million square feet of non-residential uses (including 6,000 hotel rooms) and up to 15,000 residential units," McDonald said.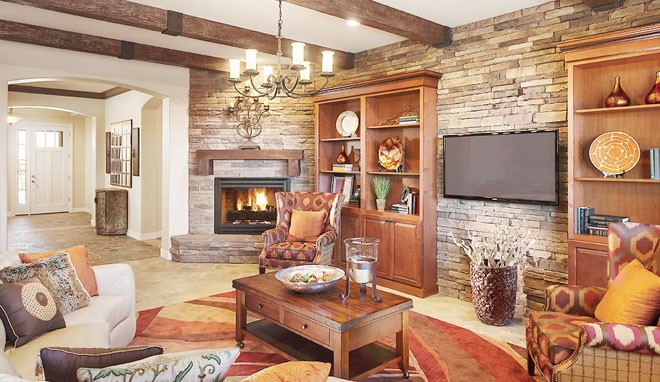 The City of Mesa also approved a land use development agreement. This agreement authorizes the property entitlements for 50 years and considers a CFD (Commuinty Facilities District) financing mechanism.
The most important aspect of the unique zoning deal is that the entitlement allows all 3,154 acres to be used for residential and nonresidential uses mixed throughout the property with little limitations on building height. "In other words, the new zoning is 'form based' rather than 'use based' and it encourages the development of a sustainable, pedestrianoriented community," McDonald said. He further explained that given the flexibility of the zoning framework, "decisions on the type and location of uses are determined on an on-going basis as they are actually proposed."
When designing Eastmark, DMB Associates wanted to make sure there was not one theme for the architecture of the community. Therefore, DMB called upon a large list of some of the best homebuilders to create their neighborhoods and more than a dozen architectural styles add variety to the community that boasts longevity.
Zoned for 15,000 home sites; DMB Associates called upon some of the most notable home builders in the industry to create a diverse selection of neighborhoods.
Maracay Homes, Mattamy Homes, Meritage Homes, Ryland Homes, Standard Pacific Homes, Taylor Morrison, William Ryan Homes, and Woodside Homes all have neighborhoods within Eastmark. AV Homes is also on the impressive list of homebuilders and they are currently building an active adult community named Encore at Eastmark.
"Community…is much more than a collection of homes or neighborhoods. Community— real community—is the feeling that you get from living in a place, that sense of belonging and authentic connection that makes life a richer, more fulfilling experience," said Suzanne Walden- Wells, Director of Community Life at Eastmark. DMB Associates used their Community Sustainability Plan. This plan includes six major initiatives and key corresponding components and how they will be applied in the community.
Some of the key components can be incorporated immediately while others are "going to require a deeper, pursuit level, analysis to determine the benefits and business viability prior to implementation," McDonald said. "It is the key components requiring deep and through vetting that are aimed at separating our efforts from the typical sustainable applications that are quickly becoming status quo in the industry."
Some of the green planning and design elements are a 22-degree planning grid shift to maximize solar orientation and shade cover, and storm water harvesting for landscape irrigation, to name a select few.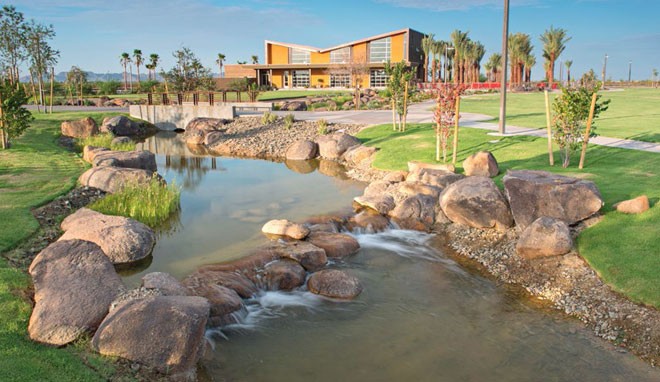 Eastmark is designed to be pedestrian and bicyclist friendly to promote non-vehicular travel. DMB designed the layout of Eastmark to have employment-friendly commutes. This both promotes job growth and helps to reduce the carbon footprint associated with high-volume vehicle traffic.
DMB and all builders involved are recyling has much excess waste as possible throughout the entire building process.
With a goal of recycling 95 percent of all onsite materials, Eastmark has already recycled 3,001,248 pounds of ferrous metal, 17,522 pounds of aluminum, 254,357 pounds of copper, and 30,571 tons of asphalt and concrete products.
With a tone of innovation, an atmosphere of creativity, and true "Community Life," Eastmark has raised the bar for master-planned communities. Community Life is a program exclusive to DMB.
Wells explained they partner with their residents to create a custom community. "Great places like Eastmark emerge from blending artfully crafted built environments with the vibrancy that only people can provide. Our Community Life team… provides the creative spark that leads to highly engaged, deeply passionate residents," said Wells. DMB is passionate about creating high value in real estate.
Every community developed by DMB Associates has a distinctive vision that is equal parts unique and compelling. Wells explained that the goal is to create "a vision that energizes consumers, mobilizes partners and wins the support of the public sector – a vision that ultimately creates enduring value."
Lacy Allen is the Editor for Builder and Developer magazine. She may be reached at lacy@penpubinc.com.