Economically Sound and Environmentally Friendly
By Stephanie Consiglio
One of the most popular trends that is popping up across America is to build homes that are not only big, but only use the same amount of energy they're putting out. Many American families are looking for this when they're shopping on the home market, whether it be a first-time or a move-up buyer, homebuyers want a big green dream home. Lennar Corporation is doing just that. Founded in 1954, Lennar is one of the nation's leading builders because they build beautiful homes and they are receptive to the needs and desires of today's homebuyer. Lennar builds affordable, moveup and retirement homes in communities that gratify each lifestyle. The Company has come to be one of the most environmentally friendly homebuilders. Lennar doesn't just follow standards they set high standards by their commitment to making the right decisions at the appropriate time and taking on each day with utmost integrity. The Company is constantly pushing the limits in innovation, taking their communities to the next level of excellence. They strive to bring the greatest value to their customers by delivering their dreams in a home. After 55 years, the company has created a long proven track record of strategically timed and impeccably executed expansions into new markets. Lennar currently builds in 17 states across the nation and continues to build high performance homes.
Lennar gives back to the environment with the introduction of their next generation of living: Everything's Included Home. These NextGen homes are energy efficient as well as economically sensical. Lennar's eco-smart values exemplifies their dedication to adjust construction of homebuilding with new ones that reduce the amount of energy used and each family's carbon footprint. The NextGen home is multifunctional because it is a home within a home. It is essentially a small home under the same roof of a bigger home connected by an interior door, but also has a private entrance. The NextGen home allows for families to stay connected under one roof, while still having their privacy and space. The NextGen communities have been built in a few different states allowing multiple American families to have access to this home design. Families can have big living areas and have peace of mind that just because they are big doesn't mean they're damaging the environment. The NextGen home is keeps their homebuyer's pockets full and gives back to the earth.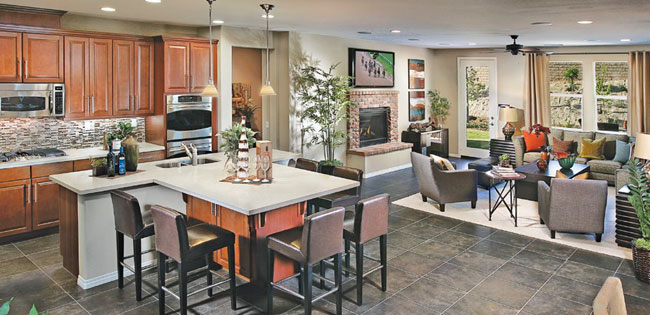 "What we have designed is different than anything else you have seen from other builders – these are not dual master suites or a casita," said Greg McGuff, California division president. "Lennar's next gen plan is literally a home within a home."
The economy has dramatically contributed to the decision to build this type of home. Many aging parents have seen their retirement investments diminish through the Great Recession and many college-age children are finding it necessary to move back home. With housing typically being the largest part of the monthly budget, moving in together is an option many are embracing.
"The opportunity for families to share a mortgage makes a lot of economic sense for many families," added McGuff. "Lennar's Next Gen – The home within a home, is essentially two homes with one payment, making living together affordable, comfortable and flexible to your needs."


The state of California has been lucky to be graced with this home design in the Valencia and Santa Clarita areas. This was first of its kind to come to the Los Angeles County area, allowing families to have more options. RiverVillage community with charming architectural detailing, state-ofthe- art stainless steel appliances, maple cabinetry, granite slab countertops and spacious bedrooms with walk-in closets, which are a part of Lennar's Everything's Included home. The Masterplan inspired Americana theme was carried throughout the community. Enhanced elevations with stone, brick fascia speak to aesthetically pleasing curb appeal, which brings a spotlight to Valencia. The community incorporates spacious yards and the exteriors are luxurious and designed for entertaining. The sprawling Lexington residences encompass approximately 2,967 to 3,820 square feet of living space that incorporate hi-tech green features that save money on energy bills, include low-energy dual pane vinyl windows, radiant barrier roof sheeting and Lennar's all-new Home Automation System. The home within a home features a separate entrance, living space, kitchenette, bedroom, full bath, stacked washer and dryer and intimate outdoor living space. Lennar designed this unique floorplan to be constructed into the main home floorplan in a way that allows it to be a detached space, but also offers direct access to the main house, contingent on the necessities of the homebuyer.
Lennar continues to delve into the energy smart building by gauging their homes' overall energy efficiency with the Home Energy Rating System (HERS). HERS scores each home with a certain code that must be abided in order to certify efficiency. The lower the HERS index the more green the home or community is. Lennar homes are scoring as low as 54, making them one of the top ecosmart homebuilders across the nation. Lennar Corporation stays competitive in today's market by doing their homework and studying. "We have an awesome team who communicate well, understand our buyers and make sure our offering is just right," Tara Conklin, vice president of sales and marketing. As economy is improving and the ways of building is changing, the homebuilding market is looking slightly different then it was a few years back. Lennar is not only adapting to this change, but innovating within it, allowing families across America to have options and personalize their ultimate living space.
Stephanie Consiglio is an assistant editor for Builder and Developer magazine. She may be reached at sconsiglio@penpubinc.com.