Efficiency Backed by Sustainability
Verandah at Valley Oaks is a testament to clean building with nearly zero lumber waste.
By Hanna Heiss
Driven by a commitment to sustainability, Landsea Homes' goal is to create inspired spaces that connect seamlessly with their surroundings. The homebuilder develops homes and communities in New York, Boston, New Jersey, Arizona, Florida, Texas and throughout California, with one of their newer community additions, Verandah at Valley Oaks.
Verandah at Valley Oaks, located in Novato, Calif., is Landsea Homes' first community in the North Bay. Development on Verandah began in September 2020 with full build out estimated to be completed by June 2023.
Designed with the California homebuyer in mind, Verandah at Valley Oaks offers four efficient, open floorplans ranging from 1,103 square feet to 1,770 square feet, with options for two to three bedrooms and one-and-a-half to three bathrooms. Prices for homes begin in the $860,000s and are ultimately determined by the market, with 16 homes priced below the market rate and offered through the City of Novato's housing program.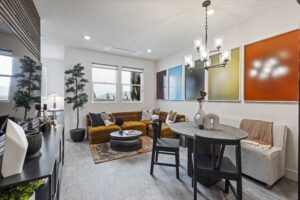 Along with efficient floor plans are energy efficient features. The townhome community is all-electric and LEED Gold-Certified with an inclusion of a standard solar lease when the home is purchased. Additionally, all framing construction for the homes at Verandah at Valley Oaks is performed offsite, producing minimal material waste and conserving lumber.
Containing Landsea Homes' High Performance Home features, focusing on the four key pillars of sustainability, healthy living, home automation and energy savings, each home was planned with high efficiency, state of the art technology and amenities to ensure that residents enjoy and thrive in the community.
The smart home automation technology via the Apple HomeKit™ environment includes features of an Apple HomePod mini, wireless network Internet throughout the home, entry door locks, thermostat control, garage door opener control, light dimmer switches, doorbell camera pre-wire and white glove service with an individualized training session.
Environmentally conscious, low VOC building materials were used to lessen the impact on the planet, with each home coming with upgraded roof insulation, upgraded wall insulation, more efficient mechanical systems, ENERGY STAR® rated appliances and LED lighting. The cost-in-use features of which lower monthly bills, encouraging environmental awareness and stewardship. The electric heating and cooling systems contain removable and cleanable filtering systems for low maintenance and cost.
Given the all-electric and certification status of Verandah at Valley Oaks, Landsea Homes partnered with Entreka panelization company. Impressed with Entreka's production facility, Landsea Homes urged their architect, KTGY Architects to connect with the company to produce panelized plans that could be built off site. Panel implementation on-site can also lower the build time by four to almost eight weeks. 
With many homes being built at once, a new level of concerted effort in more labor on-site and coordination was needed to capitalize on frame time savings. The savings in framing time was unfortunately lost as the pandemic arrived and decreased labor supply on-site with limited staff of all vendors. Now the benefits are finally being realized and the site is a testament to clean building with nearly zero lumber waste.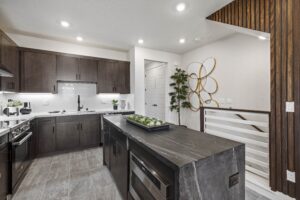 Containing more than 3,600 acres of open space, Novato, Calif., is a haven for hiking and mountain biking with a network of 27 oak-studded parks. Other outdoor attractions include Scottsdale Marsh, Deer Island Preserve and the Pacheco Pond Wildlife Area. 
Inspired by and given its location, the team at Landsea Homes wanted the natural topography of the area to be reflected in the homes and community. Verandah at Valley Oaks is one of very few rooftop deck communities with natural views of the greater Bay Area. The homes also feature outdoor patios and large windows, allowing for ample natural light.
The townhomes are appealing to those looking for a 'get up and go' lifestyle or for homeowners who want to spend more time doing the things they love rather than maintaining a home. The exterior maintenance and landscaping are sustained by the HOA, greatly reducing stress and the financial obligation that comes along with home upkeep. 
Homes at Verandah at Valley Oaks are dynamic and designed to meet every need. All floorplans provide LiveFlex® options, which allow the homebuyer to transform a space to meet their personal lifestyle whether that be for offices, gyms or however best allows them to 'live in their element.'
Hanna Heiss is Editor of Builder and Developer. She may be reached at hanna@builder.media.