Efficient Development with Historic Worth
By Stephanie Ornelas
Rutland is a pedestrian focus mixeduse, master-planned community. Comprised of 202 acres, this community is the epitome of homestyle beauty. Plans include singlefamily residential and townhome neighborhoods. Developed by HHHunt, the project will include 257 single family residences, 237 townhomes, 70,000 square feet of office condo development at Rutland Center, 110,000 square feet of retail development in Rutland Commons, 60,000 square feet of retail/office development along Route 301, an on-site YMCA and daycare.
"HCA Virginia is also constructing a new standalone emergency medical center in Rutland. This medical center will be the first of its kind in Hanover County," said Jill Crews, Vice President, Marketing and Branding for HHHunt Corporation.
"The mix of residential, office, retail, and medical space underscores HHHunt's efforts to create a fully balanced responsible and sustainable community," she explained.
The residential aspects of Rutland include four neighborhoods with a mix of single-family homes and townhomes. The homes in Rutland were built to ensure integrity and sustainability. Crews went on to explain the effects such a neighborhood like Rutland will have on each home. "The neighborhoods offer distinct home choices while nicely complementing one another in the community's broader design and function," Crews said.
As the residential aspects of the project are important to HHHunt, the Commercial aspects mean just as much. "The commercial components of Rutland include Rutland Center and Rutland Commons. Rutland Center offers office, medical, and instructional buildings available for sale as full buildings or suites," Crews explained.
According to Crews, there are 24 one-story brick buildings totaling 160,000 gross square feet. Full buildings are available from 5,000 gross square feet to 10,500 gross square feet and suite sizes are available from 1,100 gross square feet. Its prime location is adjacent to Rutland Commons, a retail center, and within walking distance of many of Rutland's residential neighborhoods.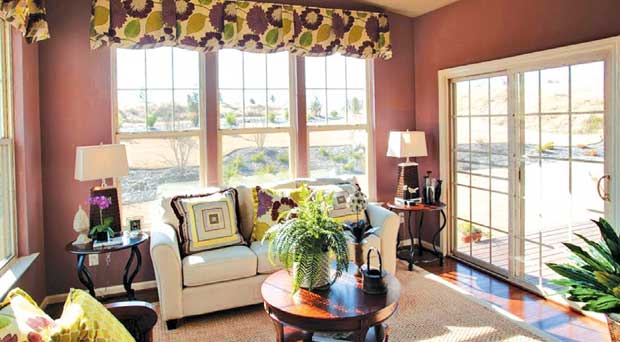 "Rutland was chosen for its convenient location along Route 301(Chamberlayne Road) north of the I-295 Interchange at Atlee Road. It is just 12.62 miles from Innsbrook Corporate Center and 14 miles from downtown Short Pump," Crews said.
Crews mentioned a few other important aspects of the community, small gems that would enhance the experience for Rutland Residents. "The community's historical connection was an important aspect of Rutland's development, especially given the location's deep roots in the Richmond region," said Crews. Crews went on to explain how The Rutland House was once occupied by the Timberlake family, and was built between 1790 and 1820. It has documented significance as being one of the headquarters used by Confederate General J.E.B. Stuart.
As part of Rutland's development, HHHunt renovated and relocated the Rutland House within the heart of the community. Along with an educational area within the Rutland House with a display of artifacts, HHHunt included a timeline of history for the project and the Timberlake family.
Like most extensive projects, the work was timely and there were a number of challenges that HHHunt faced and in fact overcame with Rutland community. According to Crews, a significant test was obtaining the approval for this development. "Officials in Hanover County rightly value the County's open spaces and remain averse to dense developments. HHHunt had to demonstrate that Rutland would in fact add a great deal of value to the area and to the County as a whole," Crews said.
Another challenge HHHunt faced with the building process of Rutland was Historical preservation. The site of Rutland has an abundant deal of historical significance as does the Rutland House. "Recognizing the inherent value of this history, HHHunt understood that it required additional attention to detail and careful planning. HHHunt worked closely with preservationists to maintain the integrity of much of the area and open spaces," said Crews.
Crews went on to explain that when HHHunt purchased the land in 2004, the Rutland House stood in the path of the planned extension of Atlee Station Road. "Tearing it down was never an option," Crews said. Right from the beginning, HHHunt recognized the home was a significant historical feature and the antique home will make the project quite pleasing.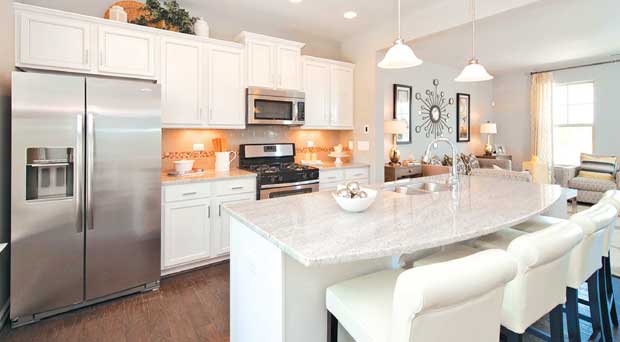 A family cemetery also stood in the path of the Atlee Station Road extension, and the Timberlake family reinterred the remains in Hollywood Cemetery. Archeologists determined a second cemetery contained the remains of 57 enslaved bondsmen and free African-Americans. HHHunt reinterred those remains in a memorial garden in front of the relocated Rutland House. "Moving and renovating the Rutland House cost HHHunt approximately $1.5 million but it was worth the cost and effort to transform it into the community and educational center it is today," said Crews. It serves as the community clubhouse for the community and includes a pool with beach entry water features, slide, and playground. The Rutland House provides an authentic sense of place and keeps the community grounded in its history.
Realizing the goal of open spaces and a recreational community was another challenge to HHHunt. With a desire to create a community that encouraged homeowners to gather, socialize, walk and spend time outdoors, HHHunt created the perfect communities for all generations. "This is an unusual approach for many typical communities; but then again, Rutland is not a typical community. It is a shining example of a vibrant mixed-use community," said Crews. In order to facilitate a recreational lifestyle, HHHunt built over 3.25 miles of sidewalks and walking trails that connect the community to the YMCA, office development, daycare, and retail areas.
A final challenge was environmental in nature. "HHHunt used sustainable materials and planning techniques throughout the development of Rutland. The developer also utilized smart growth principles when planning and building Rutland," Crews said.
"The Rutland mixed-used development has been a phenomenal success and continues to grow," said Crews. The development is now 60 percent complete and is scheduled to be fully completed by 2015/2016. "Rutland has been developed in a sustainable manner and should continue to thrive for many decades to come, Crews added." The community certainly lives up to its impressive historical heritage."
With Rutland, HHHunt made it a point to build a sustainable community that would encourage smart growth. "Hanover County officials were supportive of HHHunt's vision and trusted that the development would be implemented accordingly, which has been done," said Crews. "A testament to the county's faith in Rutland is the location of the Hanover Economic Development Authority in Rutland Center."
The community's design provides for the preservation of natural and historical features of this property, with quality amenities such as a community clubhouse, pool, play area, streetlights, landscaping, sidewalks, and walking paths.
The location is approximately 10 miles to downtown Richmond and within one mile of major employers, such as Federal Express, Media General, and Owens and Minor. Rutland Commons is comprised of 28 acres, consisting of approximately 110,000 square feet of retail, in addition to outparcels. Anchored by Kroger, Rutland Commons also features restaurants, a coffee shop, banks, salons, and more. Its convenient setting makes it ideal for homeowners and business owners alike to walk to shopping, dining, and other services.
"HHHunt takes pride in building and developing communities where people are proud to live, work, and play," Crews added. "Rutland continues that tradition of combining quality amenities with the strictest of architectural guidelines to ensure aesthetic integrity and to promote economic longevity."
Stephanie Ornelas is an editor for Builder and Developer magazine. She may be reached at sornelas@penpubinc.com.