Elmwood at ShadeTree: Flexibility at Its Finest
Elmwood at ShadeTree's thoughtful features
By Hanna Heiss
One-of-a-kind homebuilder, Landsea Homes' goal is to create inspired spaces that connect seamlessly to their surroundings. They take pride in delivering responsibly designed homes with the highest standards in unsustainable building technology so that every detail creates a healthy living environment that enhances the lives of their residents and makes home more comfortable. In just eight short years, Landsea Homes has grown into one of the premier national homebuilders, with a strong and successful presence in each of their key markets.
Dahlin Group Architecture Planning (DAHLIN) is a diverse architecture and design firm that successfully supports client relationships by matching their expertise with the client's expectations and goals. Their design solutions are innovative, real and achievable. Their people are passionate about creating places that promote human fulfillment and well-being. Since 1976, DAHLIN has been committed to excellence in design which is best demonstrated through their long-term client relationships and by their award-winning, financially successful and sustainable design solutions.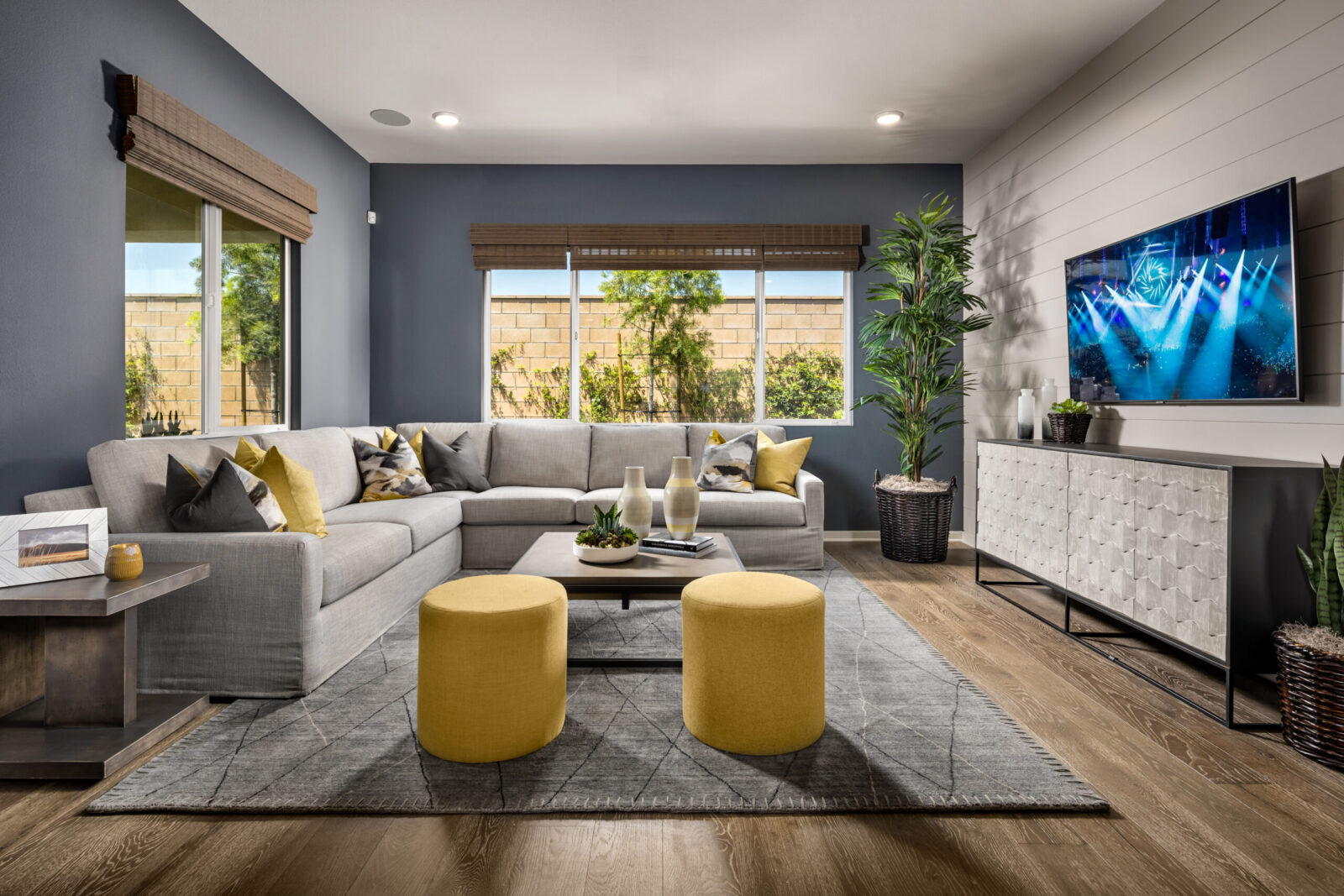 Together, Landsea Homes and DAHLIN broke ground on ShadeTree in October, 2019, opening its doors in March, 2020 and selling out in February, 2022. 
The ShadeTree community is located in Ontario, California and is centrally located near employers, restaurants, major transportation and entertainment destinations making life easily accessible. The community includes four neighborhoods: Amberly, Brichley, Willowton and Elmwood. These four neighborhoods total out to 432 one- and two-story single family homes on an 84 acre parcel.
The neighborhood of Elmwood is the star of the show here, earning a PCBC 2022 Gold Nugget Merit Award for Best Single Family Detached Home, rendering them a finalist for the grand prize. As a whole, the community won the BIA SoCal 2021 MAME Awards with its recreation center recognized as a finalist.
Elmwood offers a variety of modern interpretations of the traditional architectural styles of ranch, farmhouse and Spanish styles. The homes in Elmwood were designed to reflect modern living and create a unique community filled with modern elevations that were completely new to the Ontario market. 
"The homes in Elmwood were designed to reflect modern living and create a unique community filled with modern elevations that were completely new to the Ontario market." – Patrick Higgins, Vice President, Sales and Marketing, Landsea Homes
Keeping up with modern living, the floorplans were specifically designed to include LiveFlex® rooms. The LiveFlex® program presents the opportunity to transform spaces into whatever a homebuyer's lifestyle may need, whether that's a home office, an at-home learning space, a guest bedroom or a place to exercise. These new spaces incorporate thoughtful construction and innovative technology with smart home features, privacy and ambiance settings that can be individually designed to allow homebuyers to "live in their element."
Additionally, ShadeTree is about building community; a place where residents can feel connected to their neighbors. The collection of amenities and shared spaces at ShadeTree are a perfect way for residents and neighbors to enjoy some fun and relaxation, and to experience moments of truly coming together. 
State-of-the-art amenities include a Rec Center with tables, lounges, TV's and a bar, the Party Pavilion and the pristine pool area featuring a lap pool, kiddie pool, spa, cabanas, fire pits and more. The community also features a state-of-the-art park area featuring open play space, picnic tables, a shaded tot lot, dog park and tree hammocks, meant to be a place for people to find a sense of belonging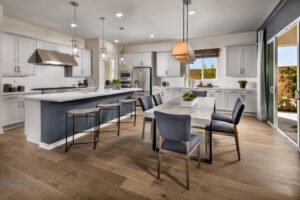 All Elmwood at ShadeTree houses are equipped with Landsea Homes' High Performance Home features, which focus on four key pillars: sustainability, healthy living, home automation and energy savings. The use of environmentally conscious, low VOC building materials lessens the impact on the planet, and each home comes with upgraded roof insulation, upgraded wall insulation, more efficient mechanical systems, ENERGY STAR® rated appliances, LED lighting and the REME HALO® air purifier. These cost-in-use features lower monthly bills and encourage environmental awareness and stewardship.
Besides energy efficiency, another noteworthy feature of Elmwood is that select floor plans provide an option for Landsea Homes' LiveGen™ Suites, which provide separate living spaces within the home to accommodate multi-generational families and other special living arrangements.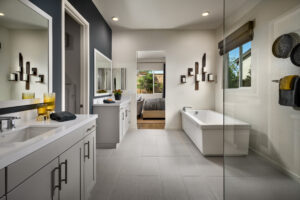 Homes at Elmwood appeal largely to individuals and families who are looking for space to accommodate growth, and for those who want to customize their space to meet their lifestyle needs. Prices range from $900,000 to $1,100,000 with floor plans ranging from 2,312 to 4,027 square feet, including options for three to five bedrooms, and two-and-a-half to four-and-a-half bathrooms with LiveGen™ suites and LiveFlex® opportunities.
With Landsea Homes' motto of "Live in Your Element," and DAHLIN's of Passion for Place®, it is truly evident, in all that they do, that they care about their buyers. While Elmwood is completely sold out, homes are still available in the Birchley and Willowton neighborhoods.
Hanna Heiss is the Assistant Editor for Builder and Developer Magazine and can be reached at hanna@builder.media