Energy Efficiency for Colorado Boomers
As the Baby Boomers reach or approach retirement age – and that's more than 70 million Americans – many builders are attempting to fill their needs with 'ranch homes,' primarily single-level homes with easier access, less stairs and fewer hurdles and obstacles for home owners who will someday be less mobile than they are now.
The reason home owners want this kind of home is that as they approach retirement age, they're down-sizing and are looking for that 'empty-nest' nest. And at that time, it's often in their minds that this may be the last new home they want to buy. They need safety, they need convenience, they need mobility.
And they also want energy efficiency. Boulder Creek Neighborhoods is not only a leader in new housing that redefines homes for the Boomer generation in their silver years, they're one of only two Energy Star Certified Home Builders in the State of Colorado. They embrace green building practices, energy efficiency and a true sense of place.
"We're using 98% energy efficient HVAC, and 92% tankless water heaters," added Mike DiGiovanni, Boulder Creek's Director of Purchasing, who said they also use thicker beams and blown-in insulation "to make the home tighter and more comfortable." "With all the energy enhancement additions we've done, we're certain that every house will score below 50 on the HERS ratings," he said. A standard new home has a 100, according to the RESNET index, so a score of 70 is 30% more energy efficient.


"A sub-50 score without solar is a big leap, a big milestone," DiGiovanni added. "Usually they say if you're sub-50 without solar, you should doublecheck your calculations. But we know our buyer is going to be on a fixed income, and we want to keep them cool, and keep them warm, for less money." While energy efficiency is a paramount goal in the design of their new homes – such as the 56 homes that will be in the Outlook at Plum Creek in Castle Park – Boulder Creek Neighborhood is also interested in improving the standard ranch house for aging Boomers.
Boulder Creek has listened closely over the years to see what empty-nesters or soon to be emptynesters are looking for. It turns out, they want what every other group of home buyers want: something that feels like it was designed for their needs, their tastes and their specifications.
Despite the recent economic downturn, when many builders remained status quo or even dialed things back on research and expansion, Boulder Creek analyzed that there would soon be an increased demand for this style of house – and saw a shortfall of supply ahead.
The developers began designing a house that could improve on existing ranch designs, while maintaining the primary features that most home buyers find essential in this type of project. Boulder Creek then added to the ease of living, while focusing on the overall living experience of the home.
Sometimes referred to as "Universal Design," Boulder Creek calls their approach easyHouse and focuses its approach to "understated elegance" on what's inside. The lifestyle value, the attention to detail and the long-range planning make these homes truly unique in an increasingly populated landscape of ranch plans.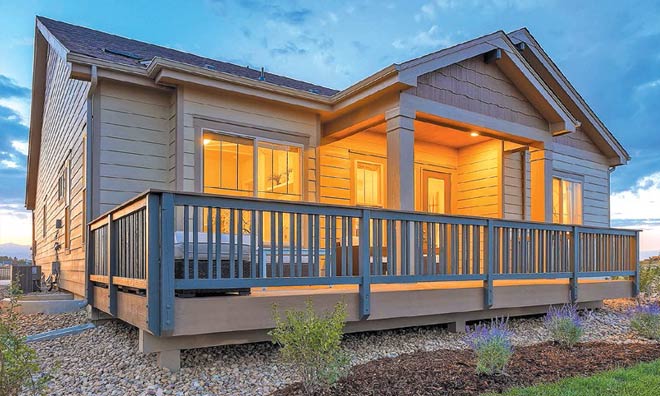 "Our company has been exclusively focused on separating itself from the traditional ranch plans for the empty-nester/downsizer,' said Boulder Creek President David Sinkey. "We've really improved upon the purest version of a traditional patio home."
Boulder Creek has incorporated more than twenty five intuitive and progressive features in the Universal Design. Many of them are subtle touches that are intended to make the home enjoyable and livable for family members of different age groups. "Some of these features are recognizing that families sometimes have Mom coming to live with them, or anticipating that it will be happening." Others, he said, are simply cognizant of the reality of the need for ease of mobility, and the reduction of obstacles and hazards, as homeowners and residents advance in age. Examples he mentioned were zero step access – or at the most one step access to the garage, the front porch, or the back deck.
Other features include wider than normal hallways, showers, and stairways. "It adds to the ease of mobility, even if you're just short-term recovering from surgery." Sinkey said. "And to a lot of our buyers find that attractive, even on a temporary basis."
"They're not super sexy features, but they add up to an environment that will add to" the ability to stay long-term in the home.
Other Universal Design concepts mirror the "Aging in Place" design elements common in remodels or traditional patio home construction, such as no-threshold entries, extra wide passages between kitchen counters and islands, 36″ doorways throughout the house, dedicated baths for all main-floor bedrooms and many more. The idea is that these features help to complete a home that its residents won't outgrow due to lifestyle changes or minimal reduction of mobility.
"These are the people who are making their last move into a new home, and they want to make sure they stay there as long as their lifestyle matches the opportunity," Sinkey said.
"easyHouse is ideal for those seeking the ease of never having to move again, along with the daily enjoyment of carefree, low-maintenance, main floor living without unnecessary compromises."
Other features include the "Living Triangle" or "Family Triangle" concept of open living environments for entertaining and choices for areas designed for 'bounce-back' family members (parents or grown children, multi-use areas for dens, media rooms, libraries, etc.), all based on the homeowner's lifestyle choices.
And because Boulder Creek Neighborhoods are also focused on the living costs of the family as well, all these homes have a very low HERS rating (Home Energy Ratings System). "We're an Energy Star Builder – every single house we build is tested to ensure we're energy efficient," Sinkey added. "We validate the pre-construction metrics with the performance statistics to ensure that on every home."
"Having an easily accessible, energy-efficient home, even if you don't think you need it yet, doesn't hurt anyone." Sinkey said.
Mike Brennan is a writer/editor with Builder and Developer magazine. He may be reached at mike@penpubinc.com