An Energy-Saving Standard
Amaris Homes' impressive resume includes building Minnesota's first home that met the Department of Energy's Challenge Home standards
By Carina Calhoun
Founded in 2001, Amaris Custom Homes specializes in custom green home building in Minnesota, serving the wider Twin Cities market area, including western Wisconsin. Formerly Solid Ground Construction, the company was renamed in 2007 to reflect the founders' vision to become a leader in energy-efficient, safe, healthy and durable green homes.
Today, Amaris Custom Homes is a market leader in Minneapolis custom green home building. Amaris Custom Homes has been the first builder to build LEED certified green homes in many Minnesota communities.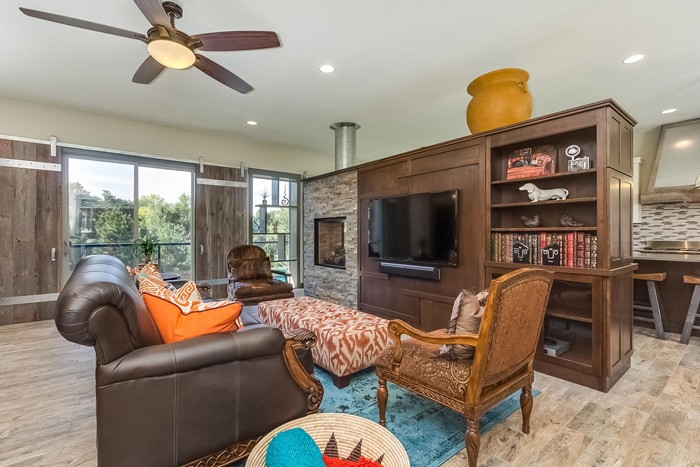 The Afton Carriage House by Amaris is a paragon example of their commitment to providing clients with sustainable, energy-efficient homes. The Afton Carriage House was completed in 2015 and featured in the Twin Cities Fall Parade of that same year.  The home includes a $40,000 solar system that guarantees the homeowner no NET energy bills for 10 years. The home sits on 5 acres of beautiful land, with just a few square feet below a 1,000 dedicated for the homeowners' preference—either a generational living home, office, and such. 
Another notable highlight for Amaris' green endeavors is building Minnesota's first home that met the U.S. Department of Energy's (DOE) Challenge Home standards, showcasing their commitment to green building and setting a standard for 21st century home building. The builder worked with the DOE team NorthernSTAR Building America Partnership to approach zero energy in Minnesota's cold climate using reasonable, cost-effective, and replicable construction materials and practices.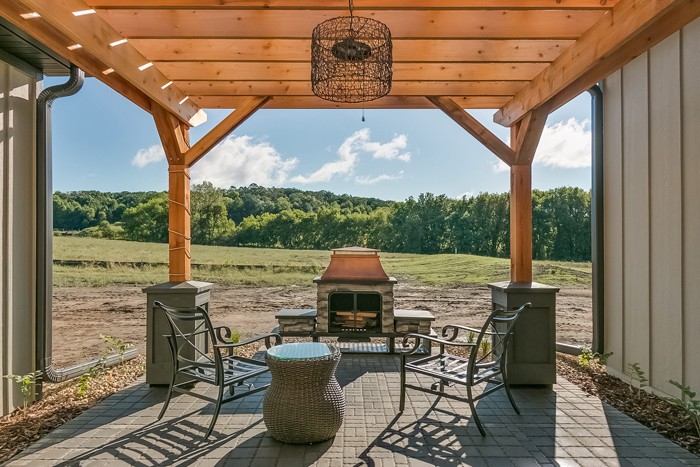 Setting the new standard for Minnesota home design, the five-bedroom, four-bathroom custom build features stunning "up north" views and all the creature comforts. Even better, it was built to be extremely energy-efficient.
This groundbreaking project was able to reach a top one percent level of home energy efficiency. In fact, it is the most energy-efficient home ever offered for sale in Minnesota. To achieve these high standards, the passive solar designed home is situated on a shallow depth, south facing lot that features ample glazing. The long, shallow home design accommodates the real estate needs of a 12.375 kW solar voltaic system. The solar voltaic system meets more than 100 percent all of the home's electrical needs.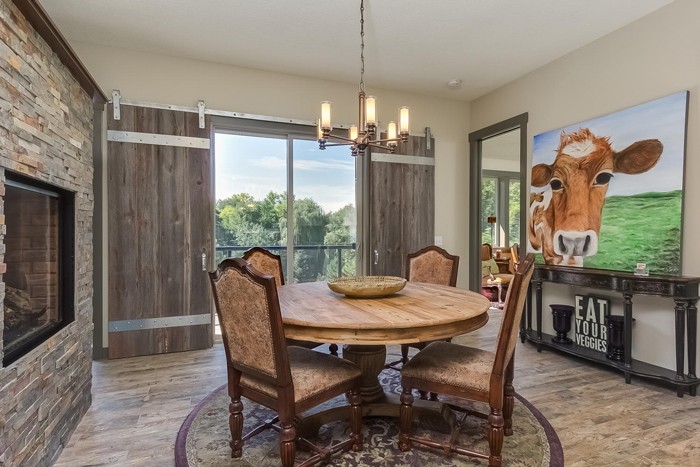 In a case study published by the DOE, Ray Pruban, Founder and Chief Manager of Amaris Custom Homes said, "We call it common-sense building." He continued, "We constantly pursue an understanding of how the built systems will operate and perform together and carefully incorporate products and procedures into the homes we build in a way that makes common sense for our customers."
Amaris homes are built for living in, and this home raises the bar for what living really means. A large viewing deck is a nice amenity used for gathering or socializing outdoors. However, it serves a bigger purpose when it comes to sustainability. The deck and overhangs were designed to shade the south facing windows through the summer months and let the sun shine in during the colder months.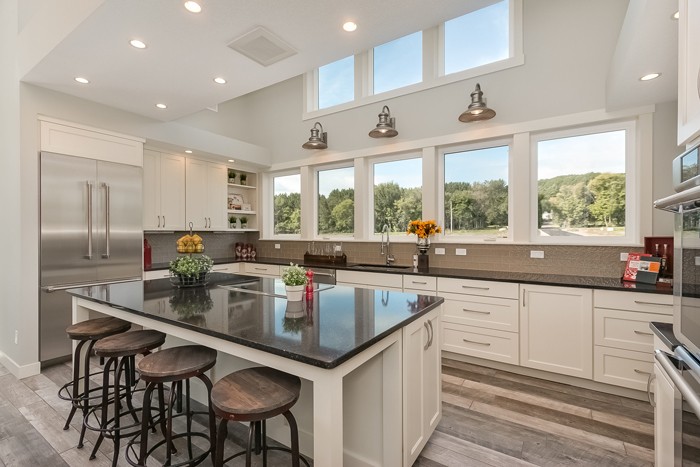 Even the floors in this home were built to conserve energy. Thermal mass concrete and tile on both levels work to absorb the winter sun. This allows the home to be cooler during the day and warm at night. With a HERS score of three and a $40.00+/- cost to operate per month, this home redefines what it means to be efficient. Plus, lower costs don't equate to a lower standard of living. The home has a wide array of amenities for comfortable living.
Designed with sensible standards, the home's barrier free front entry and oversized interior doors accommodate wheel chair access and the master shower offers a zero barrier walk-in shower. The main living area embraces the open floor plan concept by implementing a seven-foot tall dividing wall below a 10-foot ceiling to create separation between the living room and kitchen, while still making the space feel large. The kitchen includes a nine-foot prep island, professional appliances and an enormous pantry.
According to DOE's case study, 90 percent of the flooring is hard surface, and the small amount of carpet is formaldehyde-free. Low-volatile organic compound (VOC) glues and no-VOC/low-VOC paints and varnishes were specified. As a result of this exceptional attention to indoor environment, Amaris is recognized by the Minnesota Department of Health as a Gold Standard Builder.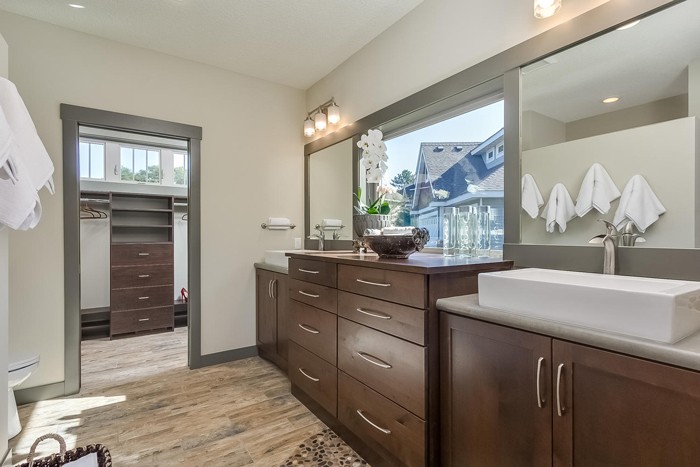 "A comfortable home environment doesn't happen by accident. We try to maximize the home's comfort by planning every detail of your home very deliberately. We evaluate every factor that contributes to occupant comfort, starting with the building and window orientation to maximize natural light," Pruban stated in the same DOE study.
In addition to being the first DOE Challenge Home ever built in Minnesota, this home was certified under the new LEED for Homes 4.0 program as the second certified in the United States. It was also certified at the Masters level of the Local MN Green Path program. As part of the certifications the home also meets Energy Star 3.0, EPA indoor-air quality plus and Environmental Protection Agency's (EPA) WaterSense programs. If all of that isn't enough, the home was also awarded with the Builders Association of Twin Cities' (BATC) Coveted Reggie Award. The Reggie Award is a peer award where industry professionals chose the best of breed homes in the Parade of Homes events.
By applying this common-sense approach to custom building, Amaris has become a market leader in green homes that are energy-efficient, safe, healthy, and durable.
Amaris has embedded high-performance principles into its everyday building practices and has committed to building 100 percent of its homes to meet the requirements of DOE's Zero Energy Ready Home program. "Saving money every month on energy and utility bills means having extra money each month for other things more important to our clients. Because they are using less energy, they automatically reduce their carbon footprint too," said Pruban. n
Carina Calhoun is the Editor-at-Large for Builder and Developer magazine. She may be reached at ccarina@penpubinc.com.