Environmental Options for the American Dream
By Stephanie Ornelas
Meritage Homes Corporation is one of the largest builders in the country. Having championed the ENERGY STAR Certified Homes program as the baseline for every home it builds, the sustainable homebuilder incorporates ENERGY STAR throughout its marketing and sales materials.
Meritage is receiving ENERGY STAR Partner of the Year – Sustained Excellence recognition for its commitment to educating its employees, industry stakeholders, and the public about the value and benefits of energy efficiency.
Their key 2013 accomplishments set them aside from all other builders. Some of these accomplishments include completing 4,600 ENERGY STAR certified homes in 2013, which will save nearly 36 million kWh of electricity, eliminate over 54 million lbs of CO2, and reduce homeowner utility bills by more than $4.3 million annually.
Championing the construction of homes that earn EPA's ENERGY STAR, as well as EPA's Indoor airPLUS and WaterSense labels is another accomplishment worth talking about.
Meritage believes in educating homebuyers about the value and benefits of advanced building techniques and ENERGY STAR certified homes at its more than 75 learning centers throughout the United States and through 40 homeowner education sessions.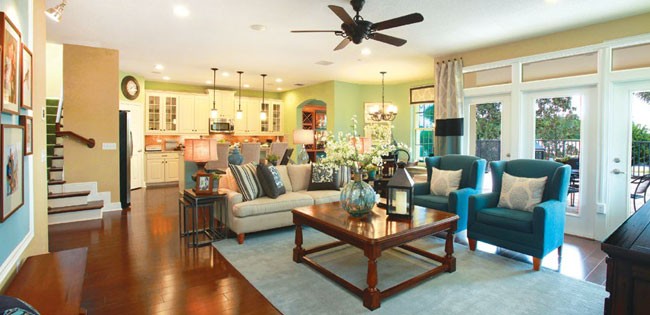 Along with training 200 construction staff and subcontractors, as well as 600 sales staff, on ENERGY STAR requirements and other advanced building practices at mandatory management training days at all of its divisions, Meritage augmented its mandatory sales training programs with an advanced energy efficiency course and a Continuous Education Course for Realtors® highlighting the features and benefits of ENERGY STAR certified homes.
One project in particular is Windermere Landings in Orlando, Florida. Just minutes from multiple lakes and daily convenience, Windermere Landings in Orlando, Florida offers sustainable solutions for each home including, Energy savings of up to $1,655 per year, and ENERGY STAR V3 certification. "It's the right thing to do for our future homeowners and our company's mantra is to continue to innovate with our building standards providing not just a newer home but a better, healthier home," said Maclure.
With a strategic building approach, Meritage was able to construct an energyefficient community while still making sure each homeowner is living comfortably. "Our building approach changed based on volume, we moved to phase building giving us greater efficiency and focus on finish quality."
Setting them apart from other communities, Windermere consists of three product lines, with a mixture of architecture and materials. "Along with tile and shingle roofs combined with energy savings sets us apart from anything in the area," said MacLure.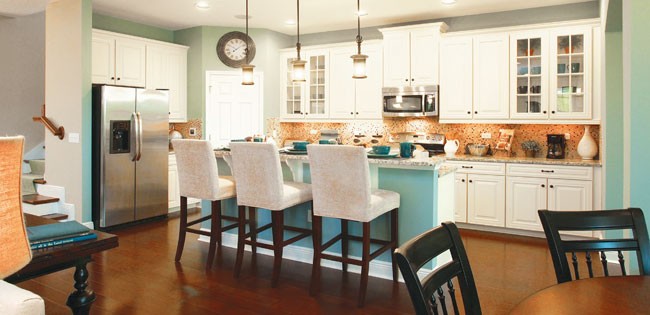 Being ENERGY STAR Certified, the home required strategic planning from all ends. According to MacLure, The community was built with 1″ rigid insulation on the interior of the block walls, spray foam insulation, low E2 windows, water-efficient fixtures, ENERGY STAR appliances, dual flush toilets, low VOC carpets, paints and finishes, weather sensing irrigation, CFL lighting and fixtures.
Along with being located next to excellent schools in the area, Windermere residents have access to multiple outdoor activities and easy access to shopping, dining, and attractions.
Every home built by Meritage helps showcase their commitment to providing incredibly energy-efficient homes that gives their homeowners the opportunity to spend their money on better things than utility bills. Believing in building new homes and communities the way they should be built is something Meritage Homes stands by. Every home in this community is built standard with energy- and money-saving features. including CFL Lighting and Fixtures, Dual-Flush Toilets, ENERGY STAR® Appliances, ENERGY STAR® Programmable Thermostat, Fresh- Air Intake, Low VOC Carpets, Paints and Finishes, Low-E2 Vinyl Windows, Merv 8 Air Filters, SEER 15 HVAC, Spray-Foam Insulation, Water-Efficient Fixtures and Weather-Sensing Irrigation.
Defining great curb appeal with beautiful front porch living, the community offers 4 bedrooms, 3.5 baths, and 2-car garage. This functional floor plan offers plenty of relaxing living areas and private nooks for every member of the family. The open family room lends itself to easy conversation with family and friends while cooking up a storm in your spacious kitchen.
The combination dining and living room provides the perfect space for indoor entertaining, or move the party outdoors to your private lanai. The first floor den offers the perfect space to work from home. The second floor offers all secondary bedrooms plus a gorgeous master and an optional bonus room that would make a great family hang out for game night or movie night.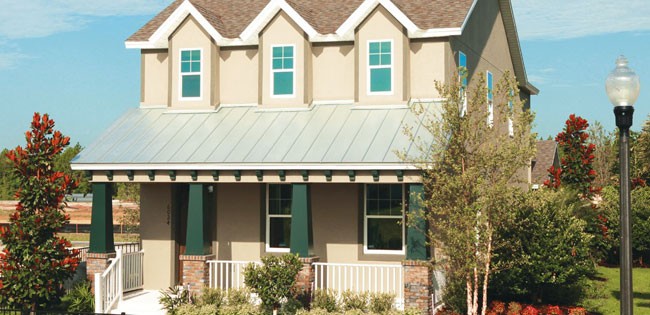 Like many projects, Windermere Landings faced challenges that needed to be met before continuing with the building process. "We weren't prepared for the volume of interest the community generated or the level of excitement the community has driven," said MacLure. "We created opportunities based on condensed space building and traffic control allowing our trades to work more efficiently."
When asked what the approach to building this particular community was, MacLure explained, "We used flowed construction from the perimeter to the interior to control traffic flow allowing trades to easily access and work together on projects.
MacLure went on to explain how a lot of the Windermere's inspiration was driven from an architectural plan incorporating the requirements of Horizons West while bringing Key West style architecture to the area.
"Windermere is the first of its kind in Horizon's West, a detached bungalow series, which eliminates townhome attached living but holds the value of smaller square footage and maintenance, but brings the Windermere homeownership dream to a single living stage at a more economical price point," added MacLure.
Stephanie Consiglio is an assistant editor for Builder and Developer magazine. She may be reached at sconsiglio@penpubinc.com.