ETCO Homes Builds Luxury Better in 90210
With two luxury communities under its belt in the Beverly Hills area, ETCO Homes is quickly gaining a reputation as a leading developer in the famous 90210 neighborhood. Founded in 1989 by the Etebar family, the independent and privatelyowned firm builds a wide range of residential and commercial properties, including contemporary townhomes and luxury custom homes, mixed-use office, retail and industrial properties. The firm is led by co-founders Afshin Etebar, President, and Bob Etebar, Principal and Chief Operating Officer. Although the team has worked successfully on a multitude of developments, their current prestige is directly tied to the new staple for international buyers seeking security: the luxury condo.
The two respective communities, 460 Palm and 432 Oakhurst, are located on truly quintessential, tree-lined Beverly Hills streets. Close to prestigious schools and restaurants, the surrounding area offers something that buyers with political unrest and high taxation in their own country can't find; that is, stability. Buyers are citing the ability of Beverly Hills real estate to hold its value better than other areas – even in times of downturn; they consider it a "safe haven" for a real estate investment. More so, unlike any of the available real estate in the surrounding market, 460 Palm and 432 Oakhurst are the only new condominium communities in Beverly Hills, a product that can be easily labeled as in demand.
The 460 Palm community has only recently entered the market, with favorable feedback from buyers. This 35-unit community of single-level condominiums and penthouses features units ranging from 2,114 to 3,643 square feet with two to four bedrooms and two to three bathrooms, ranging from $1.9 to $3.6 million. Like its sister project 432 Oakhurst, no detail was spared, blending traditional luxe Beverly Hills vibes with modern aesthetic. Oversized verandas, floor-to-ceiling windows and "vanishing" glass sliding doors, allow for beautiful views and indoor-outdoor living –– a main component for these Los Angeles homes. This technique was deliberate, according to the main architect, Greg Bucilla of Bucilla Group Architecture (BGA). "Our vision was to complement the exterior architecture with retractable outdoor space in a vertical setting. We accomplished this by creating extra large verandas and disappearing glass pocket doors that provide transparency throughout," Bucilla shared. He added that this sliding glass door feature –– or emphasis on seamless living –– is what makes these spaces so special, expanding the edge of the living space into the outdoors.
While Bucilla's firm designed each of the living spaces with these components, the penthouses received special treatment. "Penthouse units also include a really unique and interesting clear-story element that allows you to see into the home from the unit's private rooftop deck. [These] elements are two-story towers of glass above the dining area of the penthouse homes," he noted.
460 Palm will also include finishes that accent the opulent design; designer-selected carpeting in bedrooms complements hardwood flooring in kitchens, dining and living areas. Fully equipped with Miele and Sub-Zero appliances, kitchens include premium Caesarstone quartz countertops and kitchen islands, and frameless European style cabinetry. 460 Palm will also feature well thought-out amenities and services for an opulent lifestyle including an attended lobby with doorman service, a state-of-the-art surveillance system, a fully equipped fitness center and a beautifully appointed, lounge/meeting room. Each penthouse unit will have a private rooftop terrace with direct elevator access, spa and built-in barbeque, and stunning city and mountain views. Additional amenities include lush landscaping and convenient subterranean parking with up to three parking spots.
460 Palm's luxury design was modeled closely off the 432 Oakhurst community by ETCO Homes, which quickly sold out. "432 Oakhurst was designed to appeal to affluent domestic and international buyers with superb taste and a desire to experience the exclusivity of Beverly Hills," said Afshin Etebar, cofounder and president of ETCO Homes. "These homes give residents access to a lifestyle of the utmost appeal."
The kitchens and baths of 432 Oakhurst feature the same fine selections as 460 Palm's, and the building's exterior and interiors reference each other, creating a cohesive feeling. Appointed with the highest quality of appliances, the interior options include Fleetwood floor-to-ceiling windows and glass sliding doors opening onto outdoor living spaces; multi-slide doors in select locations; contemporary maple planked entry doors; designer-selected, solid-core interior doors; recessed lighting with brushed stainless trim throughout; and pre-readiness for automatic window treatments.
Also, similar to the 460 Palm community, each of the seven fifth-floor penthouse homes at 432 Oakhurst include their own private rooftop with up to approximately 3,400 square feet of living space. Unobstructed views of the Hollywood Hills, downtown Los Angeles and Century City skylines, as well as the treetop-lined streets of Beverly Hills are a few of the options for Penthouse residences.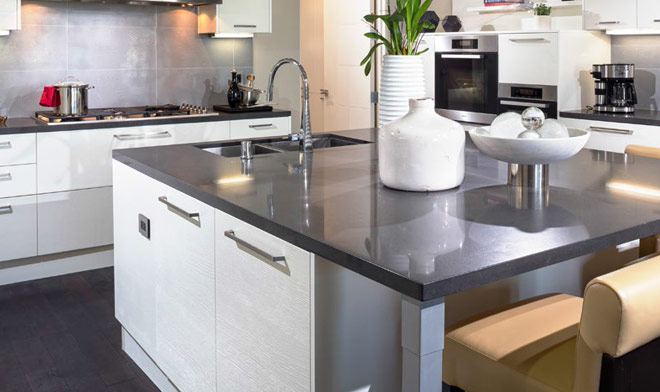 For the modern exterior of 432 Oakhurst, ETCO Homes appointed Gabbay Architects to design the mid-rise. Gabbay and his team were careful to strike a design balance that captures a contemporary feel while still taking into account the range of architectural styles that characterizes this block.
"Beverly Hills has always accommodated eclectic architecture," noted Hamid Gabbay, architect and principal of Gabbay Architects. "If you look at the same block where 432 Oakhurst stands, you will see a semi-traditional building to the South and other styles to the North," added Gabbay, whose Beverly Hills, Calif.-based firm actually faces Oakhurst Drive.
Specific forms – and colors – were also integrated into the design to keep the building's size from looking out of scale with its surroundings. For instance, the architects incorporated horizontal lines in darker tones to lower the perception of height. These horizontal lines also give the building a sculptural quality, which adds to its overall elegance.
As the ETCO legacy continues to be built, it's no surprise how quickly it's forming. "We are extremely excited about 460 Palm and 432 Oakhurst because it brings luxury condominiums to an area where there are very few of its kind available for sale," said Etebar. Following the swift and successful sell-out of the Oakhurst development, there is no doubt that their future residents share the same excitement.
Lacy Allen is the Editor for Builder and Developer. She may be contacted at lacy@penpubinc.com