Evergreen Living and Davidson Homes Purchase Just Over 7 Acres in Steele Creek for New Townhome Community
Land Advisors Organization's Charlotte office facilitated the deal that will bring 58 new townhomes to southwest Charlotte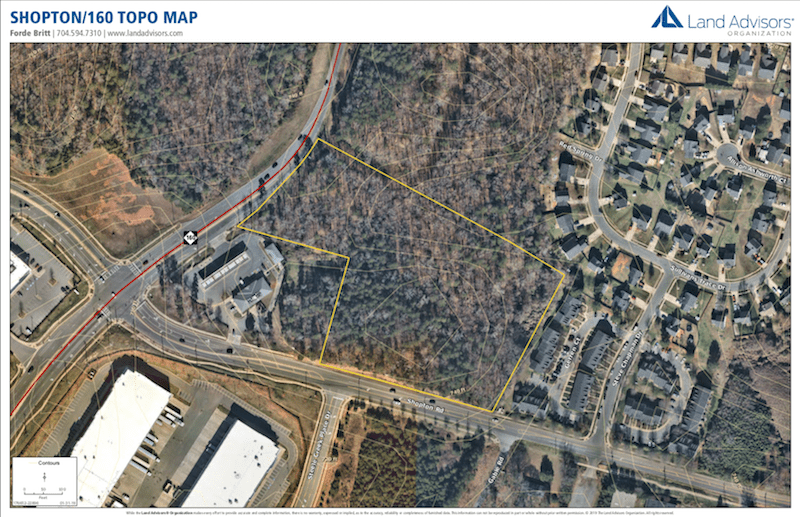 Charlotte, NC (August 23, 2021) – Land Advisors Organization's Charlotte office is pleased to announce the recent sale of just over 7 acres on Shopton Road in the Steele Creek area of Southwest Charlotte. EverGreen Living and Davidson Homes worked together on the purchase of the property, and will build  58 highly appointed townhomes on the site.
The location of these townhomes is in the fast-growing Steel Creek/Shopton Road area and situated with easy accessiblity to I-485 and only 10 minutes from Charlotte Douglas International Airport. The site is also in close proximity to  popular  restaurants and shopping, including the Charlotte Premium Outlets which are less than 1 mile from the new townhome community.
"Working with these buyers was a privilege, particularly as they embark on introducing their new product to the Charlotte area," said Forde Britt, advisor with Land Advisors Organization's Charlotte office. "These units are expected to be highly sought after, given the quick residential absorption in the area, and because of the appealing product they are delivering."
The sale of this property is novel for the buyers, Evergreen Living and Davidson Homes, as it is the group's first closing in the Charlotte MSA. They are also under contract on several other sites in the MSA and planning to make their   premier product available to the broader Charlotte market.
The buyer was represented by Forde Britt of Land Advisors Organization's Charlotte office. The transaction closed in July 2021 and construction is expected to begin in September 2021 and the first homes will be available in
Davidson Homes launched in 2009 and are based out of Huntsville, AL. Within the past decade they have become one of the country's fastest growing homebuilders with developments spanning from Texas to North Carolina. They emphasize a customer-focused approach that enables the development of communities with desirable amenities, ideal locations, and an appealing price point.
The Charlotte office of Land Advisors Organization opened in May 2018. Since then, the team of advisors have facilitated more than $60M in land transaction services, including over $30M in 2020. The team works closely with landowners, home builders and developers to arrange land sales in highly desirable urban in-fill areas as well as throughout Charlotte's surrounding suburban submarkets. Because of their in-depth knowledge of the area, including population growth trends and understanding of the challenges associated with development in historic areas, the Charlotte advisory team dedicates time to working through myriad issues on the front end to help expedite deals. They are also known for having insights into properties prior to coming on-market and bringing together parties with shared goals to support positive development in the area, which they call home.
About Land Advisors Organization
Founded in 1987, Land Advisors Organization is the nation's largest land brokerage firm specializing in providing deep market insights to landowners and purchasers for the most comprehensive and effective evaluation of land in markets across the country. By integrating current local market information with cutting-edge technology and geographically specialized professionals, Land Advisors Organization advises clients in identifying and capitalizing on valuable land opportunities in all economic environments. Land Advisors Organization serves landowners and purchasers from offices in Phoenix, Tucson, Casa Grande and Flagstaff, Arizona; Irvine, San Francisco, Century City, Pasadena, Roseville and San Diego, California; Orlando and Tampa Bay, Florida; Boise, Idaho; Las Vegas, Nevada; Albuquerque, New Mexico; Charlotte, North Carolina; Austin, Houston and Dallas-Fort Worth, Texas; Salt Lake City, Utah and Seattle, Washington. Stay connected with us on Twitter, Facebook and LinkedIN.
# # #
Media Contact: Patty Johnson, Connections Marketing & Communications
PattyJohnson@Connections-marcom.com or 602.402.2965