Family Development and Mosaic Break Ground On 209-Unit Luxury Rental Community
Construction is underway at Town Germann, a single-family for-rent gated community. 
Family Development and Mosaic have announced the groundbreaking at Town Germann, a gated, build-to-rent community located in Gilbert, Arizona. The 14.5-acre property will consist of 209 luxury townhomes ranging from approximately 1,192 to 1,379 square feet with two- and three-bedrooms, 2 baths plus a powder room and two-car attached garages. Rents are anticipated from $2,600.00 to $2,900.00. 

"Town Germann offers a long list of perks for its future tenants: a prime location, spacious rooms, open floorplan designs, private two-car garages with direct access, and highly desirable amenities," said Vince Barbato, Principal of Family Development. "Residents will appreciate the privacy of living in a gated, professionally managed neighborhood with a multitude of retail and dining options just minutes away. Plus, its proximity to major freeways, including the nearby 202, will offer convenient access for commuters." Restaurants, shopping, entertainment venues, medical providers and recreational activities are all within walking or biking distance to Town Germann. 
"We were immediately inspired by Family Development's innovative vision for this community," said Ron Gonski, Senior Vice President of Growth at Mosaic. "As the Build-to-Rent market evolves, Family Development has keyed into what today's renters really want, like an outstanding location and top-tier amenities that cater to their everyday lifestyles. This project's scale and quality make it an ideal match for Mosaic's innovative, technology-enhanced general contracting platform."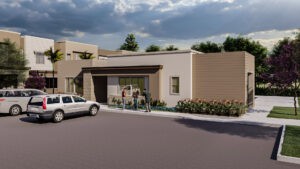 Behind its private gates, Town Germann's sought-after amenities will include a central resort pool and spa, barbecue area, fitness center, large central park, ramada, dog park, multiple pocket parks and walking trails. 
"We believe that Town Germann will be one of the most coveted luxury lease addresses in Gilbert," said Barbato. "From community perks to its ultra-convenient location in the heart of Gilbert, every detail has been thoughtfully planned with today's discerning renters in mind. Mosaic's vastly experienced team understood our vision, and as we learned more about the company's approach to construction, Mosaic became the obvious choice to help us bring this project to life."
Family Development and Mosaic operate at the leading edge of the build-to-rent industry, with Family Development completing multiple projects in the space already.  The companies bring to their collaboration vast experience in multiple locations and a shared vision about innovation and quality in the build-to-rent space. As both companies expand their geographic footprint, they will seek additional opportunities to collaborate.
To learn more and join the interest list for Town Germann, please visit familydevelopmenthomes.com
About Family Development 
Since its formation in 2003, Family Development has earned an excellent reputation as being a preferred homebuilder in California, Arizona and Texas.  Throughout its rich history, the company has built and sold homes with a total value of well over $1 billion in some of the most desirable communities in these states. As a private homebuilder, Family Development specializes in building communities that are heavily influenced by the highest design standards.  That is, rather than competing with public homebuilders solely on price, Family Development has found its niche and success building luxury communities where people appreciate the value of great design.  This high standard has allowed Family Development to build some of the most coveted communities in their markets. As design experts, Family Development knows that just like people who purchase homes, renters also have a great appreciation for superior design.  Therefore, Family Development has made it a point to design luxury lease communities that exceed the design quality of most of today's rental options.  Family Development utilizes their years of experience learning the way people ideally want to live in their homes.  They translate these insights into an open community land plan, beautiful elevations and, best yet, floor plan designs that live "right." In addition to Town Germann, Family Development has communities being built in Scottsdale, Phoenix and Surprise, Arizona, Palm Desert, California and Arlington, Texas.
About Mosaic
Mosaic is a tech-enabled general contractor, building homes for the nation's most innovative developers. Mosaic's homebuilding platform manages every stage of construction – from pre-development to warranty, through horizontal and vertical construction – by collecting, utilizing, and learning from powerful data. Mosaic standardizes the process, not the homes, providing elastic, scalable services – enabling developers to make places people love widely available. Learn more about Mosaic's homebuilding process at mosaic.us and follow Mosaic on LinkedIn and Twitter.