Family Development's Design Makes the Difference
Family Development has been building homes in Southern California since 2003 and in Arizona since 2012, continuing to win numerous awards for their communities.
Most recently, at the PCBC tradeshow in San Diego, Calif., Family Development's Revelle at Clancy Lane in Rancho Mirage, Calif., was named a Grand Award winner for the 2015 Gold Nugget Awards, the largest and most prestigious national competition of its kind. Pinnacle Pointe in Scottsdale, Ariz. was also was named a Merit Award winner at the annual event.
Gold Nugget Awards recognize those who improve communities through exceptional concepts in design, planning, and development. Residence One at Revelle at Clancy Lane, was named the "Best Single Family Detached Home, 3,000-3,499 Square Feet," and Pinnacle Pointe received a Merit Award for "Multi-Family Housing Community Under 18 Dwelling Units Per Acre."
Sōl Palm Springs has been another newsworthy Family Development project recently, receiving theDesignLens "Excellence in Architecture" award from John Burns Real Estate Consulting, LLC. This honor recognizes leading trends in new home architecture and design. Sōl Palm Springs is a new 46-home, modern-style gated community in Palm Springs, Calif., with homes ranging in size from 2,151 to 2,726 square feet.
Family Development has achieved quite the resume over the years with a star-studded team who conducts business with a family focus. In fact, the team is comprised of family members. Brothers, Rudy and Raymond Herrera came from the building industry, while the second set of brothers, Vince and AntunBarbato came from a sales and marketing background. When these four principles of Family Development formed the company, they wanted a name that was meaningful.
"There were plenty of options that sounded nice or had professional connotations, but we wanted a name that really expressed who we are," said Antun Barbato, Principal of Family Development. "Given that there were two sets of brothers, we knew that family was the most important thing to us."
There was a spark about Family Development from the beginning that set the homebuilder apart from everyone else.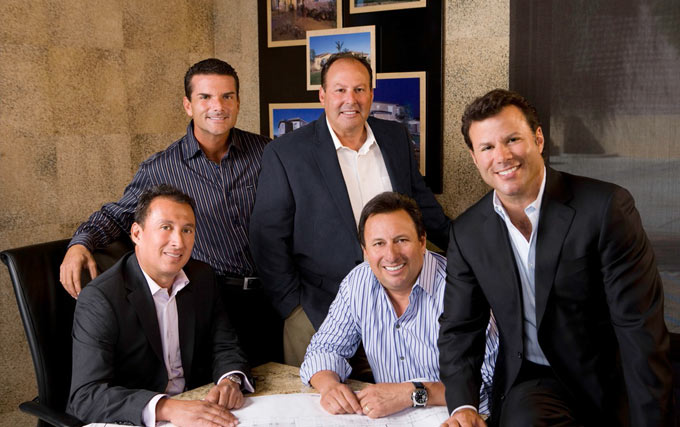 The Family Development Principals: Raymond Herrera, Purchasing and Construction; AntunBarbato,Sales and Closings; Robert Bishop, Internal Operations; Rudy Herrera, Land Acquisition and Entitlement; and Vince Barbato, Architecture, Marketing and Design.
"We prided ourselves on designing and building homes that were different than others on the market," said Rudy Herrera, Principal of Family Development. "We placed an emphasis on making sure that every square foot was meaningful."
In turn, the market responded kindly—within the first few years, the team had built roughly 1,000 homes in various communities throughout the Coachella Valley. This is hugely credited to Family Development's forward effort researching their markets to learn how prospects live, and most importantly, how they want to live.
"We find out where they work, where they play, and what their values are," said Vince Barbato, Principal of Family Development. "Once we have their definition of value down, we design to it." Perhaps this is why you typically won't see the company build the same product among any two communities. While it's not impossible to see an overlap, the team recognizes the special nuances that make a property unique and design their communities to accentuate them.
For example, the judges at the Gold Nugget Awards at PCBC selected for the award based on their attention to the market demand. "Recognizing the active social life of the Rancho Mirage Snowbird Market, this plan integrates features most prized by that market in a well-designed, well-executed home done in a transitional desert motif," the judges said of the project.
This attention to detail sets Family Development apart from the big public builders who tend to dominate the market. Small- and even medium-sized builders have a hard time competing with the "big guys" in price, but because Family Development has stuck to the markets they are most knowledgeable about, they are able to thrive with a niche product in excellent locations where design makes the difference.
"We are told by a great majority of our visitors that when they tour our homes, they feel the difference," said Raymond Herrera, Principal of Family Development. "When a person who has toured one of our communities tells us, 'I just love your homes; they feel so much better,' it's a wonderful compliment—that tells us we have done our job."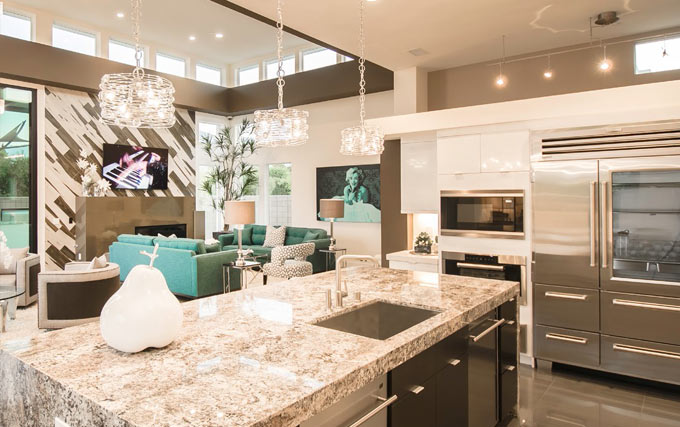 Family Development uses this homebuyer feedback to shape future builds. And the biggest way current projects shape those in the future come from the lessons the team learns along the way. "Being a market-driven builder is a living thing; nothing really stays the same," Vince said. "Therefore, we need to be on top of the latest trends so that we can incorporate them into our designs as well as our marketing campaigns."
With such diverse backgrounds, each of the company's principles bring something unique to each project. Each partner specifically oversees the critical stage of the development process that not only benefits from his expertise, but also from his passion.
"This hands-on approach allows each partner to utilize his passion and expertise with the entire team, providing an excellent system of checks and balances at every level," said Robert Bishop, Principal of Family Development. "In short, we all not only love what we do, but are so appreciative that we have trusted partners to handle the stuff that we don't love to do."
Coming soon to decorate Family Development's California portfolio are Virada and The Retreat at Desert Willow. To promote an active and healthy lifestyle for its residents with an emphasis placed on embracing the environment, Family Development will bring Virada to North Indio, Calif. This will be the Coachella Valley's first sustainable community.
And The Retreat at Desert Willow will offer 2,000 to 2,600 square-foot luxury single-level homes in Palm Desert, appealing to the full-time and seasonal residents of Palm Desert with its lowmaintenance living.
The Family Development team has been busy brining luxury and low-maintenance living to Arizona, as well. In November, The Ridge at Troon North will open models in Scottsdale. These condominium homes will offer resortstyle living and open floorplans. And in the first quarter of next year, Family Development will break ground for Encüe, a collection of 46 ultrachic single family detached homes in the Phoenix area.
"Having been in this business for as long as we have, you would think that we might have grown somewhat bored, but that is simply not the case," Vince said. "It is really an exciting time in our industry—we have the opportunity to take design to a level that I don't think production housing has ever seen. From custom home type features to the latest technology, the future looks very bright [for Family Development]."
Tamara Philips is the Managing Editor for Builder and Developer. She may be reached at tamara@penpubinc.com.