Finally! The Comeback of the Bubble Markets
Good news from bubble markets, Riverside, Phoenix, Orlando, and Las Vegas
By Jeff Meyers
Good and Hot. Perhaps those are two words you didn't think you'd hear when talking about the quintessential bubble markets, but that's what we are finally seeing. Celebrating the 8th year of the economic expansion, The Manager of Housing Economics for Meyers Research, Ali Wolf, studied where these markets currently stand.
In a metro that is synonymous with tourism (much like Houston is with oil), it can be surprising to hear that Orlando's diversity is a top reason for the market's success.
RIVERSIDE IS HOT
Looking at the Riverside, Calif. market from the previous peak to where we are today, it looks like the market is far from recovered. Our local expert and Senior Vice President of Advisory, Michelle Weedon, believes this can be a bit misleading. "While the chart below looks like Riverside prices are still 16 percent lower than the previous peak, this is largely due to changing product. In the boom years, McMansions were the name of the game, supported by investors and loose lending. What we are seeing today is smaller, high density product," she explains. "The Riverside market is hot."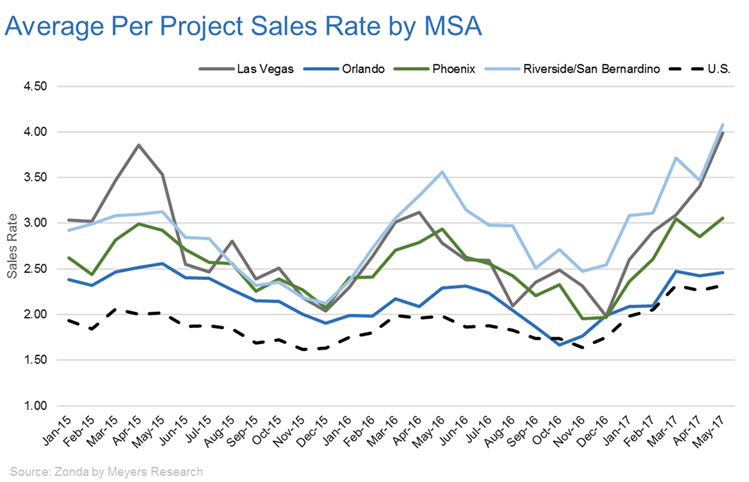 FAST FACTS:
A large majority of the development in Riverside is happening along the 15-corridor. Unlike the focus of "drive to qualify" during the last boom, denser product in closer-in markets have recently been selling like hotcakes. We've seen particular strength in Corona, the Dairylands, and Temecula/Murrieta. Buyer demand in Riverside is largely fueled by locals that include a combination of first-time buyers, blue collar employees, and warehouse workers. Helping with domestic demand, about 13 mega warehouse facilities with 1 million or more square feet were built in the Inland Empire from 2010 to 2016, according to CBRE. A well-executed product and price points near FHA limits can drive absorption up to eight sales per month.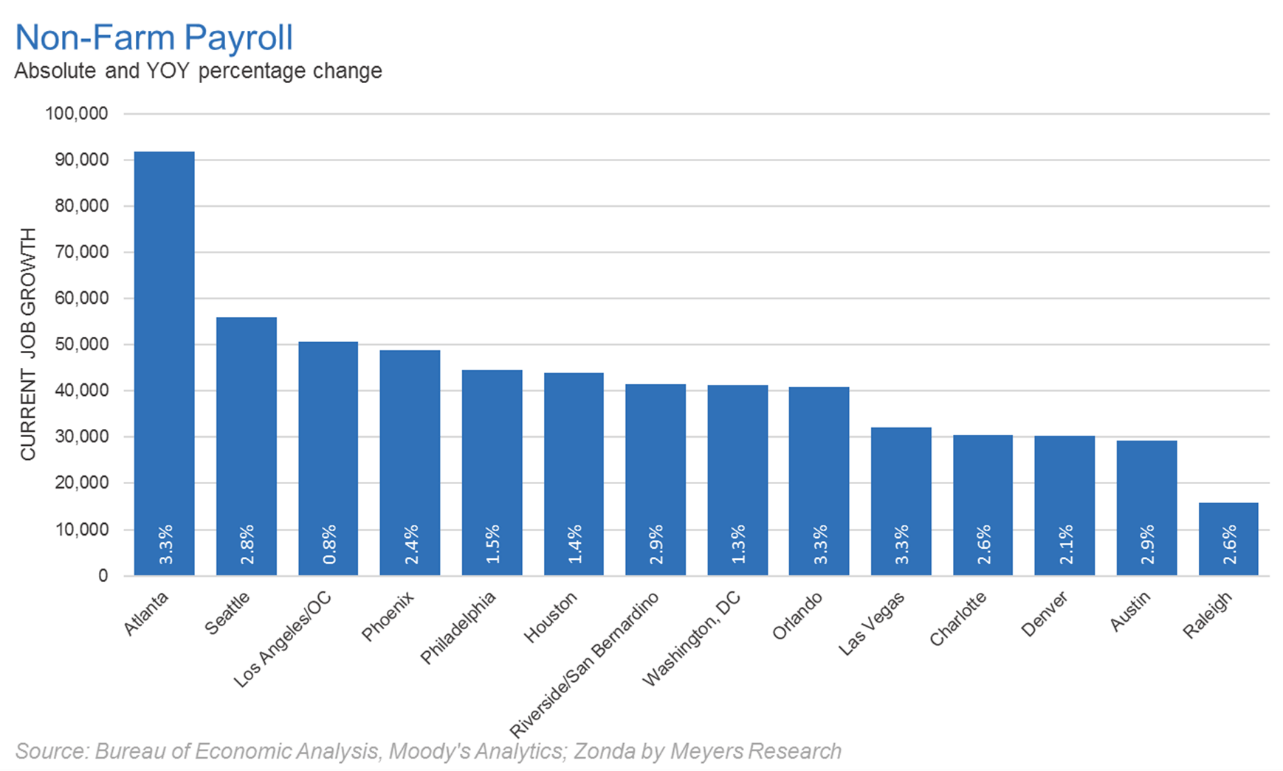 MORE SEGMENTS ARE SELLING IN LAS VEGAS
The Las Vegas market had a better than expected spring selling season this year. Last year in May, the market was selling on average 3.0 sales per month for active projects. Fast forward to 2017, the market is averaging closer to 4.0 sales per month.
Our Las Vegas specialist, JT Schwartz, explained that the hockey stick effect can be attributed to builders expanding their product offerings and taking a chance on varying market segments. "After the housing crash, product targeted towards first-time buyers seemed to keep the market running. Recently we've seen this shift to include more buyer types: first-time, move-up, luxury, active adult, and even some vacation home communities are now offered.
This is contributing to the higher sales volume and sales rates." Pulling the data in Zonda, we can easily see an example of JT's analysis. In 2015, there was not a single actively selling active adult community in Las Vegas. By the end of 2016, that number had increased to seven actively selling product series with several more planned in 2017.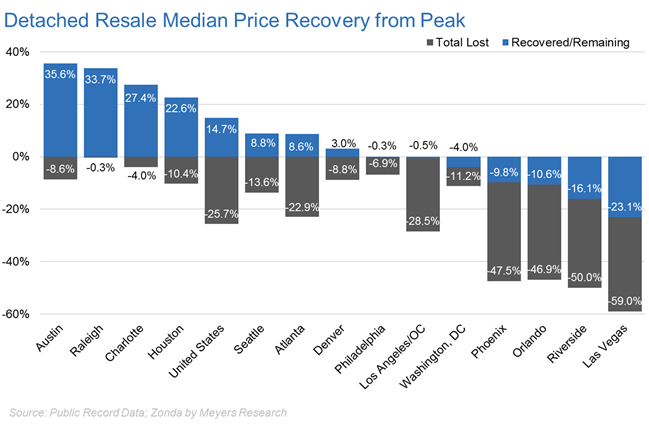 ECONOMIC GROWTH BEHIND ORLANDO'S SUCCESS
In a metro that is synonymous with tourism (much like Houston is with oil), it can be surprising to hear that Orlando's diversity is a top reason for the market's success. Local officials have worked to attract new and different industries through business incentives, and the efforts have paid off. Recently, both Lockheed Martin and Orlando Health announced expansion plans in the market.
Our Florida guru, Mike Timmerman, said, "We are seeing both the good and the bad that comes with local growth. With increased demand comes a strengthening new home market that is also met with rising costs (labor, land, and materials). These factors have pushed prices of  newly built homes up quickly. Higher new home prices help the existing market, where more buyers are regaining equity in their homes and some are moving up. But even with the rising tide phenomenon, there's definitely sticker shock for some locals."
WE CAN FINALLY CALL PHOENIX'S HOUSING MARKET "GOOD"
2017 marked a shift in Phoenix's housing market. Our Managing Director and authority on Phoenix, Steve LaTerra, explained, "The strength in Phoenix is no longer just the city center and infill. The sales pace in the periphery is also good. This is the change we've been waiting for." Steve is encouraged by this trend, because now it makes sense for production builders to move  further from the core. "We have had very few lots developed over the past 10 years in the periphery," he continues. "While we recognize the peak was an exceptional time in Phoenix's history, single-family permits are down 70 percent from that level."
The dearth of new development in Phoenix has contributed to price appreciation (remember when you could buy a house in Phoenix for $150K?) and a mismatch between supply and demand. Phoenix is now at full employment and continues to add jobs at a 2.4 percent annual clip. The economy is strong enough to absorb additional supply.
Jeff Meyers is President of Meyers Research, LLC. He may be reached at www.meyersresearchllc.com.