Floor Plans at Hidden Canyon Designed for Enhanced California Living
Blurring the lines between interior and exterior, Hidden Canyon is Toll Brothers' luxurious answer to the call of the California wild
By Genevieve Smith
Photography by Christopher Mayer
Located in Irvine, Calif., surrounded by the idyllic hillsides of Laguna Coast Wilderness Park and only a 10 minute drive to historic Laguna Beach, Toll Brother's new development, Hidden Canyon, is setting the bar high for luxury home builders in Southern California.
Toll Brothers, already well-known for their top-of-the-line luxury home developments, has pushed the envelope this past year with Hidden Canyon. Regional President Jim Boyd shared that collections at Hidden Canyon are "communities [that] will offer exciting opportunities to live and play." Chosen as the optimal site for a development devoted to living well, Hidden Canyon is located in southwest Irvine, a city constantly voted safest in the nation, inundated with award-winning schools and easy access to freeways, home to many large companies, and an abundance of shopping and entertainment options.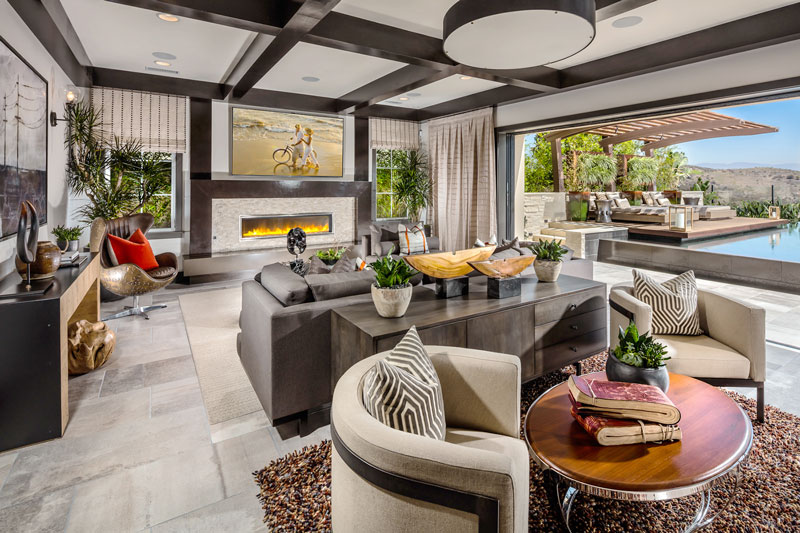 With models open now and completion slated for late 2017, Hidden Canyon has already accumulated multiple nominations for the 2016 Nationals. Including nominations for Best Interior Merchandising over $1.5 Million, two of the five nominations for Best Landscaping for a Model Complex, three of the five nominations for Best Outdoor Living Space, and numerous others, the real jewel in their crown of award nominations puts Marbella at Hidden Canyon up for Detached Community of the Year.
Although they've been here before, Toll Brothers isn't jaded to the expansion of their good name. "Hidden Canyon has been a special endeavor for all of us. From design to construction we've tried to elevate our game to take advantage of this special property. To have that effort rewarded with this nomination is exciting for all of us," Boyd said when asked about the nomination. Toll brothers has produced plenty of award-winners in the past, but none to-date quite like Hidden Canyon.
Situated just west of the I-405 freeway, the staff-gated entry leads to the homes of two different collections, the Capri and Marbella neighborhoods. Both collections boast access to multiple hiking and biking trails, as well as the resort-style recreation center located at the heart of the community: The Retreat at Hidden Canyon. "Taking advantage of the climate and our local environment at Hidden Canyon, our goal has been to extend the California lifestyle beyond the four corners of our homes," said Boyd. Featuring a sparkling pool and spa, covered cabanas, a playground, an outdoor fireplace, multiple cooking areas, and a multipurpose room, The Retreat offers plentiful options for an extended outdoor lifestyle.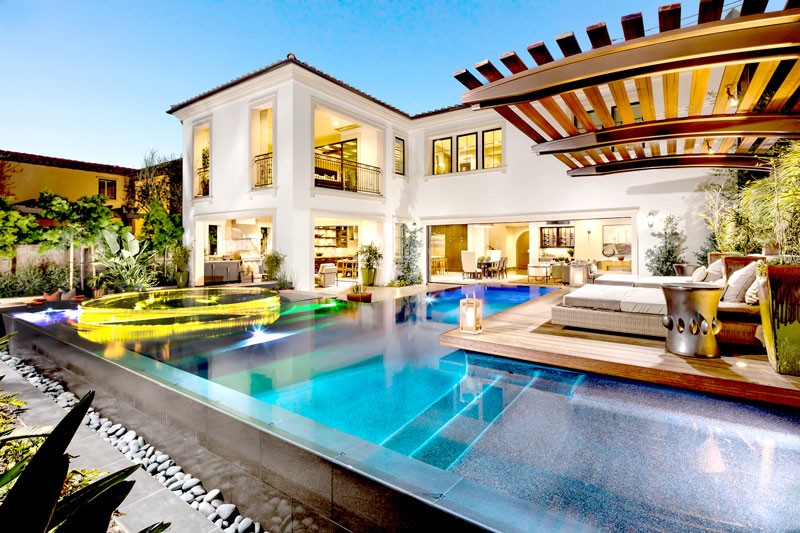 The Retreat isn't the only way in which Toll Brothers has endeavored to connect their customers with the benefits of the southern California climate. A home "is a place where we experience all of life's pleasures. Our goal is to provide an environment that maximizes those experiences, combining traditional and contemporary architecture, with the latest technology, and designs that make the indoors and outdoors one," said Boyd. While both collections reach for that same goal and have multiple nominations specific unto themselves, Marbella has come out on top with the Detached Community of the Year nomination.
Designed by Bassenian Lagoni and starting in the $2.6 millions, the Marbella Collection includes five different floor plans for buyers to choose from. Each of the five-bedroom, five-bathroom single family detached homes have numerous customization options, a convention of the Toll Brothers brand. "We have always believed that a Toll Brothers home is much more than a house," said Boyd. Among the multitude of options are multiple exterior styles, including Italianate, Spanish Colonial, Classical and Tuscan-inspired designs that truly cater to the individual taste of different homebuyers.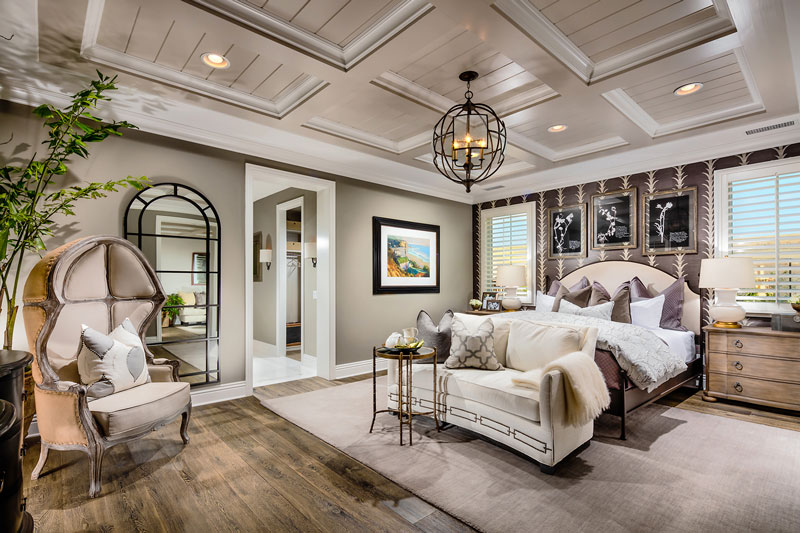 At 4,765 square feet, the Avalon claims the least grandiose footprint of all the Marbella floor plans, bringing in the nomination for the Best Architectural Design of a Single Family Detached Home Priced over $1.5 Million. Granting an impressive view of the curved staircase upon entry, a turret-style front entry leads into the grand two-story foyer.
Slightly larger at just over 5,000 square feet, the Marbella replaces the Avalon's staircase with a two-story formal dining area, a dramatic focal point upon entry and bold departure in a market inundated with open floor plans. Boasting a stylish kitchen that offers a large center island, the floor plan also offers a game room located on the second story, ample space for a secondary living area.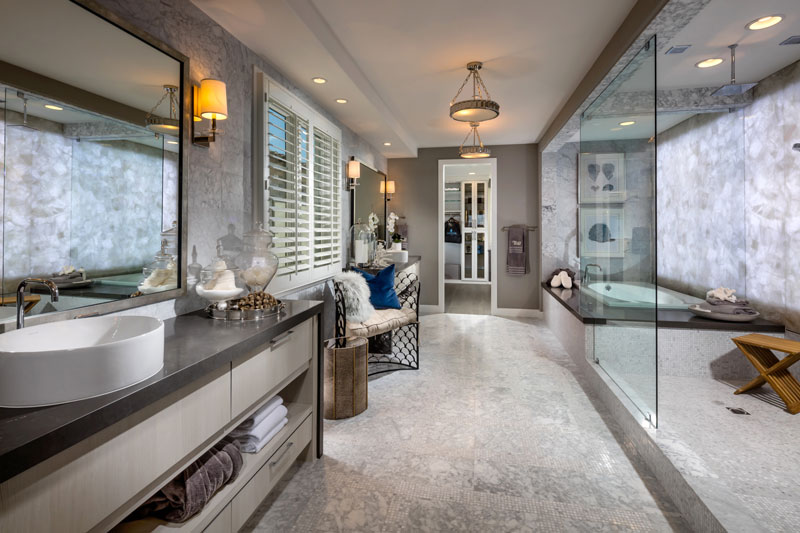 Departing from the exteriors of the Avalon and Marbella, the Cassis has a more recessed entryway with a double-door entry that opens up to a dramatic two-story foyer. Expansive master bedrooms feature sitting areas, large walk-in closets and luxurious master-baths. Guests won't be left wanting in lesser accommodations either; generous secondary bedrooms each come with a full bath.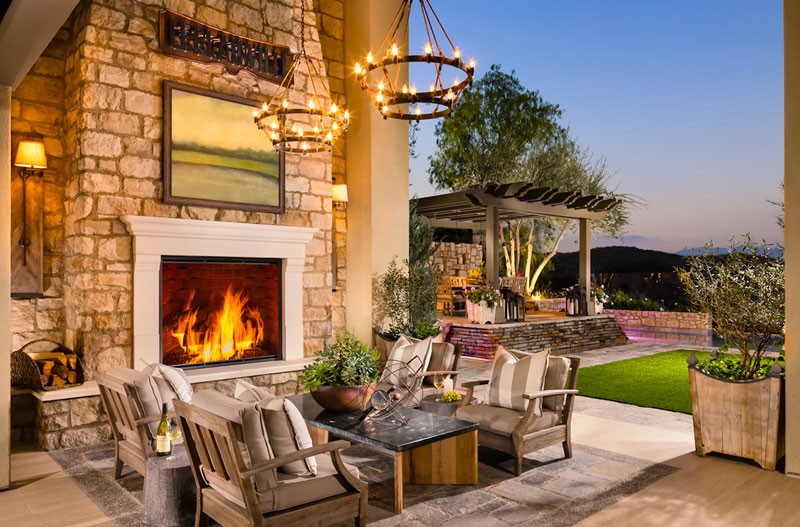 Larger but within 200 square feet of the three previous designs, the Manhattan floor plan also has a well-designed kitchen with an adjoining nook open to the stately great room. An extravagant master bedroom complemented by a coffered ceiling, a stunning master bath with sizable walk-in closet and an additional private area that is ideal for home office use.
The Santa Monica steps up in size to 5,536 square feet and, in a community soon to be known for its outdoor-living, was nominated this year for Best Outdoor Living Space. "We believe the indoor/outdoor flow of the homes distinguishes them from other new home communities. The outdoor spaces have been designed to seamlessly extend the core living areas of each home," said Boyd. Expansive covered patios that wrap around the back of the homes coupled with immense folding glass walls offer the opportunity to make the indoor/outdoor flow of the homes truly effortless.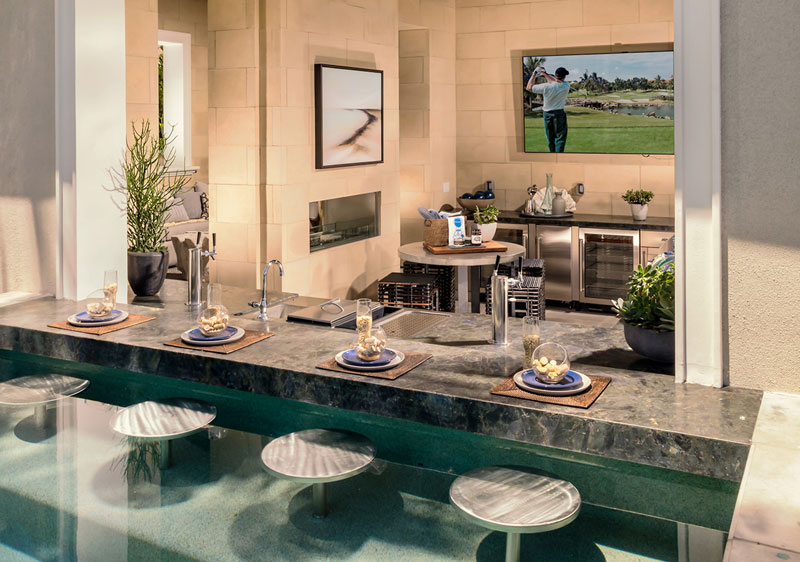 Moving forward from such an inventive new development, Toll Brothers has nearly two dozen projects up and down the coast, many adding new twists to the successful recipe developed at Hidden Canyon. With communities in San Diego, Los Angeles and Orange County currently in development, Boyd believes that, "in southern California, Toll has positioned itself well to capitalize on the award-winning effort at Hidden Canyon," and according to him, Toll Brothers' plan for separating themselves from other builders with these projects is simple: "We will continue to push the envelope in new design."
Genevieve Smith is an Editorial Assistant for Builder and Developer magazine. She may be reached at gen@penpubinc.com.