Florida Finds Green Luxury Living
By Stephanie Ornelas,
Photography by MultiVista
Functioning as a high-end condominium littered with excitement, modern architecture, and elegance, Gables Ponce of Coral Gables, Florida blends beauty with amenities in this luxury apartment building. Water fountains, palm trees, and amenity areas garnish the grounds throughout the property. The sun-beckoning pool area and the exclusive Cabana Azual accommodate residents on the regular.
"The design theme is a modern looking building with strong accents of the Mediterranean in keeping with the character that Coral Gables is known for," Sheldon K. Powell, Development Director, Gables residential anniversary. "The interior finishes and amenity were based on the theme of the space and not intended to be average or mundane."
The Development began in June 2011 and was completed in April of 2013, residing itself ten stories high on Ponce De Leon Blvd. in the lovely Coral Gables. Phase I is completed with 248 units—174 of which have already been leased to residents—and harbors a unit mix of one, two, and three bedroom apartments. The project plans to house its very own Epicure Gourmet Market.
Phase I has been awarded the Florida Green Building Coalition's (FGBC) "Florida Green" High-Rise Residential Building certification for their commitment to construction practices that reduce negative environmental impacts, improve occupant health and well-being, and which lower operating costs. As a team Gables Residential, Facchina Construction of Florida, LLC and the Design team lead by Behar Font & partners, P.A. had to satisfy an extensive list of requirements throughout the construction process in order to obtain this certification from the FGBC. Gables Ponce earned a score of 52 points, with 50 being the minimum requirement to be certified.


Phase II and Phase III are still a build in progress with plans to comprise Phase II with 119 units and a unit mix of studio, one and two bedroom units. This phase will house three levels of office space fronting Ponce De Leon Blvd. Phase III is still in the predevelopment, programing stage. This Phase has plans to hold 250+/- units with a mix of one, two and three bedroom units with restaurant and retail space available.
"The cliché, 'Timing is everything,' fits well here," said Powell. "Gables Residential's decision to move forward with this project off of the heels of our nation's economic downturn speaks volumes. Not only as a first to market play, but more so as a statement of confidence in the economic climate on many fronts—knowing that the City of Coral Gables is the right location and that Gables Ponce is the best-in-class product from inception that presents the highest and best use. Also, as a signal that the worst is behind them and as a company, Gables Residential has positioned themselves to be in the right place, at the right time, with right product and resources to say, 'Let's move forward'."
While bringing green benefits to its residents, Gables Ponce has helped benefit the buyer as well as the builder. "This is truly a 'Win-Win' scenario for everyone involved," said Powell. "The City of Coral Gables receives a class leading apartment building with a great retail tenant, Epicure, to help revitalize an of Coral Gables that needed an additional catalyst to encourage new development in the surrounding area." And the additional tax revenue doesn't hurt, Powell added.
"As far as the Architect, builders and all of the disciplines that were involved in the development and construction process of Gables Ponce, they too were able to be a part of a project they could be very proud of and see work in the foreseeable future," explained Powell.
Every Developer will face construction and planning challenges at one time or another. Working alongside a great Design team lead by Behar Font & Partners, P.A., Gables Residential faced a few obstacles that were overcome.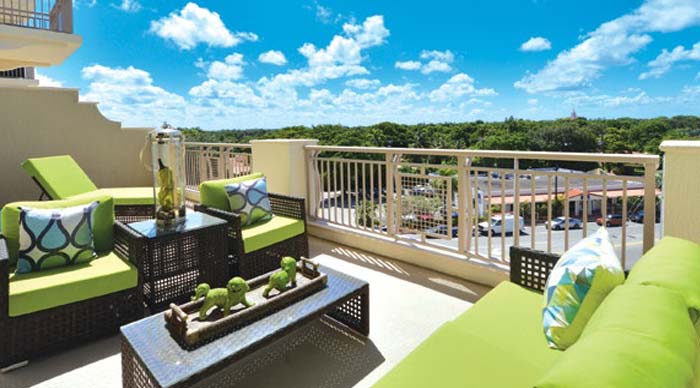 There was a learning curve to overcome in order to obtain the City of Coral Gables' Structural Approvals in a timely manner, and those developing and constructing the project had to practice restraint in adding or reworking finish selections and amenity functions. "Striving to be the best isn't an easy process and some things must fall on the editing floor," said Powell.
"Gables Residential typically self-perform most of their deals for Gables Ponce," added Powell. "We hired Facchina Construction of Florida, LLC as the General Contractor.
Working with a General Contractor can be a love/hate relationship. The sooner both parties can truly understand the expectation for all phases of construction, the better the overall experience will be. Many thanks to Facchina and their staff!"
All issues redeem a solution and in this case Gables Residential found that harboring a clear understanding of an issue and addressing it head on works best.
Understanding the need for a team effort and the acknowledgement that everyone is working together on the one project with a common goal in mind is the key to performing what's best for the project and all the stakeholders involved.
"Behar Font had the challenge of blending the City of Coral Gables traditional Mediterranean architecture guidelines and the flare of modern architecture," explained Powell. "As a result Gables Ponce was the result of the fusion."
Gables Ponce has set the luxury bar high for Gables Residential as an individual builder, as well as for other developers in the area. And Powell optimistically adds, "The challenge now is, how do we improve to reach the next Pinnacle in luxury apartment living?"
Stephanie Ornelas is an editorial assistant for Builder and Developer magazine. She may be contacted at sornelas@penpubinc.com.