Getting Out in Front of the Market
By Anne Monaghan
What can the home building industry learn from the greatest hockey player of all time, Wayne Gretzky? Gretzky said, "A good hockey player plays where the puck is. A great hockey player plays where the puck is going to be." He wasn't the biggest or the strongest but Gretzky's intelligence and reading of the game were unrivaled. So, how can home builders be like "The Great One" and get to "where the puck is going to be?" According to Nick Lehnert, an executive director with the national architecture and planning firm of KTGY Group, Inc. in Irvine, Calif., it is through extensive field and demographic research, comprehensive interviews, focus groups and studying survey results of local buyer preferences. Lehnert heads up KTGY's R&D Studio and Idea Lab.
"We study the new homes that are being built in the market," says Lehnert. "We talk to the onsite sales agents to find out what the buyers are looking for and we evaluate what products and features are missing from the marketplace. We couple this with the research results from the survey of local buyer preferences and demographics. From there, we create lifestyleenhancing designs that directly respond to the needs and wants of the buyers — both today and tomorrow. It is a winning formula that is validated by research and by sales success!"
For example, working closely with Garbett Homes, KTGY took leading-edge solar photovoltaic, solar thermal and geothermal technologies that have traditionally only been found in expensive custom-built homes and made it work for an affordable production home. "We designed a bold, modern exterior as the cover, which amplifies the technology inside; and the inside matches the outside," said KTGY's John Tully, a principal and a founding partner, describing Garbett Homes' TerraSol and The Solaris Collection. Both singlefamily communities are located in the Salt Lake City area and feature eclectic, contemporary exteriors with fiber-cement siding used in unique ways that had not been seen before in this market. The homes' vibrant color palette further adds to their appeal.
According to Rene Oehlerking, Garbett Homes' marketing director, "TerraSol, a 60-unit urban infill development near downtown Salt Lake, sold out within 8 months of breaking ground, without Garbett building a single spec home. The Solaris Collection, which is located in the award-winning sustainable planned community of Daybreak in South Jordan, sold 80 homes in 22 months with another 39 lots recently acquired and 6 of them are already pre-sold." TerraSol has a density of 9 DU/A C; Solaris is 8 DU/AC.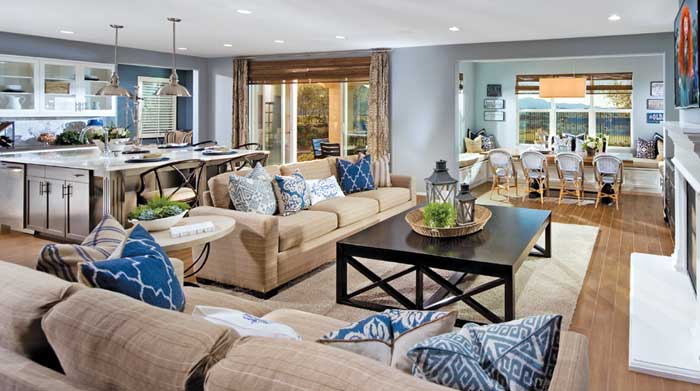 Lennar utilized KTGY's R&D 50 ft. x 50 ft. lot design concept with the development of Edgewood at College Park in Chino, Calif., located in an amenity-rich, walkable community. With varied lot width capability, achieving 11 DU/ AC, Lehnert says that each home has a front door to the street and at least one driveway. Multiple garage configurations are possible: split 2-car garages, side-by-side 2-car garages and staggered garages. Homes also have a pocket backyard.
"This design was born out of an alternative solution to what we would traditionally do in an auto court or green court environment and answers the demand for entry-level detached housing, perfect for starter families and young singles," Lehnert says. "The higher density, singlefamily detached format on this smaller lot size maximizes the square footage to achieve 1,829 sq. ft. – 2,452 sq. ft. We have created more livable space and we know that width sells!"
Lennar's Regional Vice President Greg McGuff said that the phases of Edgewood at College Park have been instantly selling out, even with aggressive price increases. "The homes target the needs of our buyers, and both the city and the buyers love the various architectural forms of the homes' exteriors. The city is especially pleased that Edgewood parks 3.5 cars per home," adds McGuff.
At Big Sky in Audie Murphy Ranch in Menifee, Calif., KTGY introduced expandable rooms and "idea spaces." Lehnert says, "We have expandable file folders, expandable luggage, expandable dining room tables; the list goes on. But, what if homebuyers had 'expandable rooms' that could enhance or expand the utility of that space in different directions based upon the homeowners' specific needs or wants?"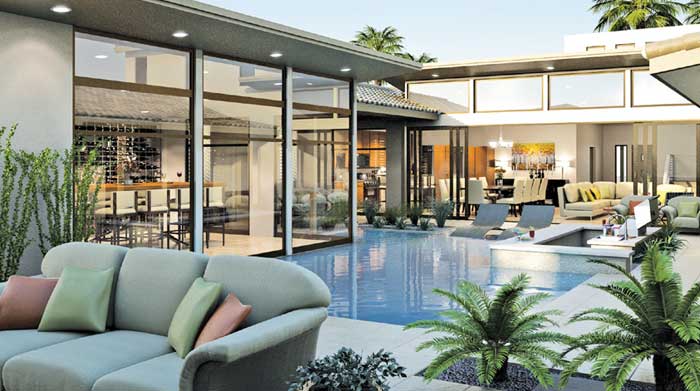 Developed by Brookfield Homes, Big Sky offers single-family homes that are situated on large lots and are designed to provide flexible idea spaces that give the homeowners the ability to enhance or expand the lifestyle afforded to the "living" areas of the home. According to Lehnert, these special areas reveal expansive dining rooms for entertaining, first floor living suites, super laundry and generous flex rooms, a chef-inspired spacious kitchen, large closets, abundant storage spaces, and 3- to 4-car oversized garages. These additions or expansions are intended to keep the family connected, while giving them the flexibility that every growing family needs. The homes also feature 9 ft.-12 ft. ceilings and range in size from 2,794 sq. ft. – 3,837 sq. ft; the lot sizes range from 7,203 sq. ft. – 13,655 sq. ft.
"We are pleased to bring Brookfield's brand to Menifee, and our sales success so far indicates that buyers feel likewise," says Brookfield Homes' Vice President of Merchant Development Brian Geis. "Big Sky was a great opportunity to merge gorgeous, well-planned interior spaces with construction efficiency and energy efficiency, the end result being a home that presents a compelling value to our buyers. Unexpected surprises provide that extra memory point…an 11' ceiling in our single-story home, a home schooling/laundry combo room, a separate living suite downstairs for guests…these are fresh ideas that buyers crave right now."
"We are continually developing new R&D concepts and are working with KTGY's Community Planning and Urban Design Studio to incorporate our new designs into new thinking in land planning," says Lehnert. "It is R&D housing concepts meet R&D land planning! We are very excited about this and want to place our new design concepts in land planning concepts that amplify not only the home living environment but also the sense of neighborhood."
Lehnert adds, "I think that more and more builders will realize that it can be very profitable to think outside the box, and 'play where the puck is going to be.'"
Anne Monaghan is a contributing writer for the real estate industry. She may be contacted at anne@monaghanpr.com.