GHA Communities Wins Again with Verlaine
A new award-winner by GHA Communities, Verlaine updates the glamour of the traditional Palm Springs Modern aesthetic
By Genevieve Smith
Photography by Mark Davidson Photography
In the midst of the California desert, you'll find a new custom community sparkling like a mirage on the horizon. Verlaine, a custom product by GHA Communities, is adding its name to the elite roster of Award of Merit winners for 2016 and is up for the Golden Nugget in the Single Family Detached Home – 4,000 to 5,000 square footage category.
Standing out from the crowd, the home designs at Verlaine take their cue from the surrounding valley as well as the iconic and historic architecture of the Palm Desert area called 'Palm Springs Modern.' "During that period, architects used a simple design palette to produce homes that responded to the desert climate as well as views to outdoors," said Mark Scheurer, principal with Mark Scheurer Architects. "Our homes take part of that history and incorporate the needs of today's buyers, creating something retro, yet fresh." Like those vacation homes of the rich and famous from the 1950s, these floorplans are optimized to make the most of relaxing poolside in the desert heat without the worries of maintenance that usually accompany a luxury home in all its glory.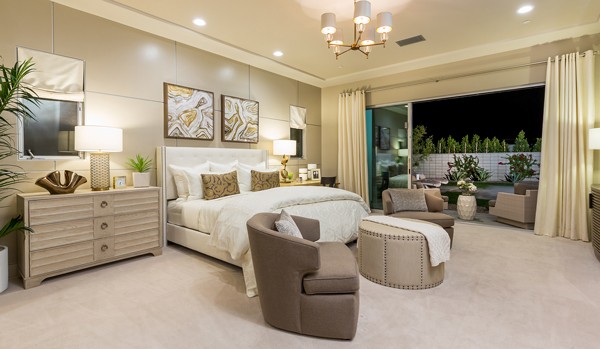 If you haven't heard of Rancho Mirage yet, you may very well be the last to know. Located centrally to Los Angeles, Phoenix, and San Diego, Rancho Mirage enjoys equal access to the natural beauty of the Santa Rosa and San Jacinto Mountains National Monument as well as the number one Bentley dealership in the country. Rancho Mirage has been a playground of the rich and famous from its inception, especially those of the political persuasion: it is home to Sunnylands Estate, the previous vacation home of Walter and Leonore Annenberg, known as the "Camp David of the West" for the presidential meetings that have and still do take place there.
The glamour of Verlaine more than pays homage to such lofty company. Each of the 17 luxury homes in this limited collection is crowned with the finest of amenities and an impeccable attention to detail. With two distinct elevations—elevation A includes glass panel garage doors and elevation B includes stone detailing—floorplans range from 3,233 to 5,000 square feet on homesites that range from one- third to two-thirds of an acre with native desert landscaping, custom style pool, spa, and fire pit.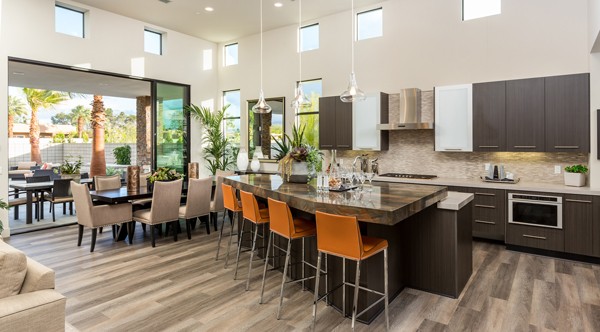 Of course, these being desert homes, outdoor living couldn't be disregarded and is, in fact, thoughtfully highlighted. "The main goal with Verlaine was bringing outdoor living in and having a tremendous amount of indoor/outdoor relationships. That's what inspired me to do this type of architecture here," said Mario Gonzales, President and CEO of GHA Communities. "In the last decade we've seen a shift in traditional types of housing and a move towards more edgy, contemporary types of architecture, with homeowners looking for something fresh as well as more sophisticated and charismatic. We felt this was a perfect fit for this iconic location here in Rancho Mirage." Included in each design is an outdoor cooking area and large covered patio areas that embrace desert living and capture the magnificent surrounding views of the San Jacinto Mountains.
"With Verlaine, we had to take into account that these were to cater to not only a 'hip' and 'cool' buyer, but also to the seasonal buyer," said Gregg Taylerson, design director with Mark Scheurer Architects. "The majority of the buyers are looking for that second home and/or vacation home. Therefore there was the need to understand that this is a sophisticated buyer, and the need to incorporate higher end materials, such as large pocket or sliding doors, larger volume spaces, and a flowing open floor plan."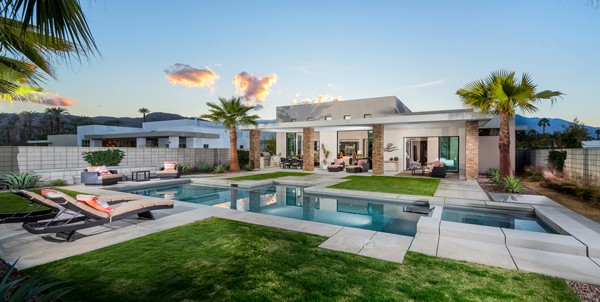 With the target market consisting primarily of retirees with some second-home buyers, the level of value and creativity had to be kept high. As the architect points out, "People don't move to the desert to live in traditional homes." This is reflected in the way most of the homes were designed first and foremost in order to reflect their desert location with light, open spaces connected to the outdoors, which is especially apparent in the great rooms with 14′ ceilings and 10′ multi-slide glass stacking doors.
With the option of upgrading to elements like solar systems, formal glass entry doors, 10′ multi-slide glass door systems, wine rooms, appliance upgrades, a formal wet bar, upgraded pools, spas, decking, fire pits, upgraded landscape, fireplaces, and epoxy garage flooring, GHA has ensured no one is limited by anything other than their imagination.
The Verlaine "your-way" concept provides an onsite interior design specialist capable of assisting homebuyers to create their ideal home, streamlining the process of reflecting desires and dreams into actual floorplans. To help homeowners live an elegant lifestyle inside and out of their homes, the homes at Verlaine also include a Mission Hills Country Club® Social Membership with each residence.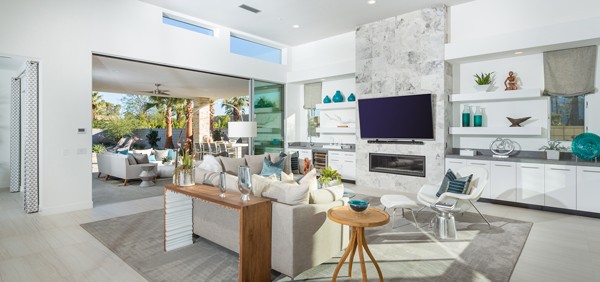 With over half of the community sold at the moment, eight homes are currently built—four occupied and four under construction—with full build out expected by early 2017. With the success the builder has seen with this development, they have plans to model the development in other local cities.
Under the guidance of Gonzales, GHA Communities has been recognized with dozens of accolades, including the esteemed BIA Builder of the Year Award, best overall projects from The National Association of Home Builders, Gold Nugget Awards, and Builder's Choice Awards, among countless others before this newest community. With the Awards of Merit already under their belt for the year, it would seem evident that the trend is sure to continue.
Genevieve Smith is an Assistant Editor for Builder and Developer magazine. She may be reached at gen@penpubinc.com.