Grand Elegance with Green Awareness
By Marco Martinez
Grand View Builders was founded in 2009. They got their start right in the middle of the recession, which had a particularly negative impact on the home building industry.
Many would argue that it was not an ideal time to start any business, much less a real estate and homebuilding business. Fortunately, Houston's economy and housing market quickly recovered and business took off. Today, Grand View Builders builds homes in 17 communities in the greater Houston area and they continue to grow each day in order to meet the demand for housing in these areas. They have also successfully launched Grand View Builders' sister company, GVB Custom Homes, which grew out of the overwhelming positive response to Grand View Builders' "Build- On-Your-Lot" program.
"Houston's homebuilding industry is currently one of the strongest in the country," said Marc Jungers, president of Grand View Builders. "Thousands are relocating to Houston every year looking to take advantage of the job opportunities available in and around the city. With so many people moving into the area, the supply of houses is limited and inventory is moving fast. Because of this decline in available homes, prices are naturally increasing. In fact, over the last year some homes have almost doubled in value."
The low supply of housing inside the city has more and more people looking for more affordable housing in the surrounding suburbs. Since they build primarily in the Houston suburbs, their business has benefitted greatly from this trend. They're expanding in their existing communities, as well as building in brand new communities, to keep up with the demand and to keep up with changing trends in style.
"The styles of our homes vary significantly depending on the neighborhood where we are building," said Jungers. "For example, the homes in our Lakes of Bella Terra neighborhood in Richmond, Texas feature luxurious, Tuscan-inspired architecture; we recently broke ground on a brand new community in League City called The Township, which will feature simple, colonial-inspired architecture. Each community also offers a variety of series and floor plans, allowing homebuyers the ability to choose from a variety of options and amenities that suit their individual needs."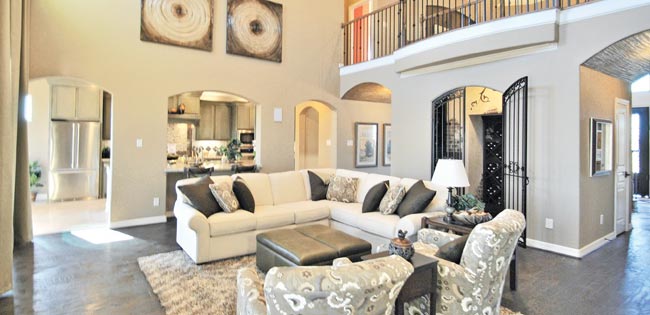 Grand View Builders specializes in building ENERGY STAR certified homes and they have established relationships with Home Energy Raters that allow them to maximize the energy saving features while minimizing the costs of planning and building the home for their clients. As Grand View starts building, they immediately begin using technologies and techniques to maximize the energy efficiency of their homes.
They start by installing effective insulation throughout the home. Their climate-appropriate insulation in floors, walls and attics ensures the temperature remains consistent throughout the house, which results in lower energy consumption. In addition to energy efficient insulation, they also install high-performance windows, which use advanced technologies, including protective coatings and improved frame assemblies, to help keep heat in during the winter and warm air out during the summer.
They also make sure their homes are built with the tightest construction and ducts—making sure they seal every hole and crack in the home and in duct systems helps reduce drafts, moisture, dust, pollen and noise. A tightly sealed home improves comfort and indoor air quality while also reducing the utility bills. Unwanted air cannot get into your home and the heated and air-conditioned air will not be able to escape through any loosely sealed cracks and crevasses.
"Installing energy-efficient heating and cooling systems," says Jungers, "as well as ENERGY STAR qualified products including lighting fixtures, compact fluorescent bulbs, ventilation fans and appliances, such as refrigerators, dish washers and washing machines, also cuts down on the home's overall energy costs making it more energy efficient. As far as the future is concerned, we are always monitoring and researching new energy efficient technologies so our homebuyers will have the opportunity to maximize their home's energy efficiency."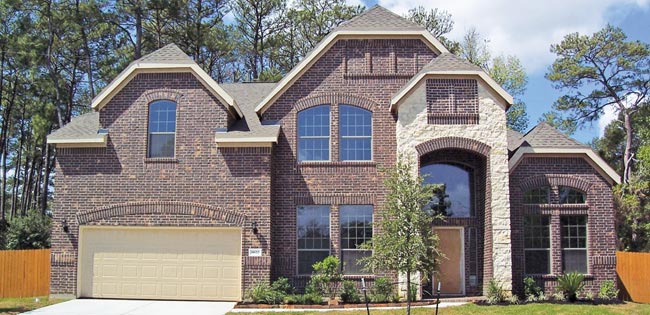 Their homes in the Richmond, Texas community of Lakes of Bella Terra are designed for the discerning homebuyer seeking attainable luxury. The homes feature Tuscan-inspired architecture, highend features and customizable floor plans, which offer game room, study and media room options.
The homes range in size from 2,000 – 4,000 square feet offering three to five bedrooms, two or three car garages and large open floor plans. Residents of the Lakes of Bella Terra community also enjoy the many comforts of the resort style master planned community, including lighted tennis courts, fitness center and junior Olympic pool, as well as local shopping amenities and quick access to downtown Houston. They're currently building in two sections of the community and are expanding into two more, which will allow them to build larger, more luxurious homes ranging in price up to the $500,000s.
While many of the Grand View Builders communities are located outside the city of Houston, our Village of Oak Forest community is located just minutes from the popular Galleria, midtown and downtown Houston areas. The community offers homes in the $190,000s making them a perfect option for first time homebuyers looking for simple elegance inside the city. All of the available floor plans are ENERGY STAR certified and feature three to five bedrooms with study, game room and formal dining room options.
"As Texans, we like our open spaces," says Jungers. "And most of Grand View Builders' floor plans feature large, open living spaces with options available to add additional specialty rooms including media room, study, formal dining room and guest suites."
The summer heat in Texas also increases the importance of taking advantage of energy efficient technologies. During the summer months, many homeowners see their energy bills increase, so investing in these technologies with new construction helps curb those costs ahead of time. One trend they have seen take off in recent years is the demand for multi-generational living spaces. Many homebuyers are looking for homes that will be able to accommodate an aging family member without sacrificing the aesthetics or re-sell value of the home. In these cases they usually recommend that the homebuyers build out, not up. One-story homes eliminate the challenge of stairs and one story floor plans have become increasingly popular.
If a homebuyer opts for a two-story home, then they recommend adding a guest suite on the first floor. This will allow the family member to enjoy the privacy of their own space without having to navigate the stairs and will help increase the resale value of the home.
There are also a number of options available to ensure the aesthetics of the home are not sacrificed. For example, rather than building wider doorways, homebuyers can have French double doors installed throughout the home, creating a visually appealing way to allow a wheel chair to pass through with ease. Carpet floors can also be replaced with hardwood or laminate floors for easier navigation and installing hardwood or laminate tile can help increase the re-sale value of the home in the future, as these are very popular features.
One of the unique aspects about the way Grand View operates is that they typically do not begin building a home until a homebuyer has signed a contract on the home. While they offer set floor plans for homebuyers to choose from, each homebuyer has the opportunity to make adjustments to the floor plans and select from a variety of interior design options. This gives the homebuyer more freedom and the chance to personalize their new home as it is being built.
Grand View Builders pays close attention to where people are moving in the greater Houston area and they build where they see an increased demand for housing. The areas where they currently build have seen significant population increases in recent years and their homes have been very successful; they will continue to monitor population increases as they look to build in more areas in the future.
Marco Martinez is an assistant editor at Builder and Developer magazine. He may be contacted at mmartinez@penpubinc.com