Green Innovation in a Modern Design
By Marco Martinez
WoodCraft Building, Inc. has over 35 years of experience in the construction industry and has been building in Bend, Oregon since 1998. Owner Michael Scannell is a certified Sustainable Home Professional through Earth Advantage, a Northwest Crossing Guild Builder, and is the recipient of numerous awards from the Central Oregon Builders Association (COBA) including the prestigious and competitive COBA 2013 Green Building Award, the Earth Advantage 2013 Custom Home Green Builder of the Year, and the 2013 Northwest Energy Star Home of the Year Award.
WoodCraft's newest project is the Shevlin Commons House. The design phase of this project began in September of 2012 with the clients going to architect Erik Oldham. They were looking for a contemporary design with a slight Japanese influence and bought a building lot in the Shevlin Commons area of Bend. WoodCraft Building became involved in the project shortly after that and was chosen because its reputation for quality construction and knowledge of "green" building techniques.
WoodCraft developed this knowledge as a progression of sorts. Owner Michael Scannell, started by taking a 6-month home professional classes through Earth Advantage in 2009 and built their first double-wall constructed house shortly thereafter.
"I have always had a great interest in alternative energy and sustainable building and the opportunity to incorporate this knowledge into my building was a win-win scenario," said Michael. "We were building in NorthWest Crossing at the time and they required that all homes in development be certified as Silver by Earth Advantage as well as have Northwest Energy Star certification. I thought we were making a well-insulated, air-tight house until I saw the Earth Advantage house. It really expanded my knowledge base and changed my paradigm regarding energy efficiency and practices and components of an energy efficient home."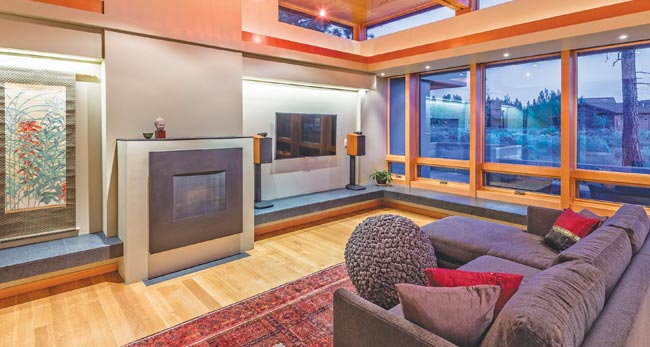 Their first three houses played with the idea of creating an air barrier with staggered studs, more efficient windows, and a water circulation system. With each succeeding house they sort of rolled all the tech into each succeeding house and got lower EPS scores each time they did it.
WoodCraft Building then acquired a solar oriented lot in one of the phase releases that was accompanied with a financial incentive by the developer to do a "Net-Zero" house. This house was a great success and they won the 2013 COBA Green Building of the Year, the 2013 Earth Advantage Custom Home Green Builder of the Year, and the Northwest Energy Star Home of the Year Awards.
With the Shevlin Commons House they tried to incorporate as many of the developments as possible taking into consideration the budget constraints of the client as well as the limitations of the site.
The home is a marvel and a true example of modern green building. WoodCraft incorporated double-wall construction, ductless mini-split heat pumps, an HRV (heat recovery ventilator system), an on-demand gas hot water heater with a hot water circulation loop system, an air-tight building envelope, and super-high insulation by using 2" closed-cell, blownin insulation that expands to seal cavities combined with a densely packed blown-in cellulose to bring the R-values of the walls to 34, the floor to 38, and the roof to R-50.
The EPS (Energy Performance Score) was 45 compared to the Oregon Code of 85 from the Energy Trust of Oregon, who estimates the monthly energy costs for this 2,344 square foot house would be $91 per month. The Blower Door score measured by Earth Advantage was 1.08 ACH@50pa which places it the 32nd tightest of nearly 14,000 certified EA homes and is the 12th tightest in Central Oregon.
They also used a water runoff system to irrigate the xeriscaped landscape. For passive elements they maximized the southern exposures and used overhangs to protect the home from extreme summer sun but let the winter sun in. Northern openings were also minimized and the stair well was used to create a stack effect to accentuate air circulation in and out of the building and augment the heating and cooling capabilities of the home. All windows were double-pane with a special Low-E coating and a U value of 0.27.
Despite having numerous tall pine trees, the lot actually had decent solar orientation so the owners had the home pre-wired for a photovoltaic array in order to take advantage of any future solar tax incentives.
The clients wanted a contemporary home built with comfortable, warm materials and a clean design and details. They liked modern flat roofs with horizontal planes and were looking for a Japanese "essence" with the design. This was accomplished not by a literal translation, but by creating simple lines using wood trim details and natural colors to create a peaceful, serene home. The owners practiced yoga and wanted an area for massage therapy that resonated with a feeling of serenity and calm. The only "real" Japanese architectural detail was to include a tokonoma, or alcove.

From a design point of view, the architect wanted to break away from the idea that contemporary architecture is sterile. Through the use of clean lines and design, and warm, sitespecific materials, the home shows that modern design doesn't have to be cold or feel mechanical.
"From a builder's point of view we feel that it is important to show that this type of sustainable construction is the way of the future," said Michael. "Residential homes consume more and more power through electronics so, the more homes that incorporate energy efficient "Net- Zero" or, as we like to say, "Near-Zero" elements to their homes, the smaller our aggregate energy footprints will be. This is a necessary step for a sustainable future."
There were strict covenants for the neighborhood where the house was built. There was also a lengthy and rigorous process for design approval along with guidelines on how the house sat on the lot and how it affected the entire neighborhood in respect to landscape and environment, as well as whether it respected the neighbor's landscape and design. WoodCraft accomplished this by creating a low profile on the elevations that face the neighbors to make the home as complementary and unobtrusive as possible.
They also faced a challenge to make the house feel bigger than it was. This was done by lessening the reliance on walls as a unit of spatial delineation and making them more like pieces of furniture, where the separation between spaces was created through the use of functional elements such as a built-in desk and pass-through cabinets. This made adjacent spaces feel connected even though there was no direct eye-contact with them. Normally unused spaces, such as under the staircase, were also creatively utilized to create fully accessible storage areas and a Murphy folding bed was added to one room to create dual functionality.
"Everything is a progression. Each house we do is built on the knowledge gleaned from the one we just finished," said Michael. "Every year components and technical innovations improve so we can only estimate what the future holds.
One thing we do know is that we can't continue to build houses that suck up energy. Our next project will incorporate the processes and products learned from the current project to make our building methods more streamlined and efficient, while striving to show people that clean, quality design, comfort and livability, and high levels of energy efficiency can go hand-in-hand."
Marco Martinez is an assistant editor at Builder and Developer magazine. He may be reached at mmartinez@penpubinc.com