The Federal Reserve is tightening financial conditions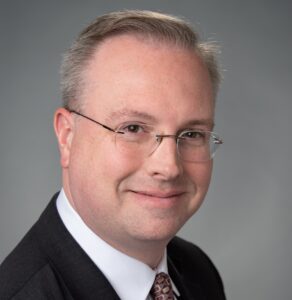 By Robert Dietz
Despite warnings from sectors like construction regarding supply-chain challenges, rising material costs and a persistent skilled labor shortage, the Federal Reserve's monetary policy committee entered 2022 under the belief – and perhaps hope – that elevated inflation would prove transitory. While this was a clear forecasting mistake, the Fed simply does not have the policy tools to address these supply-side challenges. Monetary policy was eventually going to be reset to a much less accommodative stance as the economy rebounded after the pandemic. 
Instead, today's persistent inflation readings are due to too much fiscal stimulus and overly-tight regulatory policies that are holding back supply when demand is artificially too strong. Too much money chasing too few goods is a classic recipe for inflation. 
Thus, the Fed is now acting aggressively to fight inflation. These actions will further weaken housing affordability and increase the probability of a recession over the coming quarters. Following a 25 basis points increase in March, the Federal Reserve's monetary policy committee unanimously approved in May a 50 basis points increase for the federal funds target rate, the largest increase for the rate in more than two decades. More 50 basis point increases look likely during 2022.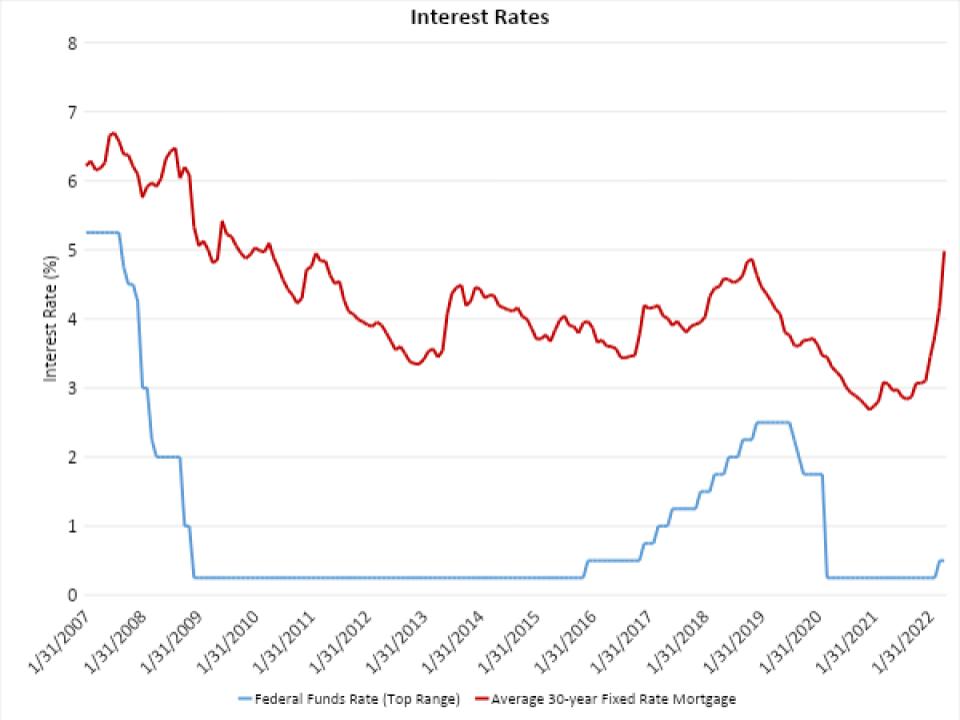 The Fed also provided details for its plan to reduce its balance sheet (i.e. quantitative tightening), which will further tighten financial conditions. In a phased approach, the Fed will allow a capped level of proceeds from maturing bonds to roll off on a monthly basis. This allows for a partial reduction of assets held by the Fed, including $2.7 trillion of mortgage-backed securities (MBS). Starting in June, the plan will involve a reduction of $30 billion of Treasury securities and $17.5 billion of MBS. After three months, the monthly cap for Treasury bonds will increase to $60 billion and $35 billion for MBS. Balance sheet reduction has a larger proportional effect on long-term rates, like mortgages. 
 "From a macro perspective, the Fed is behind the curve and playing catch-up."
Taken together, these monetary policy moves will produce higher mortgage rates in 2022 and 2023 as the Fed attempts to curb inflation. NAHB's Economics team continues to believe, however, that rate hikes for the end of 2022 and 2023 will be data dependent, as the Fed will seek to avoid a recession while tackling inflation. The economy will undoubtedly slow with this expected path of policy. Higher interest rates will also slow home price growth and cause outright price declines in some markets where prices have outpaced local income growth.
From a macro perspective, the Fed is behind the curve and playing catch-up. Unfortunately, historically this situation has usually led to a recession as the Fed has to overcorrect in order to bring down inflation. So that's the big forecasting question of the first half of 2022.  Will policymakers pull off a soft landing, with some slowing of economic activity but no recession?  Will it be a hard landing with significant slowing, including for the housing market, and a moderate recession? Or could we see a crash, with an extended recession and a financial crisis?
A crash is notably unlikely, particularly one like the housing crisis from 15 years ago. The property market continues to experience a deficit of homes and has favorable demographic tailwinds. The challenges in home building of the last ten years are matters of supply, not demand. Unfortunately, a soft landing also seems unlikely. The Fed has fallen behind and will need to increase interest rates more to reset inflation expectations.
That leaves a hard landing as the most likely outcome for the U.S. economy. Recall that first quarter 2022 GDP growth was a very disappointing -1.4% decline. Looking into the future, NAHB's Economics team estimates the probability of a recession in 2023 as one chance in three. And that likelihood is rising as more data comes into view. 
All things considered, home builders, remodelers and apartment builders should take a defensive posture during this period. Price growth will slow, demand will weaken (particularly for first-time buyers), and the economy will contract until income and productivity growth pull us into the next growth cycle. Builders in markets with strong population growth will fare better, but caution is recommended as headwinds increase.
Dr. Robert Dietz is the Chief Economist for the National Association of Home Builders. He can be reached at rdietz@nahb.org.