Healthy Living for Generation X
Stress free is the way to be when it comes to famous homebuilder, Traditions of America and with their newest project, Traditions of America at Silver Springs, stress free is exactly what it is. Located in the second "least stressful place to live" in the United States, Greater Harrisburg, PA, this community is said to be a "haven" for active adults.
Ask any of their homeowners and they'll say a move to this active senior living community is a stress-free decision. This 55 and over community features easy access to major cities in the region for employment and cultural opportunities, low-maintenance new homes for sale and a full-time Lifestyle Director.
Homebuyers are also able to enjoy a clubhouse with best-in-class amenities such as an outdoor heated pool, whirlpool spa and billiards. The Lifestyle Director plans parties, classes, and trips and arranges services for residents.
Traditions of America has a reputation of providing their senior residents with the utmost comfort. In 2011, they were named one of the "50 Best Master-Planned Communities in the US" because of the active and fulfilling lifestyle their homeowners enjoy. The entire Traditions of America team embodies the warmth and caring for which Harrisburg is known. Always committed to making their customers' move worry-free, Traditions of America puts the homebuyer first.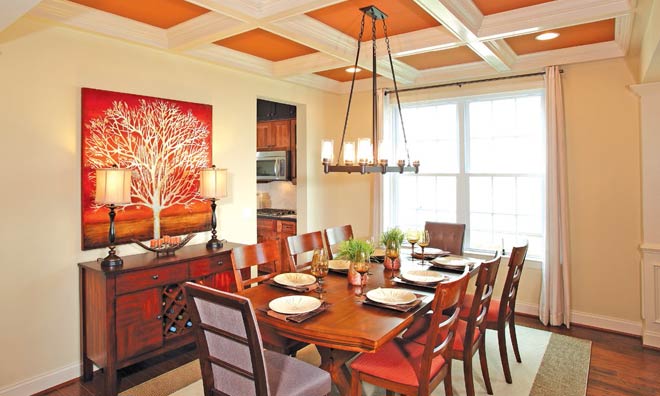 Putting the homebuyer first doesn't necessarily mean providing excellent social amenities, it also means designing a home that is economically sound and enhances the overall quality of life. Traditions of America makes it a point to add green, economically efficient features that are healthy for the environment.
The project also features distinctions by Amana HVAC products. The products feature a 90 + efficiency furnace & 13 SEER (seasonal energy efficiency rating) in order to providing comfort without wasting energy. We provide digital/ programmable thermostats on each floor with a zone damper on 2-story homes for balanced heating and cooling all year long. These American made products are assembled in Tennessee and Texas & Amana is recognized as being one of the most energy efficient brands available.
Wall and ceiling insulation is another green function on the project. With Residential insulation sheathing provides a level, even surface for new siding material, plus helps enhance energy efficiency, reduce condensation, and create an attractive, long-lasting home exterior.
All penetrations of walls, floors and ceilings are also energy sealed (outlets, switches, lights, vents, pipes etc.) the walls are also sealed at the floor and in the attic to reduce potential drafts. Finally, each home is tested for efficiency by performing a blower door test, infrared scan and duct blast. We ensure your new home will be comfortable and save homebuyers money all year.
Along with having a good track record for sustainable building, perhaps one of the most trustworthy and reliable features this builder offers is their Try Before You Buy Program, where homebuyers are able to experience the Traditions of America lifestyle before they purchase a new home.
This over 55 community takes care of maintenance so homebuyers can enjoy amazing amenities at Silver Spring and take advantage of the wide variety of arts, culture and recreation choices in the Greater Harrisburg area. Many of our residents are also enjoying more time to devote to volunteer and civic service. Perhaps it's because so many retired military personnel and state employees have chosen to start their next chapter here? Community volunteerism is a part of our spirit. And it's one more thing that makes Silver Spring the community of choice for superior senior living.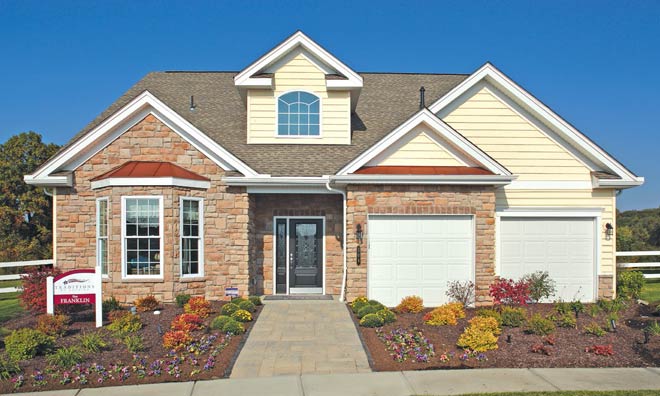 For more than 20 years, Traditions of America has focused on delighting active, 55 and over homebuyers. Their commitment to customers has led Traditions of America to become the leading developer of retirement communities in Pennsylvania (PA), New Jersey (NJ) and Delaware (DE).
"We don't just build; we take pride in improving the lives of our 55 and over homebuyers, one home at a time," is their motto.
A single-family home model at over 55 community one of the famous builder's projects, Traditions of America at Silver Spring took home six awards last week. "The Hancock" was recognized for excellence by the Home Builders Association of Metropolitan Harrisburg with awards for landscaping, kitchen design and more. "The Hancock" was a featured home during this year's Parade of Homes. "The Hancock" competed in the Single Family Home $475,000 to $540,000 category, winning the following awards: Gold Award: Landscaping, Silver Awards: Exterior, Interior, Decorating, Kitchen, Master Bath/Suite.
"The annual Harrisburg Parade of Homes is a highlight of our year, because we are able to welcome so many area residents and introduce them to a new concept – active over 55 community living," said Nathan Jameson, Partner, Traditions of America. "It's even more rewarding to have one of the most popular floor plans at Traditions of America at Silver Spring recognized with six awards for excellence."
The Traditions of America organization is structured to best anticipate and serve the needs of our homebuyers and owners. The needs of Baby Boomers and beyond are changing, along with changes in the economy, in active aging, in the concept of retirement itself. Today, the Traditions of America brand is designed to exclusively serve the needs of today's active adults. The company has successfully created numerous over 55 retirement communities in Pennsylvania and throughout the region. The company's growth and many awards won reflects the quality of our homes and our focus on homebuyer satisfaction.
Stephanie Ornelas is an editor at Builder and Developer magazine. She may be contacted at sornelas@penpubinc.com