A Hidden Gem in Castle Pines Village
Infinity Homes Collection took home a Gold Nugget recognizing the incredible new homes they built just outside Denver, CO.
By Brianna Fries
Just outside of Denver you will find the incredible homes of Prato by Infinity Homes Collection within Castle Pines Village, a master-planned community. These stunningly beautiful homes are perfect for buyers who want their homes to be personalized without the stress of starting with a blueprint.
Infinity Homes Collection is a custom homebuilder based in Denver, Colorado. Infinity finds its niche in the higher-end production homes market, seeking to bridge the gap between true production homes and true custom homes.
"We design really wonderful spaces and build in very desirable locations," explained David Steinke, Co-owner and General Manager of Infinity Homes Collection. "People really get a near-custom experience without the stress that comes from starting with a piece of paper and creating a home."
Based on this approach, Infinity Homes decided the master-planned country club community of Castle Pines Village, which includes around 2800 acres of stunning, pine tree covered terrain, was just the area they were looking for.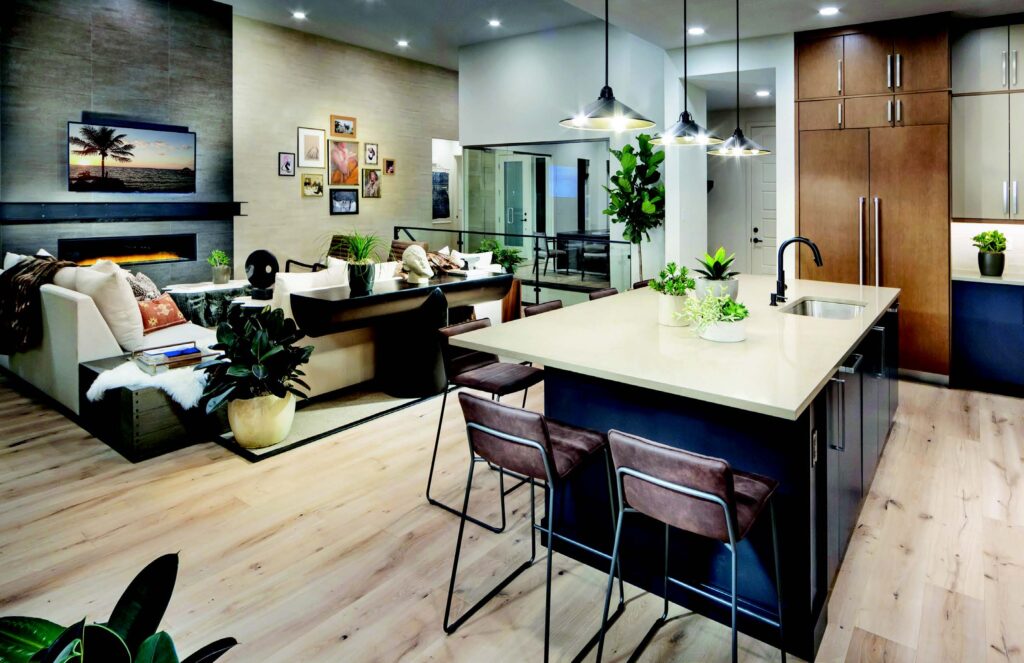 Having found their location, Infinity Homes created 46 spacious plots and got to work on rezoning, plotting, and developing the land. Their hard work paid off this year as they opened the Prato 2 home model in March, with the Prato 3 model opening just a few weeks later.
Both of these single-family homes offer unique floor plans that brought Infinity Homes Collection both attention and sales almost immediately. In less than two months after opening their models, they had sold 19 homes, and the Prato 2 floor plan won the Gold Nugget for Best Single Family Detached Home -2500 to 2999 square feet.
Said Steinke, "The overall impression of the product was that people were absolutely in love with it from the second they opened the front door." Customers gushed that the homes were exactly what they had been searching for, sometimes for years. And, considering the different details that go into both Prato 2 and 3, who can blame them?
Prato at Castle Pines Village offers two floor plans: a main floor master two story, and a traditional two-story, both designed to be perfect for lock-and-leave situations. Homes can feature unique design elements such as glass walls and stairs, creative fireplaces and kitchens, stacker doors, real outdoor rooms, stand-alone tubs with waterfall edges, hanging bathroom cabinets, zero-entry showers, fire sprinklers, and more. Prato 2 even offers the option of a finished basement. All in all, these homes end up being 4222 square feet of special spaces all contained within a very livable floor plan.
Along with all of this, potential homebuyers have a wealth of choices at their hands. The homes offer a wide range of finishes to allow future residents the chance to make the homes their own.
"All the things you would normally find in a custom home are things that we do as finishes and options," added Steinke. "We aren't moving a bunch of walls, but as far as finishes and selections go, the sky is the limit. People are able to personalize in a big way with us."
Prato at Castle Pines Village also includes a host of energy-efficient details, starting with the way they are zoned and ending with the lighting and paint.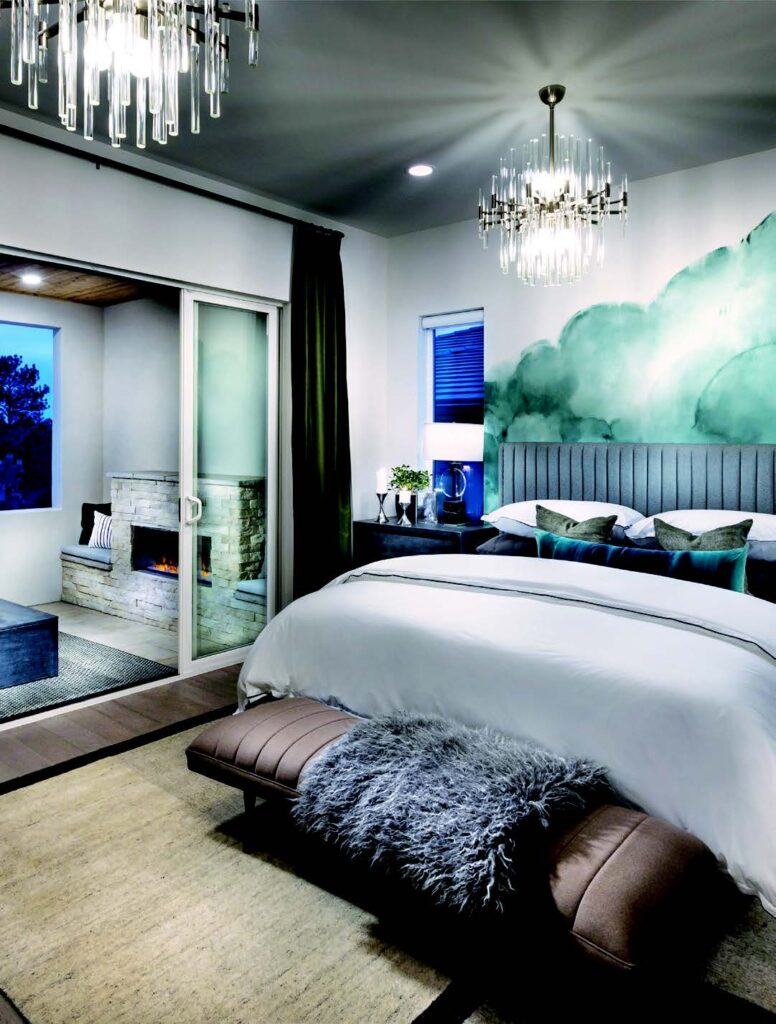 "We strive for a very healthy indoor environment and good indoor air quality," said Tyler Steinke, Director of Sales and Marketing for Infinity Homes Collection. "Most of the materials that we use are above and beyond what Energy Star requirements are."
Prato 2 and 3 include Energy Star appliances, energy efficient insulation and weatherization, tankless water heaters, water saving appliances, low VOC paint, and more. Future residents can even add electric car charging ports and smart home technology. All of the houses are Energy Star and GreenGuard certified.
To top it all off, the community that Prato is in, Castle Pines Village, offers residents stunning landscapes and views, and some impressive amenities. The community provides quite a bit of security with guarded and gated entries, and 24/7 security and EMTs who respond to the panic buttons installed in the Prato homes within just a minute and a half. Castle Pines Village also has two country clubs, an outdoor Olympic pool, basketball courts, championship tennis courts, multi-use fields, and sand volleyball courts. There is a large picnic pavilion with views of the Rocky Mountains, two private Jack Nicklaus golf courses, a two-acre lake, over 13 miles of hiking trails, and more.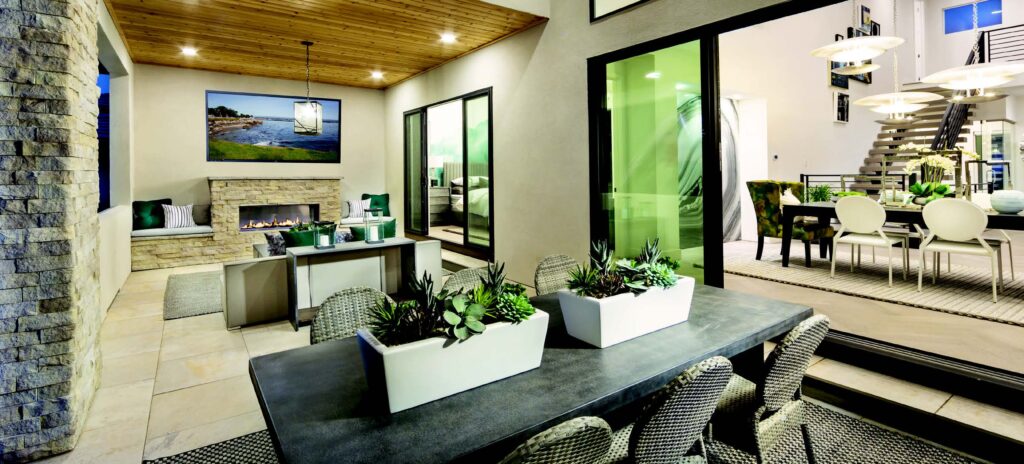 All of this is available for an incredibly reasonable HOA fee, around $300 a month. "If you were a developer today trying to make a master-planned community, you couldn't recreate this and have it be as affordable as it is," boasted Dave Steinke.
The homes of Prato are just seven minutes south of Denver, meaning residents can enjoy suburban living without giving up the opportunities provided in the city. This has created interest for quite a diverse buyer profile. Said Dave Steinke, "We've had relocation from California, Texas, Chicago, and more. We have single women, people who are semi-retired and retired, and empty nesters."
Prato at Castle Pines wouldn't be what it is without the incredible team that works with Infinity Homes. These homes were created through the combined efforts of Infinity Homes Collection, Mike Woodley of Woodley Architectural Group, and HRI Design. "We are nothing without Mike Woodley and HRI Design," Steinke added. "They see our vision and bring it to life."
As for what's next, Infinity Homes Collection plans to keeping doing what works for them: targeting a special location and designing a personalized product to go with it.
To learn more, please visit www.infinityhomecollection.com