High-Density, Infill Building Model
This urban infill building model achieves both affordability and sustainability
By KEVIN NEWMAN
From both economic and environmental standpoints, sustainability and affordability are undoubtedly top priorities in the architecture and design industries today. From the obvious financial benefits to the high-efficiency, sustainability and positive health-related impacts that it offers, it is clear that building affordably has little to compete with. At the forefront of creating the innovative, high-density building solution and recently patented urban infill prototype known as "New Block," Newman Garrison + Partners has dedicated several years to successful affordable building, setting a new standard for growing urban communities.
Targeting minimum two-acre urban infill sites, New Block is a high-density—up to 45 units per acre—type V wood-frame building, inclusive of up to 24,000 square feet of usable open space, smaller units, and 100-percent covered surface parking with a green live roof. Notably, 45 percent of the open space is park landscape, while the remainder of the space is available as active space for the community to utilize for a multitude of activities. In addition to satisfying the open-space requirements that architects and developers must meet, the green roof also promotes biodiversity and carbon sequestration, highlighting the environmental benefits that New Block offers communities.
This concept, which we began working on over 10 years ago, addresses the many obstacles that builders, developers, landowners, financial institutions, and municipalities have faced since the recession. Throughout the research and development process of New Block, we were inspired to create a design concept that would not only be affordable for developers, but would actually make sense
to build.
A result of innovative design and planning, New Block is much more cost-effective than traditional "wrap" and "podium" design solutions. Wrap and podium construction typically requires steel and concrete structural elements, which elevate the building cost significantly. With New Block's wood-frame design solution, we're able to achieve significant cost savings. Reducing the cost of construction with the New Block model allows successful developer and community partnerships, and rents as much as 30% below market value. Because California and many other states are upping the requirements of sustainable design in all projects, and the green roof is already included in construction costs, the New Block design concept further offers both financial and community benefits.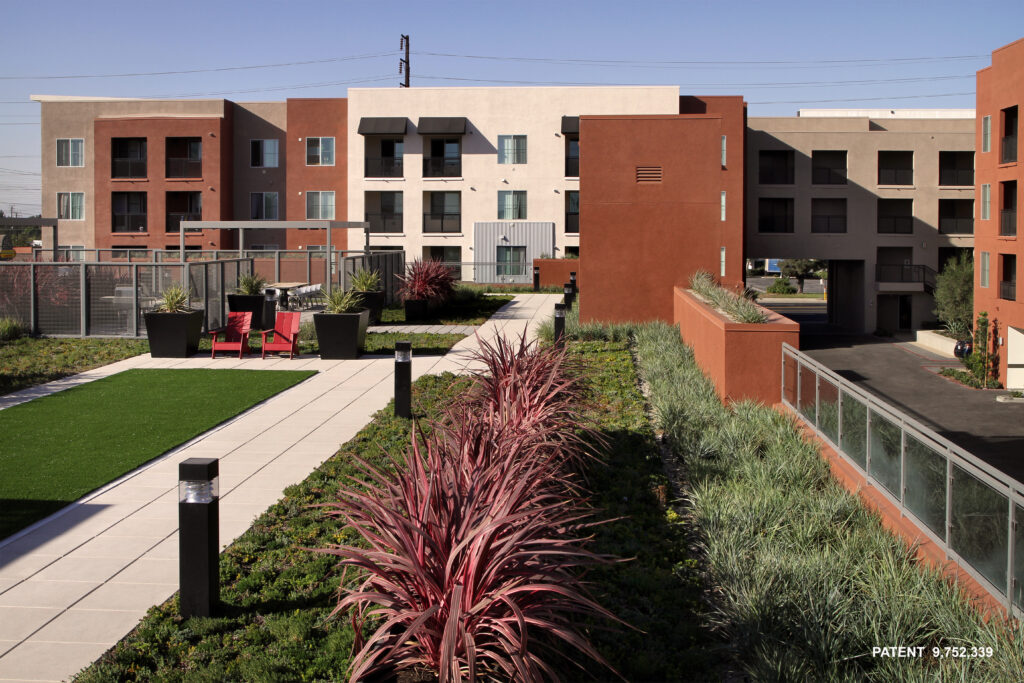 With the younger target demographic (25-35 year-olds, young professionals, etc.) that many mixed-use and multifamily properties cater to in urban settings today, New Block is a very attractive design solution and living arrangement. As this generation has become very environmentally-conscious, they value sustainability and really take these elements into consideration. By offering sustainable living, as well as a community-driven design concept that the green roof provides, New Block is successful in bringing in new renters, resulting in the significant growth of urban communities.
That said, it was important that our design concept offered a solution to more than one market, otherwise, we could hardly deem New Block a true success. For this reason, we wanted to ensure New Block could be as flexible as possible, which is why we created a model that can be applied to market-rate rental housing, in addition to affordable housing, senior housing, student housing, and condominiums. Within any of these property types, the design also offers flexibility in terms of the use of ground floor space. The ground floor in any New Block building can be used for mixed-use commercial spaces, including live/work units, food and beverage venues, retail storefronts, and additional amenities. Depending on market demand, the number of units and space designated for additional amenities can be adjusted to meet the needs of the community and residents. In fact, some of the space can also double as an extended-stay, hospitality solution, which is especially appealing to visiting family members and young professionals that travel often.
In 2014, we implemented the New Block design concept into the Park Landing affordable apartments in Buena Park, California. Proving successful, the LEED Gold project was recognized with a variety of achievements, including the NAHB Silver Award for "Best Architectural Design" and "Best Green/Sustainable Home Design," as well as the ULI Jack Kemp Excellence Award for "Innovative Project of the Year," among others.
Kevin Newman is the co-founder and CEO of Newman Garrison + Partners. For more information, please visit www.nggpartners.com.