High Tech Luxury in the Southland
By: Scott McCourtney
A brand new, technological sound, elegant multifamily family building is up and filling up. Broadstone Icis is a spectacular new property in Glendale, CA. Built by Alliance Residential Company and designed by Thomas P. Cox Architects, Broadstone Icis gives a brand new feel to the City of Glendale and has the means necessary to meet any modern tech person's needs. Completed in March of 2013, this community brings luxury back to multifamily in Glendale.
Broadstone Icis's interior design was by H. Hendy Associates, accompanied by building design Thomas P. Cox. The urban resortstyle boutique feel and "Naturally Modern" sensibility is highlighted through clean lines and simple shapes that strike a modern note. The soft touch of fine wood, a cool solidity of natural stone and other harmonious details exude natural influences that give this property a warm feel. The peaceful environment is enhanced with landscaping by Melendrez Design Partners and the exterior design was done by Studio Collective, whose notable projects include the SLS Hotel, The Hollywood Roosevelt Hotel and the Sofitel Hotel.
"We are pleased to be returning to a development strategy in the coastal markets where very little supply has been added in the last two years. We believe our timing capitalizes on a low basis through greatly reduced land cost and construction costs, which are at cycle lows given the lack of competing construction," stated Jay Hiemenz, CEO for Alliance.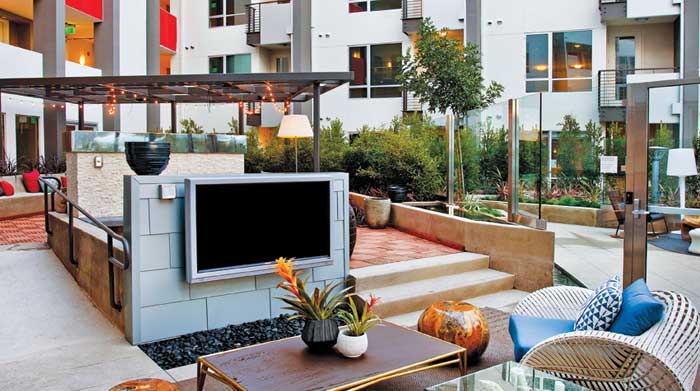 The community was designed to "please the eye" and "clam the soul" by providing residents with convenient access to their work and play in Los Angeles. The designers wanted to offer an oasis where they could retreat from the busy city and enjoy the luxuries associated with an exclusive resort. The community was built with amenity spaces to allow residents to take advantage of the renowned climate of Los Angeles. Residents can relax in the Garden of Icis with its zero-edge pool, underwater speakers and soaking spa. They can also take advantage of the warm sun on one of the three rooftop decks, which include the pet-friendly Woof Deck, the Sun kissed Suite for sunbathers to soak up the rays on daybed loungers and the Mezzanine, an entertainer's dream with its social bar, hanging seated chairs, viewing telescopes and multimedia capabilities. If a movie is what you want, residents can even enjoy the outdoors while watching a movie or playing interactive games in the open-air amphitheater.
"Icis' design models an urban boutique resort style and "Naturally Modern" sensibility is highlighted by clean lines and simple shapes that strike a modern note while the soft touch of fine wood, cool solidity of natural stone and other harmonious details provide natural and warm touches. The authentic and meaningful architecture and hand crafted detail will stand the test of time. The look is quality and beauty, not garnish or trendy," explained Drew Colquitt, Managing Director of Alliance Residential Co.
Icis offers 186 apartments and 14 villas, thoughtfully designed for perceptive residents who enjoy naturally modern living both inside and out. Residents have a choice of 25 different floor plans that include lofts, studios, one or two bedroom apartments and villas that come in two designer scheme options. Homes include gourmet kitchens with European-style cabinets, Frigidaire Gallery stainless steel appliances including a five-burner gas cooktop, upgraded plumbing fixtures and a multi-step water-filtration system. Bathrooms boast designer marble countertops, porcelain-tile flooring, built-in full size mirrors and a walk-in shower or oversized soaking tub. Wood-plank style flooring compliments both color palettes and oversized walk-in closets, coat closets and pantries offer ample storage space. Other available touches include full-size front-loading washers and gas dryers with steam capability, USB charging outlets, wine coolers, custom Lazy Susan cabinetry, fireplaces, personal balconies or patios, single-touch solar shade window coverings with a "good night" button along with exquisite views of the Los Angeles skyline. All homes are wired for Smart Box Technology and penthouses provide MP3 docking stations with electronic key pad controls. Villas include a Sonos Wireless Home Music System and wireless access control panel with home automation, allowing for temperature, appliance and lighting control from smart phones.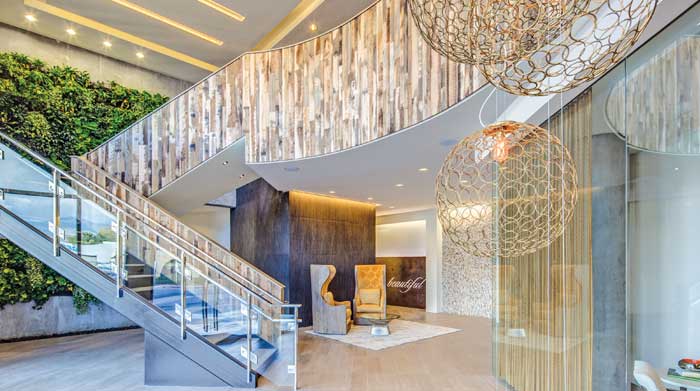 "Icis was inspired by its surrounding area, recognizing the importance of good urbanism and highlighting the changing local demographics. The design is forward and contemporary yet conservative in style and is finally detailed with quality materials. It was important to also make a visual connection to the mountain-scape and the natural beauty surrounding the city," stated Colquitt.
This urban infill redevelopment site is located within the San Fernando Road Corridor Redevelopment Project area, at a high‐visibility location where the Interstate 5 freeway connector meets Colorado Street. The location offers convenient access to three major freeways, four of the Los Angeles region's largest employment centers, a Metrolink train station and the Burbank Airport.
Understanding the ability of a single project to set the tone for revitalization, the project was designed with strong regard for the City of Glendale Zoning Ordinance and its underlying intent. Although forward and contemporary, the thoughtful design is conservative in style, offering subtly crafted details in wood, stone and decorative metal. The elimination of unnecessary ornament allows the proportions of scale and the harmonious articulation of the façade to take center stage, while emphasizing the theme of "naturally modern living," both inside and out. The authentic and meaningful architecture is crafted to earn a reputation of being in great and will stand the test of time.
Ultimately, the building quality, traditional materials and street presence will establish a truly exceptional gateway and promote a brighter, fresher and healthier Glendale for the 21st century. This community serves many different demographics with technological advances to make anyone young or old feel right at home.
Scott McCourtney is an assistant editor of Green Home Builder. He may be contacted at smccourtney@penpubinc.com.