The Homebuilding Horizon May be Dark, But It's Fog, Not a Hurricane
Exploring the likelihood of a continued bull market in homebuilding
By RALPH B MCLAUGHLIN
Despite signs that the housing market is cooling, investment in homebuilding looks solid over the next two decades.
Lately, the clouds on the homebuilding horizon look menacing. Growth in the CoreLogic Home Price Index (HPI) fell for six consecutive months in 2018. New-home sales dropped 12 percent on an annual basis in October 2018. Housing starts have fallen by 7.9 percent from their post-recession peak, which occurred in January 2018. The month's supply of new homes has hit an eight-and-a-half year high in November. Given these developments, it is understandable why the National Association of Home Builders/Wells Fargo National Housing Market Index – a common measure of homebuilder confidence – fell in October 2018 by the second largest amount since the September 11th attacks. While the brightest times for homebuilders this cycle may have passed, there are reasons why investing in homebuilding today offers long-term opportunities.
Strong household growth over the coming decade will likely lead to a shortage of about one million homes in the United States by 2028. The Harvard Joint Center for Housing Studies projects that 12.2 million new households will be from over the next 10 years, but at the current pace of housing completions (on pace to close out at 1.1 million this year), only about 11.1 million new homes will be completed by 2028, leading to a shortfall of over one million dwellings. Put plainly, there will be opportunity for homebuilders to grow their business without having to grow their market share.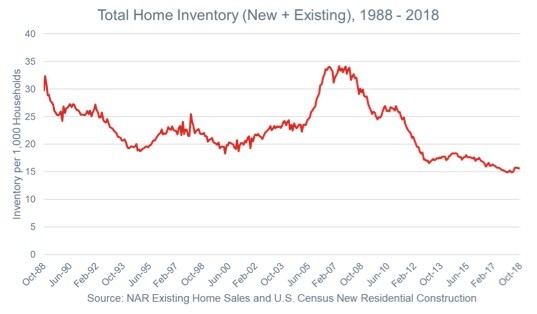 In addition, a structural shift in U.S. housing inventory may help to set a high price floor for new homes. Current single-family home inventory, which is the sum of both newly-built and used homes on the market, sits at just 15.7 homes per thousand households – just above the record low of 14.9 set in December 2017. This historically low inventory means we are in a very different supply environment compared to the massive run-up in inventory that appeared shortly before the onset of the Great Recession. The sharp increase in supply compounded price declines as demand waned. Since inventory is so low today, prices are unlikely to fall sharply if the market continues on a downward trajectory. Though the risk of building at cycle peak is ever-present, the consequences of this inventory environment are likely to be more benign.
Lastly, we can look at historic trends of home-price growth during recessionary periods. The most recent downturn – the Great Recession – brought substantial devaluation to the housing market because it led to sustained home-price decline. However, persistent periods of declines are not common during recessions. For example, prices grew 6.6 percent over a nine-month period during the 2001 recession, following the Dot-Com crash. During the 1980 and 1981 recessions, prices grew by 6.1 percent and 3.5 percent, respectively. In fact, just two of the past five recessions brought decreases in home prices. There was a 1.9 percent drop during the 1991 recession and the declines during the Great Recession. There was a steep 19.7 percent drop during the recession itself and a 33 percent drop measured from the home-price peak to trough. While these factors provide points of optimism for homebuilding, it is important to recognize two headwinds.
The same forces that support long-term price growth, namely low existing inventory and sluggish homebuilding, could put downward pressure on the ability of younger households to buy homes. Slow growth of such owner-occupied households matters for gross domestic product (GDP) growth in two ways. First, the multiplier effect on consumer demand is likely larger for new owner-occupiers than renter households who tend to buy less for their home. Second, since owner occupants are more likely to remodel existing homes, as well as live in larger homes with more amenities, future contributions to GDP from single-family homebuilding and home improvements will be fewer. These factors could lower demand for new homes.
The other headwind is what I refer to as "animal timidness." This is the opposite of "animal spirits," a phrase John Maynard Keynes coined to describe the human emotion driving consumer confidence. Though most recessions have benign effects on the housing market, consumers who lived through the collapse of the housing market may be less likely to buy during the next recession due to recency bias. For example, both Gen X-ers and Millennials saw their first major recession end with a massive oversupply of new homes.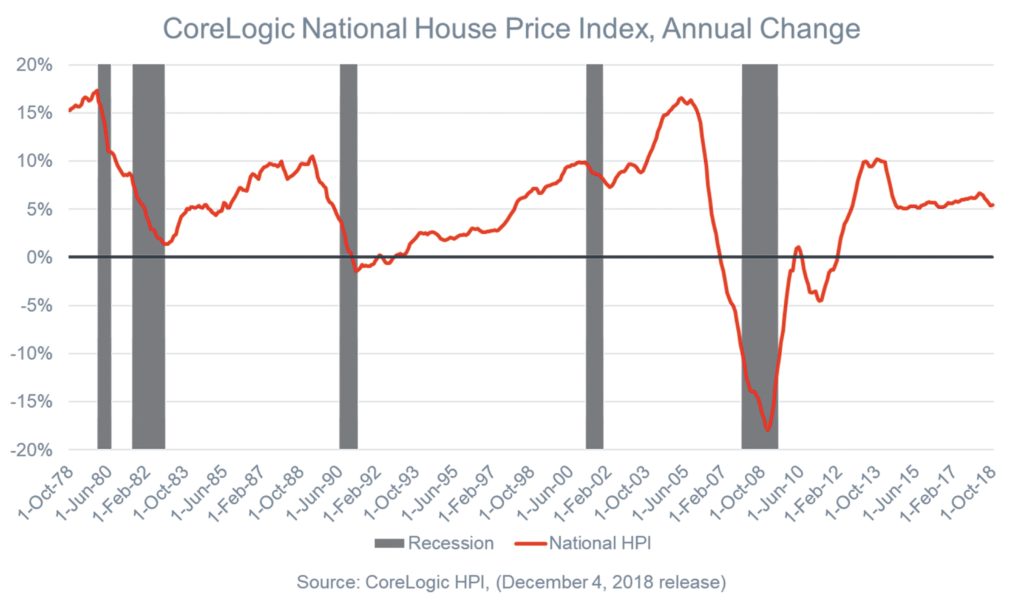 There are a number of factors that will contribute to the buoyancy of the homebuilding market over the next two decades. While the trends on the near horizon may look ominous, long-term factors point to solid growth through the end of the upcoming decade.
Ralph McLaughlin is the Deputy Chief Economist for CoreLogic. He is a widely recognized housing and mortgage market expert. Learn more at www.corelogic.com