Home Design Must-Haves for 2021
Home buyers expect new homes to deliver a lifestyle as well as features that fit their design tastes
By Mary DeWalt and David L. Copenhaver
With a housing industry poised to remain strong, builders are faced with incredible opportunities to capture their share of consumer demand. Since buyer preferences for floor plan layouts, interior design and architectural style continue to evolve, providing a captivating experience is more crucial than ever. At every price point, consumers expect new homes to deliver a lifestyle and look that satisfies their increasingly discerning tastes. Including even a few of these must-haves in new home design can have a huge impact on marketability.
 Since buyer preferences for floor plan layouts, interior design and architectural style continue to evolve, providing a captivating experience is more crucial than ever."  
Start at the Street
Modern Architecture: Traditional architecture styles are still popular as long as they're stylistically detailed. But modern design has risen to the top of the list for many buyers. The unique, contemporary look uses simple lines, distinct geometry and interesting roof forms to create individual looks.
Material & Color Blocking: Regardless of style, exterior architecture should be highlighted and accentuated through the thoughtful application of varied cladding materials in complementary and contrasting colors. When appropriate, blend vertical or horizontal siding, brick or stone (veneer is just fine), touches of natural wood-tones and metal roofing. Lighter colors are popular for primary massing elements, but make them pop with some bold use of contrasting reds, blues or grays. And black window frames are almost non-negotiable.
Farmhouse Still Trending: Even if you're sick of farmhouses, buyers aren't. The clean, contemporary interpretation of this classic look has not faded away like many predicted it would by now. Instead, it continues to evolve, finding applications on ranch-influenced designs and traditional two-story homes at every price point. Material shifts are important on farmhouse designs since they are often painted in one color. Mix cladding to help architectural detail stand out.
Lifestyle-Driven Layouts
Multi-Functional Room Design: We're not just talking about flex rooms any more. Almost every room in a new floor plan should be considered for multiple uses. We need to understand that consumers want spaces that can change over time (even day to day) depending on how they want to live. Garages that convert to man-caves? Yes, please!
Entertainment-Focused Kitchens: Sure, kitchens have been a key element of floor plans for a long time, so this is nothing new. But take kitchen design to the next level by creating a true entertainment zone.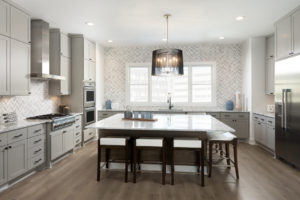 Consider massive islands, connect kitchens to the outdoors with huge glass sliders, and finish them out with gorgeous, simple detailing.
Innovative Storage: Double pantries, hidden kitchen storage, or even full-on walk-through prep kitchens are being offered even in plans with modest square footage. Create room for bulk items near the garage entry, and option additional cabinetry wherever you can.
A Pocket Office (or Two): Many buyers will continue working from home at least part time. Create multiple niche spaces for pocket offices that provide spatial separation but visual connection to common areas of the home. Keep one open and provide doors on the other to ensure privacy is available when needed. Bring in light with a window or sightlines to outdoor living.
Pets + Laundry Rooms: Providing built-in kennels or indoor/outdoor connections for pets will definitely garner buyer interest. Pet washes take it to another level and can be easily incorporated into laundry rooms. Be sure to include a window or door to help the laundry feel spacious and welcoming. Laundry rooms are now meant to be seen, and owners will revel in the stylish functionality of these spaces.
Design Details to Seal the Deal
Simple & Clean for a New Take on Familiar: Interior design is trending toward simplicity. Some elements of farmhouse style are still evident, but they have shifted to a slightly new interpretation. Lighter palettes, simple trim details, and use of some rustic elements is still on trend and opens up an interior.
Stylish Functionality: Homeowners want to use their spaces, so designs can't just look great. They have to create real functionality that helps people live the way they want. Built-ins (like bunk beds), furniture and accessories need to become a reflection of the architectural style and the floor plan layout to help the entire lifestyle experience feel cohesive.
Contrast is King: White and lighter grays are still great choices for interiors, but be sure to offer some creative instances of striking contrast. Black is gaining in popularity, so use it mindfully to draw attention to trim detailing, architectural recesses and ceiling treatments. The result is eye-catching and will create a lasting memory.
The list of must-haves in home design is almost endless, and we've just scratched the surface here. For each new project, consider how you can incorporate these must-haves to ensure your new homes will captivate today's buyers with the most current, most appealing design features.
Mary DeWalt, CMP, MIRM, is the President of Mary DeWalt Design Group. David L. Copenhaver, AIA, is the Senior Partner of BSB Design.