Meaningful Steps to Differentiate Your Brand in Residential Real Estate.
By Gina Nixon
Building homes is as much about four walls as it is about human connection and a sense of belonging and in my opinion, relationships are the core of what makes our industry great.
In the last two years, the residential real estate landscape has undergone a significant metamorphosis as builders of all shapes and sizes flood the market, answering the distress call for more homes. At the same time, builders aren't exclusively competing with other builders. They are now competing with investment firms bent on swallowing large swaths of land and residential blocks at a breakneck pace. 
Even when pendulum swings in our industry, what grounds us during times of transition is something basic, fundamental, and ever present, as well as something our team at Thomas James Homes holds in high regard, which is: people.
When the coronavirus first took hold, nearly everyone went into lockdown except for essential workers. The list of those deemed essential was not long, but included builders and trades, who instead of resting on their laurels, accelerated efforts to meet trending demands for more homes in areas where people want to live.
Thomas James Homes was one of the many builders who responded, expanding operations beyond our home state of California to the Pacific Northwest, Colorado, and Arizona. Rapid growth into some of America's top real estate markets served as a valuable learning ground, teaching us that a serious and concerted effort is required to rise above the crowd when it comes to talent, labor recruitment and retention, and equally as important, community relations. Where we opted to make the greatest investment was in our relationships.
"We may be homebuilders, but we're humans, first."
Place the human element above all else
Even as a homebuilder, what holds the most value isn't the land upon which we build or raw materials, it's our orbit of people. We approach our everyday work with questions such as: What will this project mean for the immediate neighbors or the community as a whole? What value will it bring to the family that purchases it, the realtor that sells it, the trades that build it, and the landscaper that designs and plants on it? 
Placing the priorities of others above our own ensures that problems are solved more quickly, our team is more responsive, and our approach more considerate – and always punctuated by kindness. Putting people and community first is one of the most valuable lessons we learned. In an era plagued by uncertainty and high demand, communication goes a long way.
Builders who take the time to familiarize themselves with city or town municipalities is common practice, but those who build bridges with Parks and Recreation, area school districts, and most importantly, neighbors residing in proximity to active job sites, create opportunities to impact communities on a broader level.
We may be homebuilders, but we're humans, first. The first interaction most neighbors have with builders is at a town meeting or after fence wraps are erected and big equipment arrives. Those cold, steel images mask the faces of the people behind a project, some of whom may be members of the community themselves, making initial interaction less approachable and further cementing builder stereotypes as greedy, money-hungry ventures rather than contributors to the community.
Create community champions
Building a home is much like raising a child; it takes a village. Creating that village takes some heavy lifting yet the payoff comes in the form of support — in both word and action. Champions can take the form of neighbors, municipal leaders, real estate agents, and Chamber of Commerce members, to name a few. 
A stable of locals who recognize you not only by the brand you represent, but also by your first name, harkens back to the days of handshakes and hellos on the street—something we all crave. To build those relationships, share your phone number and email address with encouragement to call with questions or concerns. 
When possible, serve as a main point of contact. Avoid sidelining or ignoring even the smallest concern. Court your village by explaining how your project will become an indispensable addition to the larger community. Woo them with personal attention and open lines of communication, and you'll quickly realize the benefit of personal connection.
Stake claim in areas where you build
For homebuilders committed to more than a single lot build, creating positive word-of-mouth about your work, plans, points of difference, and value proposition is crucial. It begins by surveying the community. Would any area parks benefit from a refacing? 
Are any local schools seeking sponsorship for a new set of bleachers or re-landscaped playing field? Do local emergency services departments need property on which to conduct fire or SWAT training? To unearth these details, we've found the best sources of information are local real estate agents, many of whom are not only residents, but involved members of community schools, associations, even parent networks. 
Discover where you, as a homebuilder, can make a difference. Make yourself a valued community member by selecting an approach that fits your ability, your budget, and your areas of interest, then put your stamp on it. For example, Thomas James Homes learned that many fire departments have minimal access to residential training grounds, training instead in larger warehouse spaces, much different than a home. In areas where our projects include a complete tear down of safe and asbestos-free homes, we invite the local fire departments to use the property for training, providing both valuable training grounds and neighborhood visibility.
As homebuilders, we have a rare opportunity to drive positive community change. Most are of the opinion that builders arrive, build, and bail—which is often not the case. For those in a position to make a positive impact,  giving back to the communities in which we operate helps transform historic builder stereotypes — positively impacting the community and industry at a macro and micro level.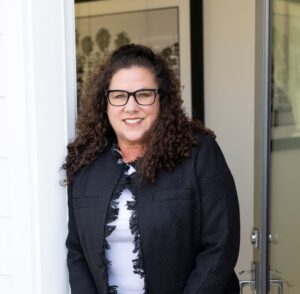 Gina Nixon is Executive Vice President, Marketing for Thomas James Homes.