Homes by WestBay Accentuates Outdoor Living
With decades of experience building homes directly in the Tampa Bay area, Homes by WestBay is committed to bringing value and design to homebuyers in the area. Being locally owned and operated gives Homes by WestBay the advantage of forming strong relationships with the area's best suppliers, sub-contractors, lenders and other professionals in the industry.
Most recently Homes by WestBay completed the last developable piece of residential land within the world-renowned Golf and Spa Resort at Innisbrook, The Promontory, located in Palm Harbor, Fla. The private gated neighborhood gave Homes by WestBay an amazing opportunity to expand from the Tampa Bay market and venture into its neighboring Pinellas County, just west of Tampa.
"The Promontory at Innisbrook is a high-end luxury gated neighborhood where the interior and exterior architecture is specifically designed to maximize the natural topography and spectacular golf course views," said President of Homes by WestBay, Willy Nunn.
The Promontory offers one- and two- story designs that feature low maintenance living with landscape maintenance included. Homes by WestBay shines in the outdoor amenities they offer – perfect for this summer. Highlights include a neighborhood park and dog park, quiet lanes and cul-de-sacs and magnificent views of the Island course. Furthermore, Promontory residents can enjoy the extensive amenities extending to four championship golf courses, tennis courts, swimming pools that include water slides and a splash park, lakes for fishing, jogging and cycling trails.
Innisbrook itself includes restaurants within the resort, such as Packard's Steakhouse and Turnberry Pub among others offering both casual and fine dining and pub options for residents. In addition, Innisbrook is a short commute to other great restaurants and recreational activities, and only half an hour away from Tampa International Airport.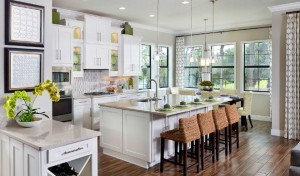 With incredible outdoor living amenities Homes by WestBay attracts a variety of homebuyers from across the spectrum. Innisbrook is perfect for active adults, families of all ages, homebuyers looking to purchase their second, third or vacation home, empty nesters, final move-up buyers, and of course anyone with a penchant for golf.
The Promontory development was both started and completed throughout 2014, with a three year build out schedule. Homes by WestBay acts as the landowner, land developer, and homebuilding general contractor. Their land planners, engineers, architects and home architect are all local third party vendors that are familiar with the Tampa Bay area and Homes by WestBay's commitment to clients.
Innisbrook features three products, Fairway, Manor and Signature, each offering different and distinct floor plans that can accommodate any homebuyer. Homes of Fairway feature 40 foot wide home sites, 2-4 beds, 2-4 baths and 2-3 car garages. Homes range from 1,751-3,585 square feet and begin in the high-$300s.
Homes of Manor feature 60 foot wide home sites, 3-5 bedrooms, 2-4.5 baths and 3 car garages. Floor plans offer 2,343-4,221 square feet and begin in the mid-$500s.
Signature is the most spacious of the homes on 70 foot wide home sites, featuring 3-6 bedrooms, 3-5.5 baths and 3 car garages. Floor plans range between 3,101-6,331 square feet and start in the high-$600s.
It's the design center options that allow buyers to personalize homes to meet and suit individual tastes. Floor plan designs allow for multi-use areas, large open-concept living but with leisure and recreational spaces creating flexibility for the way you live—and never at the compromise of privacy. "We include an awful lot already – but if you want more, we certainly have the selections from which to choose!" said Marketing Manager for Homes by WestBay, Janice Snow.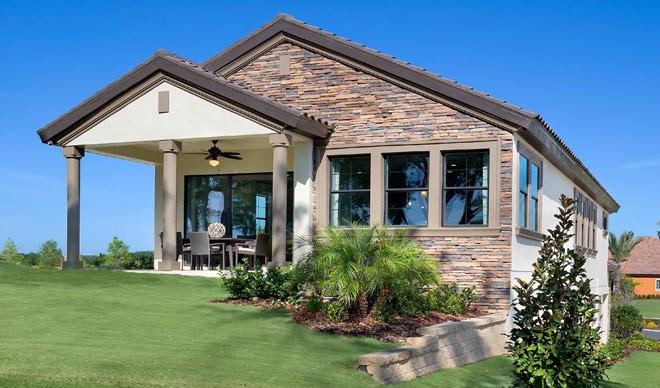 Interior highlights feature Homes by WestBay's well-known trademark of architectural details. Homes include soaring ceilings with an abundance of windows to capture the natural light. Other features include spacious living and bedroom areas, dens, guest suites and secluded owner's retreats with spa-like master bathrooms. "Here at Innisbrook, the views are spectacular; therefore, designs incorporate expansive outdoor areas with covered lanais; windows strategically positioned in corners, as banks of windows, sliding glass doors, and lanais and patios all of which enhance indoor living while complementing the natural views and vistas" said Nunn.
Kitchens are perfect for entertaining friends and family with oversized central island styled kitchens that seamlessly flow to the outdoor living, accentuating the natural topography that serve as a sublime backdrop for homes.
Homes by WestBay is also cognizant of the environment and the fiscal benefits of building with energy-efficient features. All homes are built to Energy Star 3.1 specifications and Florida Green Building Coalition (FGBC) Green Home standards. Innisbrook features 14 and 15 SEER rated air conditioning systems, energy-efficient range and heating system, Low-E insulated and double-paned windows, programmable thermostats and an R-9 foam filled block. Its building envelope is also energy-efficient, with R-13 insulation in exterior framed walls, R-38 batt/blown ceiling insulation over conditioned space, radiant barrier roof sheating, and air infiltration barrier between framing and drywall. Besides energy-efficient features smart home technology is available for tech-savvy homeowners.
The Promontory marks the first new home construction of this caliber at Innisbrook in over 15 years. The neighborhood was overly anticipated and has been extremely well received, beautifully complementing the resort and enjoying the amenities and privileges of Innisbrook.
"In addition to continuing to grow our ongoing business relationships with the area's premier master planned community developers, we continue to look for unique infill properties that are a fit for our upscale home product" said Nunn. Other communities where Homes by WestBay build include the #1 master-planned community in Hillsborough County, FishHawk Ranch. Here, their $1.5 million model home The Venezia was the showcase home for the 2014 Tampa Bay Builders Association Parade of Homes.
Homes by WestBay currently showcases model homes in 14 of Tampa's finest communities and will continue to dominate the Tampa Bay area market. Learn more about Homes by WestBay at www.homesbywestbay.com.
Sergio Flores is an Editorial Assitant for Builder & Developer magazine. He may be reached at sergio@penpubinc.com.