IBS 2023 Does Not Disappoint
By Christine Rombouts, Senior Contributing Editor, Builder & Developer
Heading back to Las Vegas in 2023, educational panels at the International Builder's Show (IBS) offers multiple tracks from industry experts who weighed in on all topics—from design to sales and everything in between. This year's lineup offered super sessions, learning labs, master work shops and more. It's a chance to walk away with the latest trends, newest techniques and forward-thinking business strategies. It's a chance to hear from thought leaders who transform the way we think and address issues critical to the housing industry.
Here is a recap of a couple popular panels.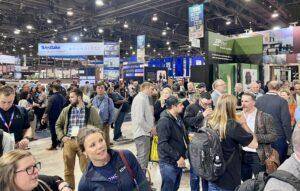 An Inspirational Roadmap for Creating Sales Through Design in 2023: This well-attended panel featured 60 of the most cutting-edge ideas and trends from six design experts in a rapid-fire format. The panel also offered a"Design Battle Royale," as two national architects took on three design topics and "battled" for the win, with the live audience casting their votes. Attendees took a deep dive into best practices for incorporating consumer experiences, including results of the America at Home Study, into home designs and communication with three regional builders. The America at Home study just released its first post-pandemic survey of preferences, motivators and implications for how Americans view and want to live in their homes. Reinforcing previous findings and revealing changes in earlier patterns that illuminate how homes can better accommodate current and future generations, the third wave of the national consumer survey is now complete. It follows the two earlier waves released in June 2020 and December 2020. It's a combined vision between three women leaders in the homebuilding industry: marketing expert Teri Slavik-Tsuyuki, market and consumer strategist Belinda Sward, and architect Nancy Keenan. This IBS panel offered insights from Slavik-Tsuyuki, who spoke to brand new consumer insights and trends by generation, homebuyer preferences and motivators, community and home design implications for builders, developers, architects and more.
Sales and marketing were also big discussion points at IBS 2023 with multiple panels discussing successful strategies. Sales industry veterans Mike Lyon and Jeff Shore led one of the most popular panels: The Wake-up Call: Proven Sales Tactics for a Tougher Market: 2023 presents builders with a new and much more challenging era of home buying, but many are still clinging to programs and strategies introduced in a high-demand selling environment. The customer has radically revamped their expectations and front-line sales teams must adjust with them, determining ineffective methodologies to scuttle, successful ones to keep and new practices to embrace for engaging prospects from their first online connection through the sale. The hot market lulled us to sleep; this session was a wake-up call for returning to first principles and discovering new market sales techniques.