Improving the Quality of Life in Virginia
By Stephanie Ornelas
HHHunt introduces its master-planned Providence community located in Ashland, Virginia, which is fondly referred to as the "Center of the Universe" by those proud to call it home. Its convenient Hanover County address at Providence Church Road and Woodside Lane provides easy access via I-95 to area shopping, dining, employment and recreational venues.
Prospective homeowners have expressed a strong desire for not only a great location, good schools and employment opportunities, but also a sense of community. Providence provides this sense of place and homeowners can experience a fulfilling lifestyle at an attractive price. Providence features a variety of exciting single-family home plans starting from the low $250's by HHHunt Homes and Ryan Homes, two of the area's top home builders. The community's location affords children who live here the opportunity to attend the highly ranked Hanover County Schools of Kersey Creek Elementary, Oak Knoll Middle and Hanover High.
As a result of listening to current and prospective homeowners, HHHunt continues to adapt to meet the ever changing best practices for creating sustainable, healthy living environments. Providence will have many green features, including over two miles of walking trails and sidewalks that wind through the community. A community park area, overlooking a water feature with fountain, will offer places for gathering and recreation. The community park will include a pavilion with fire pit, open lawn areas for relaxation or planned activities and two age appropriate playground features.
HHHunt designed the Providence amenity area to be the focal point of the community and not only provide a place for casual gathering, but for planned community events and programming implemented by HHHunt's full-time Director of Living. This is one of the benefits of living in an HHHunt planned community –opportunities for homeowners to come together and enjoy a variety of programs and events designed just for them and unique to each particular HHHunt community.
Also unique to the Providence community is its close proximity Providence to the Patrick Henry YMCA and Washington Lacy Park, Hanover's first equestrian-friendly park. This 216-acre park, located adjacent to Providence, was created by the "Friends of Hanover Trails," a non-profit citizen's group promoting conservation of natural, scenic and recreational resources of trails within Hanover County. The multi-use trails add even more opportunities for Providence homeowners to exercise and explore.
HHHunt began the conceptual planning for its Providence community in 2011 and received all required entitlements in March of 2012 to begin design and construction. The actual construction began in September of 2012 and lots were delivered to builders in May of 2013.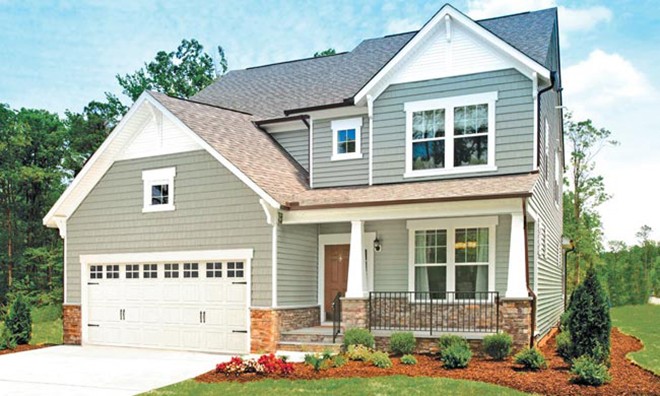 There will be a total of 160 homes in the Providence community. The first phase, consisting of 49 homes, is almost completely built out. Development work has just been completed in the second phase, which will consist of 60 homes. Builders already have homes under construction in response to high interest and demand. The third phase will consist of 51 homes and development work is scheduled to begin this fall based on with a targeted delivery to the Providence builders by the summer of 2015.
Development Green Features in Providence includes green features that are designed to add sustainability and high performance to each home. Specific green amenities include;
Design and development that follows the natural contours of the land. Natural drainage ways, wetlands, and environmentally sensitive areas have been avoided, preserved, protected, and when appropriate utilized to detain and treat storm water from the site.
Measures have been implemented to preserve, promote, and showcase local wildlife habitat and green ways and trails intertwine throughout the development, connecting open spaces and preserved areas for homeowners to explore and enjoy. Like many extensive projects, HHHunt experienced challenges along the way. An old right of way across the Providence property resulted in a title encumbrance that needed to be resolved before development could proceed. There were also challenges surrounding a prescriptive access easement that crossed the property and led to several landlocked homes. With strong and sustainable materials and advanced construction techniques, customers are given the valuable and durable home they deserve. HHHunt's very efficient 14 SEER air conditioning system cools each home with less electricity, meaning less money out of your pocket and reduced power company emissions.
The higher the home efficiency rating, the less gas/electricity you will need to heat your homes. The highly efficient furnaces operate 10 percent higher than the standard furnace. The thermal envelope can be defined as the sum total of the parts of a building separating the exterior environment from the interior. HHHunt minimizes this loss with low emissivity windows.
HHHunt's superior building envelope and more efficient ductwork require a smaller air conditioning system. HHHunt air conditioning systems are designed to make residents more comfortable and able to control energy usage. Managing clean, potable water is a crucial part of HHHunt's Green Home program. By using watersaving or low-flow shower heads and faucets, low-consumption commodes and energy-efficient appliances, they give you the ability to reduce internal water usage and help conserve our most precious resource.
Each and every home HHHunt builds in their green program is required to undergo independent third party performance verification inspections. This can make a big difference in the performance of each home and its energy savings. Unlike customary hot water tanks that heat and reheat the same water 24 hours a day, a tankless water heater is a more efficient way to heat water.
Stephanie Ornelas is the editor of Builder and Developer magazine. She may be reached at sornelas@penpubinc.com.