Infinity Home Collection Delivers an Elevated Living Experience
Alto at Midtown by Infinity Home Collection is a nominee at The Nationals for Best Architectural Design of a Single Family Detached Home
By Sergio Flores
Photography by Jeffrey Aron
With a name that just barely captures the company's products, Infinity Home Collection is gaining national recognition for their Alto at Midtown community in Denver, Colo., being nominated for The Nationals 2016 for Best Architectural Design of a Single Family Detached Home Priced $500s to $750s.
Infinity, a 20-year-old privately owned and local builder has been contributing greatly to the Denver market, riding on the coattails of the market's healthy rebound from the Great Recession. Colorado has recently been ranking high nationally in terms of performance and desirability, and with sublime mountains and Sonoran landscapes, it's not difficult to imagine why.
For the past 10 years, Infinity has been developing contemporary architecture in urban master-planned communities, enjoying the tremendous relocation business. Bringing a cool, contemporary, and urban feeling to the homes is something that they strive for in every community that they currently build in.
The inception of Alto at Midtown began when Infinity had the opportunity to buy some developed lots in a new neighborhood located north of Denver. The location was ideal because of its close proximity to the city core and a new community park amenity. At the time of its conception, Infinity was studying the new three-story homes in Playa Vista, Calif. that opened in 2014. For this location, though, they wanted to develop a new product using these contemporary architectural elements with higher square footages, main floor living, and at higher price points for Denver on urban lots.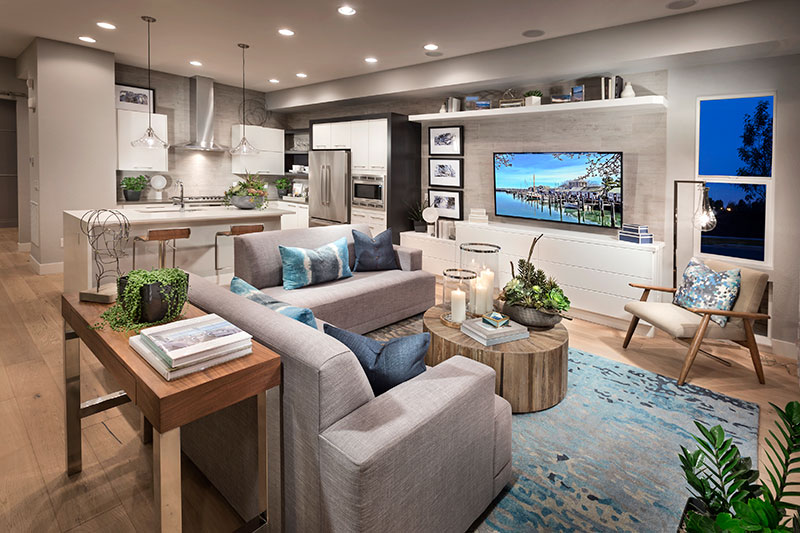 The industry has lately been seeing scarcity in land and development, and builders are being burdened with lots that are smaller and smaller, while prices are indirectly getting higher and higher. Infinity, however, was up for the challenge. "I think Alto is a really good solution for that scenario—it is fresh, timely, and unique," said David Steinke, partner and general manager for Infinity Home Collection. "It definitely isn't your typical production home."
Alto at Midtown features a forward thinking and fresh design that maximizes space, emphasizes indoor and outdoor relationships, and offers amazing volume with livable floor plans and striking architecture both inside and out. The result is an overall smart, sexy, and energy-efficient home for the modern (or modern thinking) buyer.
"Until now buyers had to live in an attached townhome in downtown Denver to get anything like [this]," said Paul Schmergel, partner and managing member of Infinity Home Collection. "We have brought that type of urban contemporary living to "close in" master-planned communities at a terrific value—and they're also detached!"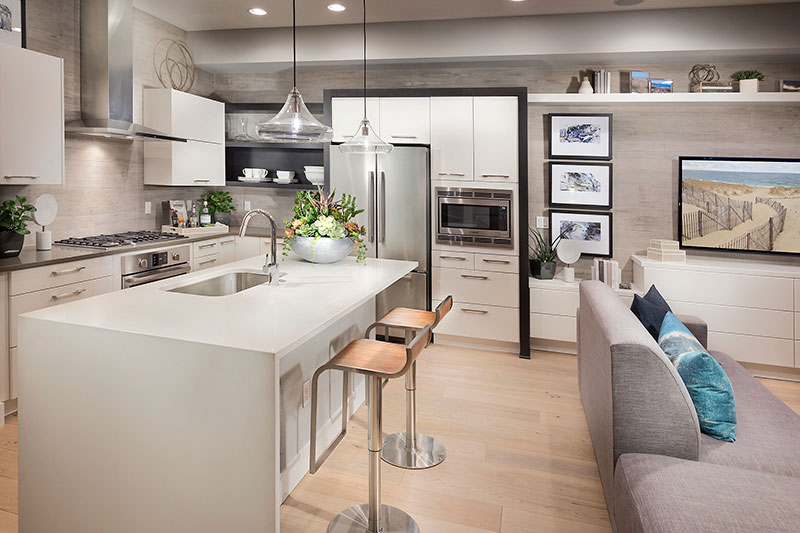 The Alto collection, built by Infinity Home Collection with architect Woodley Architectural Group, has rightfully earned them recognition from the National Association of Home Builders, being nominated for the prestigious awards The Nationals 2016.
"For a small builder in Denver to be recognized, knowing what and who we are competing against, is really extraordinary for us," explained Steinke. "We are truly product junkies, and we have built our brand around award winning, high-end production homes, but even so, we are still pleasantly surprised whenever we win at the national level."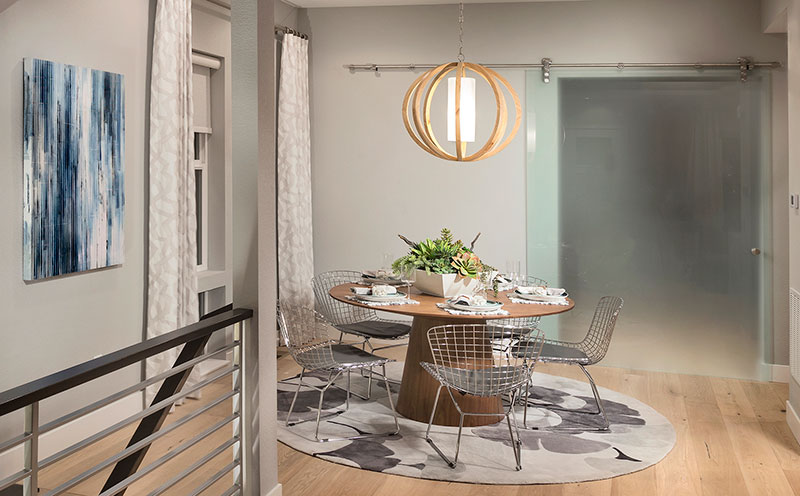 Alto at Midtown enjoyed its grand opening on September 1, 2015 with more than 400 VIP guests celebrating on the rooftop deck, experiencing the unmatched views of Colorado's cityscape and Pikes Peak while sipping Moët et Chandon.
Although a small builder in comparison to nationwide builders, Infinity takes advantage of the limitations of big builders, doing things that they know big builders will not do in certain markets. "This project is a good example of taking a product that only exists in either the attached or scrape and custom build world, and we are bringing it to the best communities in Denver," said Steinke. "With a price that is bargain compared to a custom home, these homes offer the kind of bold, even risky, architecture that doesn't feel like production."
The initial process of designing had Infinity thinking that these homes would appeal to primarily young families, maybe a few singles, and possibly an empty nester or two. Previous communities by Infinity have attracted the attention of successful young mid-30-year-olds with one to two children looking for a social and livable community , and enjoy the city's offerings. But to their surprise, the positive reception has been for the most part unanimous, with profiles from buyers throughout the spectrum.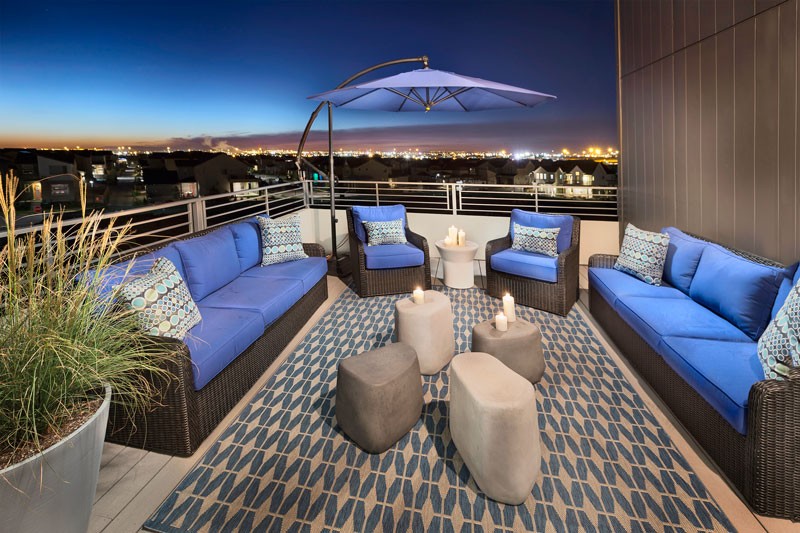 "Our interested buyers range from 24-year-olds to 70-year-olds," said Steinke. "You would expect the younger generations to be drawn to something like Alto, but to see the eyes light up on a 70-year-old single woman who just found the coolest house in town is just awesome."
Homes in Alto at Midtown are also ENERGY STAR® certified and includes features such as advanced framing techniques, upgraded insulation, high performance windows, tankless water heaters, whole house ventilation systems, pre-wiring for solar, and many other energy-efficient features for sustainable living and maximum comfort.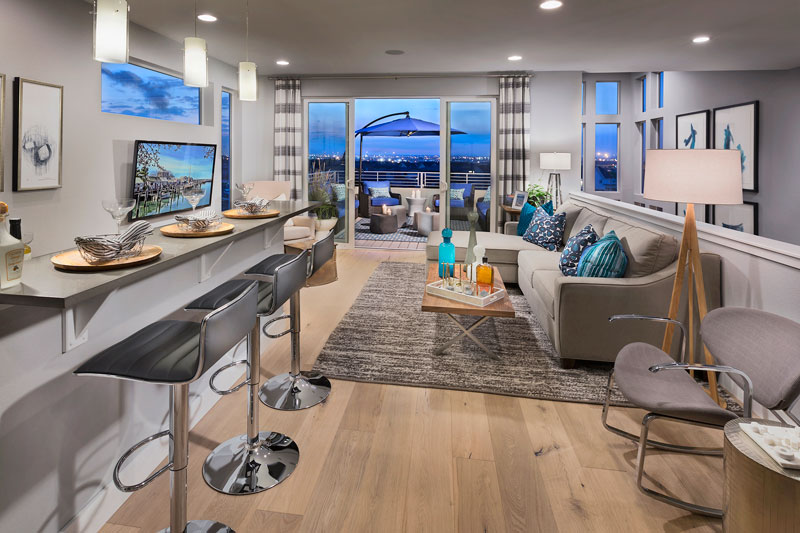 Building above codes allows Infinity to create a high performance home that is prepared for the future. With the future inevitably approaching, Infinity is conscious of the advantages of implementing technology at an early stage, and is preparing the homes foundation for the godspeed evolution of technology to make the transition much more seamless and far less expensive. "We have put extra thought into the core components of each home," said Steinke. "These are components that cannot be easily upgraded by the owners later and provide a good foundation for future energy-efficient upgrades/additions."
The Midtown community is about 50 percent complete, and will offer 930 homes at full build out. "We will strive to continue to do what we do best: build for upper-end buyers in the best communities in Denver, delivering to our buyers the best homes possible while continuing to have a great time in the business," said Schmergel.
But start packing your bags now, because the team at Infinity anticipates Alto to be sold out by the end of this year.
Sergio Flores is an Assistant Editor for Builder and Developer magazine. He may be reached at sergio@penpubinc.com.