Infinity Home Collection: Vue and Haus at Stapleton in Denver
A Refreshing Look with Contemporary Design
The Infinity Home Collection has created award winning designs for the Denver Market for years and only continues to out do themselves with innovative design and architecture.
By Stephanie Consiglio
For over 15 years, The Infinity Home Collection has been exceeding the expectations of homebuilders across the nation with their grandeur homebuilding projects. They aren't going to be stopping any time soon and plan on tacking on infinity more years of excellent homebuilding and experience to their already chalk full resume. Infinity Home Collection has remained a private upscale builder stationed out of Denver, Colo., and has stuck to building by their own rules, selecting where and what they want to build and remained true to their own principles. They pride themselves on being experts for the Denver market. Over the years, they have grown tremendously, procuring ample awards and meticulously developing their craft as expert homebuilders who have become well established in the homebuilding industry.
The Infinity Home Collection strives to be extraordinary from the mere ordinary homebuilder. They put a little extra thought in their building process, which separates their projects from the rest. The Company builds "smart homes for smart people." They market to a wide variety of homebuyers from all ages and all different lifestyles, they listen to their market and they progress. Innovation is key in the process of building an Infinity home. Each step of the homebuilding process is personalized to the homebuyer to create a design, which is made directly for them.
"While most builders remind you of limits, we offer possibilities," said David Steinke, partner and general manager of Infinity Home Collection. The Infinity process is specializedfor the homebuyer they are working with including, style, preference, and schedule. "That's why we say we offer a personalized homebuying experience, but simplified to help reduce cost and complications."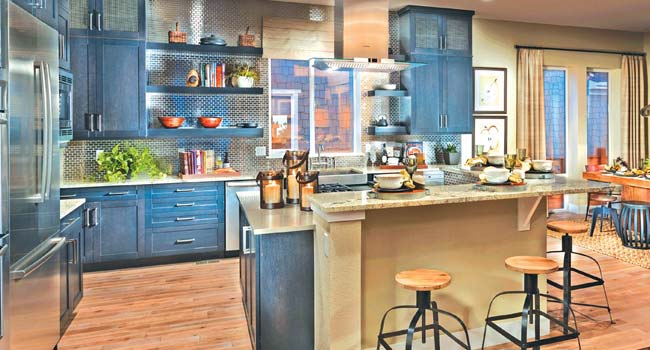 Their newest collection of homes is Vue and Haus at Stapleton in Denver. Infinity Home Collection has been actively been building in the Stapleton Master Planned Community since 2003. These two collection were preceded by five single family collections, one townhome collection and one apartment building. Infinity Home Collection has years of experience building for this niche location and they continue to refresh ideas and architecture year after year. Infinity trusts that this niche kept them afloat during the Great Recession. Vue and Haus opened for sales in March of last year and are on-going projects. Vue has been built on 93 lots and Haus has been built on 101 lots and range from 3,245 square feet to 3,693 square feet. The Haus style is a single family detached, alley loaded and energy star green certified.
Stapleton ranked as the tenth Best Selling Master Planned Community in the country last year. This location back in the day was an international airport, which has now been developed into an outstanding community. The location is superfluous due to the closeness to downtown Denver and the most popular urban neighborhoods as well as the Denver International Airport and major employment centers. Stapleton tends to attract growing young families who are style-conscious, move-up buyers looking to settle with their families from their cool urban lofts in the city. Vue and Haus incorporate contemporary architecture into their projects, so homebuyers are able to get the best of both worlds, blending modern elements with room count and livability for a growing family.
"Our goal was to meet the demand for a more contemporary style of architecture than is found with the majority of Stapleton builders who are building much more traditional neighborhood design homes," Steinke said. "We patterned our details and specification closer to what the custom buyers are designing in the most popular Denver urban neighborhoods."
The floor plans remain true to the need for bedrooms and quality indoor and outdoor spaces. The modernist designs are detailed through the railing, trim, fireplace surrounds, kitchen layout, master bathrooms, doors and windows. The level of finish on these homes is upscale and resonates well with their homebuyer profile. Home designs can become repetitive and not very innovative, it is up to the builder to create a dynamic product and more important keep a renewed design. "We think in terms of a three year period of time for the life of any collection," Steinke explained.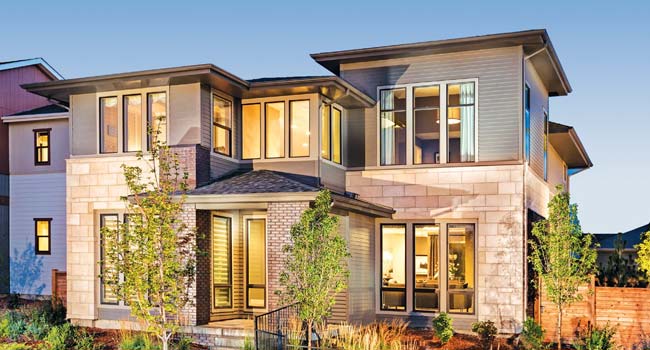 "The community is literally re-born every few years with all new product offerings." Stapleton is constantly evolving and there are always reasons for homebuyers to check out the market because the best and newest designs can be found there. This gives Infinity the chance to step out of the box and create many award winning designs like Vue and Haus.
Along with an affluent modern design, green features are immense throughout the layers of these homes. Infinity goes above and beyond the Energy Star green certification including energy efficiency from roofing to lighting. All homes have fully designed and sized HVAC equipment and ductwork. This considers both the size of the home as well as the windows and orientation of the home. All ductwork and equipment is place inside conditioned spaces. Infinity includes a whole house duct leakage testing on all homes. There is also a whole house ventilation system.
Energy Star appliances scatter through the house along with LED and CFL lighting, low flow and water sense certified lighting fixtures, solar pre-wire, high performance windows, tank less high efficiency water heaters and high efficiency furnace and air conditioner. The homes include setback thermostat which is tied into a Home Automation System. The frame of the house was built with advance techniques and has high performance blown insulation in the wall and attics. Green features aren't only for the inside of a home, but outside the home as well. Infinity homes also use a high performance irrigation system with a rain sensor. Inside and out families will be assured that they are reducing their carbon footprint in an Infinity home. Forest City Stapleton developer is a leader in building sustainable communities and is important to uphold that reputation to create homes that don't impact the environment heavily. To demonstrate their dedication to building green, Infinity built the HGTV green home for 2011 at Stapleton. This home showcases the state of the art in sustainable living, which provides a glimpse into the future of homebuilding in this forward-thinking community.
Stapleton is a project that seems everlasting. There are many opportunities to grow for both the homebuilder and the homebuyer. Stapleton allows homebuyers to move up within the community. "We know how big, how many bedrooms, what style, even what colors and finishes people are looking for," Steinke said. "It gives us confidence when creating our new award winning designs."
Stephanie Consiglio is an assistant editor at Builder and Developer magazine. She may be contacted at sconsiglio@penpubinc.com