Innovation's Knocking on the Door of Real Estate
First American Title's Homebuilder Services division prepares homebuilders for digital transformation of the closing process for residential real estate transactions
By Jack Simpson
While new home design has changed to meet shifting homebuyer preferences over the years, one aspect of homebuying has remained relatively constant — the closing of the residential real estate transaction. The complex, paper-based closing process has long been a source of confusion for homebuyers, and legal and regulatory requirements have made the closing process difficult to streamline and modernize.
However, the digital transformation of the residential real estate transaction is upon us. Tech-savvy Millennials, the generation driving the most home buying activity for the last five years according to the National Association of Realtors, prefer a more digital experience. And the mortgage loan application process has already evolved, as lenders adapt to better serve and compete for Millennials.
As we near the middle of 2018, momentum is rapidly building toward a greater adoption of Digital Settlement and eClosings. An eClosing is specific to the signing event in a real estate closing. It is the process in which the buyer, seller, borrower, notary or others involved in the transaction use an electronic signature (eSignature) to sign some or all of the closing documents.
As eClosings gain traction, homebuilders will likely need to accommodate four different types of residential real estate closings — a traditional closing, where paper documents are all signed with wet ink, as well as three different types of eClosings.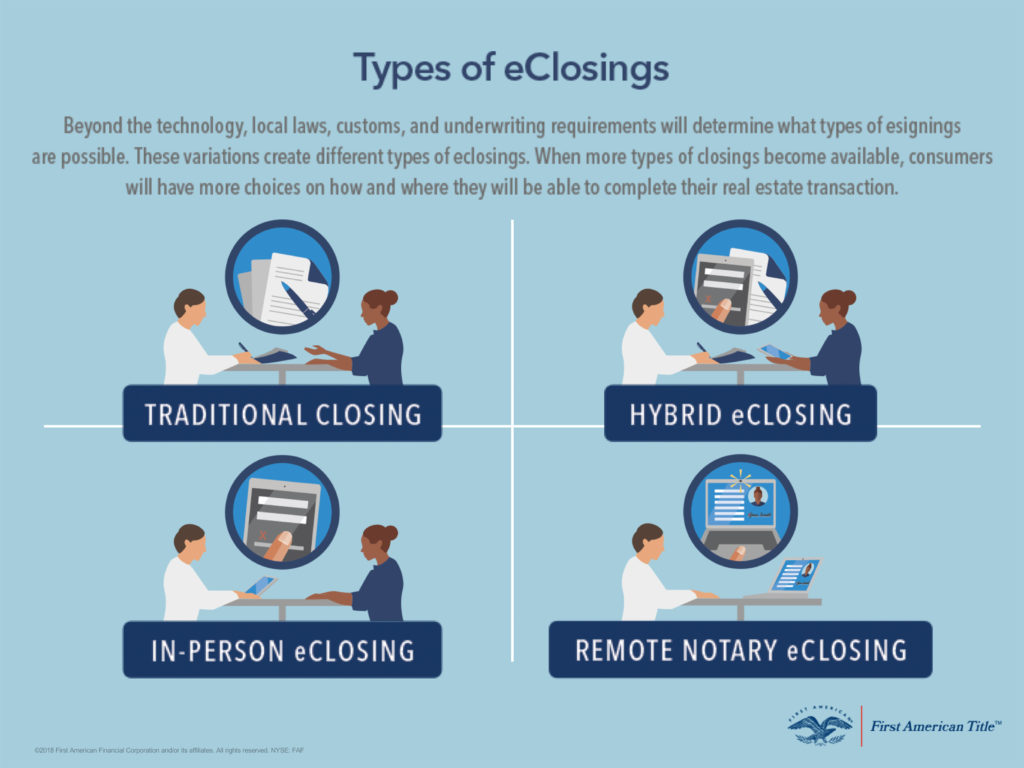 Three Types of eClosings
 Hybrid eClosing: Involves wet ink, as well as digital and eSigned documents.
 In-person eClosing: All documents are digital and eSigned.
Remote online notary eClosing: All documents are digital and eSigned, and eNotarized by a notary during an online video session with the signer.
"For homebuilders, the shift to Digital Settlement and eClosing may not be 'knocking on the front door' yet, but it's in the neighborhood and consumer demand for eClosing options will be here sooner than many think," said Joseph S. Tavarez, President of First American Title Insurance Company's Homebuilder Services division. "We're working closely with our homebuilder customers and their captive lender operations, sharing insights from vendor pilot tests and providing our perspective on various technologies, as we work to identify the solution best suited for homebuilders and their homebuyers."
Technology start-ups and other vendors continue to enter the eClosing market, contributing to the industry buzz about eClosings, but the process remains in its infancy and a scalable solution remains elusive. eClosings impact the entire residential real estate purchase process, with implications for lenders, secondary mortgage markets, as well as consumer ownership rights, property recording, local governments and more.
"The reality is the technology and market demand have outpaced the ability of real estate regulations to keep up," noted Tavarez. "For example, where they exist, state laws addressing remote online notarization are currently inconsistent, and some are inadequate. That's why our priority is to help our homebuilder customers navigate this transformative change safely and securely."
Meeting Consumer Expectations, Enhancing Security
While wide-spread adoption of eClosings may be on the horizon, the digital transformation of the buyer's opening package of documents is already here. First American Title's Secure Portal, which digitizes this formerly paper-based process, launched in Arizona, Florida and Washington on existing-home transactions earlier this year. Early results in all three states underscore the demand for a more digital experience from homebuyers and sellers.
"Buyers and sellers appreciate the opportunity to complete their opening paperwork and review title documentation online, as well as the enhanced communication and transaction status updates," said Tavarez. "But, even more importantly, our Secure Portal lowers the risk of wire fraud attempts by reducing potentially compromised email communications, and that benefits everyone involved in the transaction."
With multi-factor authentication, First American's Secure Portal represents another layer of security to combat the ongoing threat of wire fraud. First American's Secure Portal to be available to homebuilders on new home transactions in Arizona this summer and it will roll out to homebuilders in other states in the months ahead.
Are Cryptocurrencies the Next Frontier?
In addition to the industry chatter about the pending adoption of eClosings, the media attention devoted to cryptocurrencies has sparked discussions among the broader real estate community, including homebuilders. Cryptocurrencies, such as Bitcoin or Ethereum, are digital mediums of exchange that use encryption and distributed ledgers to facilitate transactions.
The value of cryptocurrencies has fluctuated dramatically and generated inquiries about the ability to use cryptocurrencies to purchase real estate. As of today, they are not yet legal tender. There are reports that cryptocurrency real estate transactions have occurred, but they typically involve converting the cryptocurrency into U.S. dollars before the transaction is closed.
"The use of cryptocurrencies in real estate transactions is another important topic, but also an example where the noise and media attention outweigh the practicality at this time," noted Tavarez. "Cryptocurrencies may seem like an attractive option for some buyers and sellers, but there are rules related to the use of cryptocurrencies. Our teams help homebuilders understand the current limits of the practical use of cryptocurrencies in real estate."
About First American Title Insurance Company
First American Title Insurance Company, the largest subsidiary of First American Financial Corporation (NYSE: FAF), traces its history to 1889. One of the largest title insurers in the nation, First American Title provides comprehensive title insurance coverage and professional services for real estate purchases, construction, refinances, and equity loans.
First American Title's Homebuilder Services division caters specifically to the needs of national and regional homebuilders, combining deep homebuilding industry expertise with leading technology to deliver a streamlined closing process both builders and homebuyers appreciate.
Jack Simpson is Editor of Builder and Developer magazine. He may be reached at jack@penpubinc.com