Integrated Home Designs at Vista Santa Fe
Tri Pointe's community by JZMK Partners was built with blended indoor/outdoor spaces
By Hanna Heiss
Tri Pointe Homes, alongside architect JZMK Partners, began the design process for its single-family community Vista Santa Fe in 2017, with full build-out completed in 2020. The neighborhood is located within the Pacific Highlands Ranch master plan in San Diego, California.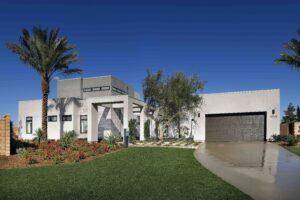 Founded in 2009, the California-based homebuilder builds premium homes in 10 states. Tri Pointe Homes places value on innovative design and craftsmanship, offering products across all price points and is dedicated to designing homes, neighborhoods and communities that inspire and uplift its customers, team members and communities it serves.
Initially founded in 1960 as Kermit Dorius FAIA Architects and Associates, JZMK Partners focuses on bringing residential design to Orange County, California. Today, the architectural firm is involved in the planning and design processes for projects all over the globe. JZMK Partners develops various product types for high-density single-family homes, net zero townhomes and resort units.
JZMK Partners has a long-standing relationship with Tri Pointe Homes and was selected for Vista Santa Fe by Tri Pointe Homes' San Diego project management team. Additional team members include interior designer Bobby Berk Interiors and engineers GMEP Engineers and Gouvis.
Black Mountain Ranch and Vista Santa Fe serve as home to a variety of biotechnology, aerospace, financial and computer science technology companies. These firms attract young multicultural professionals with families in need of space for multigenerational housing, which are the target buyers of Vista Santa Fe.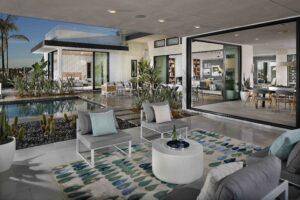 The gated enclave consists of 44 luxury homes, offering single- and two-story floorplans with four to five bedrooms, four-and-a-half to five-and-a-half bathrooms with options for rooftop decks, outdoor living spaces and gourmet kitchens designed for entertaining and enjoyment of San Diego's indoor/outdoor lifestyle. Prices for the homes range from $2.5 million to 4.8 million and are based on buyer options, views and homesites.
One of the highlights of the project was the strong teamwork between the architect and the interior designer. The three plans were walked through via virtual reality at JZMK Partners' Costa Mesa-based office and allowed for the successful communication of the project's vision between the team members.
The community, inspired and deriving from Mid-Century Modern architectural styles, was designed in the manner of "Desert Modernism." JZMK optimized the opportunity to create residences with prominent characteristics of clean lines in flat and projecting roof forms, open floorplans and use natural and modern materials for both interior and exterior locations. Additionally, each space was carefully planned for functionality and daily use by the homeowner and was developed with multigenerational housing in mind.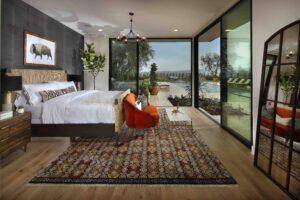 As cross-generational households in the United States have grown four times over since the 1970s, many architects have turned their attention to creating well-designed ADUs for backyards to accommodate these additional household members. At Vista Santa Fe, the large lot sizes allowed for sprawling layouts which allowed multiple generations to live under one roof while also giving each household a maximum amount of privacy.
One of the most notable features of the homes at Vista Santa Fe is nature-integrated living. This design idea helped maximize the ability to use the private yard and interior living space to its fullest potential. Such expression was executed using multi-panel doors, which offer wide openings as well as height and light by means of clerestory windows in the vaulted ceilings, further blurring the integration of nature.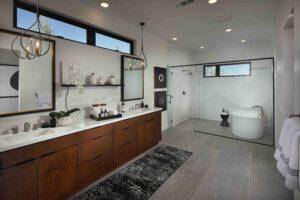 As energy efficiency and smart home technology become highly desired amongst buyers, the residences include just that. Tri Pointe Homes, with a passion for improving homeowners' quality of life and the legacy it leaves on this planet, couples that with its comprehensive LivingSmart® program. This program addresses cost-savings and improved living environments and does so from the development stage all the way to the ongoing operation of high-performing homes. 
The LivingSmart® program is comprised of five specific areas of advancement: HealthSmart®, EnergySmart®, EarthSmart®, WaterSmart® and HomeSmart®. All homes at Vista Santa Fe exceed local energy codes with energy-efficient features throughout.
A key feature for utility efficiency is high-efficiency appliances and fixtures coupled with a smart home bundle. Other highlighted smart features include a smart thermostat, door and window sensors, occupancy sensors for lighting, and remote control and garage door control.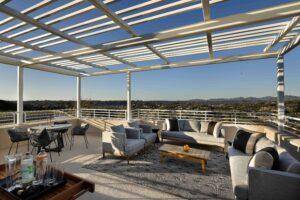 Additionally, materials were sourced as locally as possible to reduce carbon footprint in material transport and manufacturing. All the homes at Vista Santa Fe exceed California's rigorous Title24 requirements through their use of bumped-up insulation, multi-paned windows and reflective/cool roofing.
The community has won numerous awards over the years. Some of these include 2019 Gold Nugget merit awards for Best Residential Detached Collection of the Year, plan two for Best Single-Family Detached over 4,500 square feet and plan one for Best Indoor/Outdoor Lifestyle, as well as Best Architectural Design of a Detached Home 3,000 Square Feet and Over for its plan three at the 2019 ICON Awards.
Hanna Heiss is senior editor for Builder and Developer. She may be reached at hanna@builder.media.