K2 Breaks into Chicago Multifamily Market
By Genevieve Anton
The 34-story LEED-certified sleek glass tower named K2 features models by acclaimed Chicago designers and offers affordable high-rise living in Chicago's West Loop. With 496 units and 348 parking spaces, K2 is the first downtown Chicago luxury apartment building to open in 2013. "K2 has redefined what luxury rentals can be in Chicago," said Patrick Trask, central region director for Wood Partners. "We set out to deliver a product that would be unmatched in the luxury rental market. So many people are choosing renting over buying today, and with the opportunity K2 provides, they can now choose to do it in elegance. We're offering the most lifestyle amenities – including a bike kitchen and a basketball court – and the highest-end finishes of any rental community in Chicago."
Developed by Wood Partners, designed by Pappageorge/Haymes and built by McHugh Construction, K Station is "the grand finale of an incredible development," said Randy Fifield, vice chair and principal with Fifield Companies.
K2 is the third and final phase of Chicago's five-tower K Station luxury apartment development, and will welcom its first tenants in March.
"It took the vision and manpower of a local developer like Fifield Companies and a national developer like Wood Partners to make K2 a reality," Fifield said. "We needed to have a deep conviction in this project, because at the time we broke ground, nobody in Chicago had seen a new building go up in 24 months for any type of construction."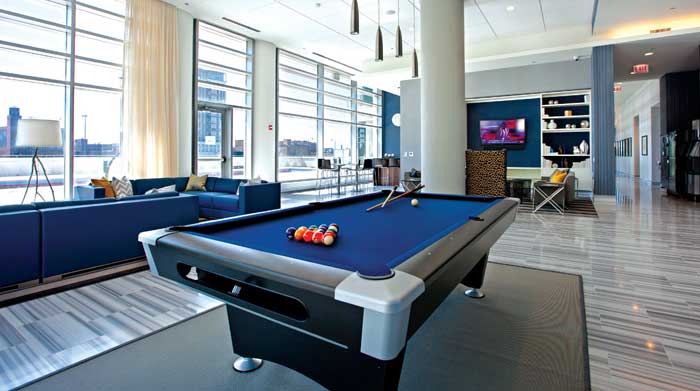 After breaking ground in October 2011, K2 was delivered two months early and $1.5 million under budget. Both developers attribute that success to local aldermen, city officials, subcontractors, neighbors in the Fulton River District and hundreds of others who stepped up and joined forces to bring K2 to life.
K2's serene, sophisticated landscaping was designed by Terra Engineering, and lush interiors were designed by Adrian Smith and Gordon Gill Architecture, an award-winning international firm dedicated to energy-efficient and sustainable architecture. "Night Walk," an 8-foot by 13-foot commissioned painting by Chicago artist Vidvuds Zviedris, is a highlight of K2's two-story entrance and lobby, where a floor-to-ceiling window releases stellar views of Chicago's Loop. Authentic prints by Salvador Dali and Roy Lichtenstein are displayed throughout the building.
In keeping with its mission of offering luxury rentals at affordable prices, K2 includes studios and one, two or three bedroom apartments with rents ranging from $1,650 for a studio to $6,500 for a three-bedroom, threebathroom penthouse. Deluxe interiors include 9-foot ceilings, floor-to-ceiling windows with unparalleled 360-degree views, stainless steel appliances, granite countertops, plank flooring, Grohe fixtures and a technology package that includes blue-tooth receivers and in-wall speakers.
K2 offers high-end amenities including concierge services, a clubroom and an enormous deck with a 70-foot four-lane lap pool and gas firepit. Two lounge and party areas, which open onto the pool deck, feature fireplaces, large flat-panel televisions with surround sound and a variety of seating and pool tables. The pool deck houses four cabanas, including two that can be enclosed for outdoor massages. A state-of-the-art exercise facility features weight-training and aerobic equipment with iPod docks and flatpanel televisions, men's and women's locker rooms with steam rooms and showers, and a dual-purpose wood-floored room that serves as a basketball court and a yoga studio "The pool areas at our other K Station towers have become mandatory destinations for residents, so we wanted to make sure the deck and pool area at K2 would take it up a few more notches to offer Chicago's most exclusive outdoor experience," Fifield said.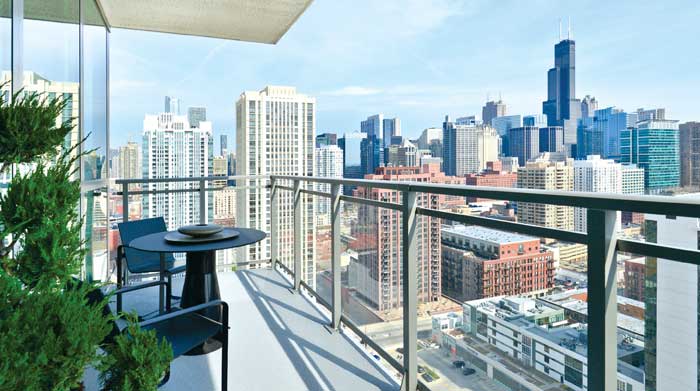 Residents will have access to a wellequipped high-tech business center with six computer stations and a separate boardroom. In the theater room, they can lounge in reclining leather stadium-style seating while watching movies and TV on a 120-inch projection television system with THX 5.1 surround sound.
In keeping with the community's commitment to sustainable living, and in compliance with LEED Silver standards, K2 also provides a bike storage room that accommodates 200 bicycles, a "bike kitchen" that provides tools and expertise for riders, and charging stations for electric vehicles.
Conveniently located within walking distance of a grocery store, retail shops and public transportation, K2 offers an ideal access point to Chicago's existing and future protected bike lanes. In addition, an onsite Zipcar will be available for on-demand renting.
K2 is one of more than 4,000 multifamily units that Wood Partners has started this year and the company's first Chicago-area development. "Teaming up with a credible local player like Fifield was a great way for us to enter the market," Trask said. "With our recent expansion to the Pacific Northwest and the Northeast regions, Chicago is one of the last major metropolitan areas Wood Partners has yet to enter, and it really rounds out our national presence."
Wood Partners will build on K2's success by pursuing future opportunities in Chicago, where demand for new rental apartments remains high even as five major towers have been built between 2009 and 2010.
As Chicago's economy grows, renters are snapping up more than 2,000 new rental units per year. "Combined with recent positive job announcements, it makes an attractive market for us," Trask said.
Genevieve Anton is the Principal at Anton Communications. She can be reached at ganton@antonpr.com or for more information please go to www.antonpr.com.