Lakeside Living in Houston
Taylor Morrison's Stillwater on Lake Houston offers four home collections in one gated lakeside community
By Carina Calhoun
Photography provided by Taylor Morrison
Interior Design by Millennium Designs
One community. Four home collections to choose from.
The 197 home sites within four new home collections featured in Stillwater on Lake Houston are among their most sought-after home designs within Taylor Morrison communities in the Houston-area.
Stillwater on Lake Houston offers homebuyers the unique opportunity to create a home in a gated, upscale community located in the Houston-area. The four new home collections including the 60s Chateau Series, 70s Grande Series and 80s Legacy and Inspired Series were crafted to meet the needs of various homebuyers with different design and lifestyle preferences, including an available selection of waterfront home sites on Lake Houston.
The homes at Stillwater on Lake Houston vary in size from 2,700 square feet to more than 5,600 square feet with prices ranging from the low $300,000s to more than $1 million.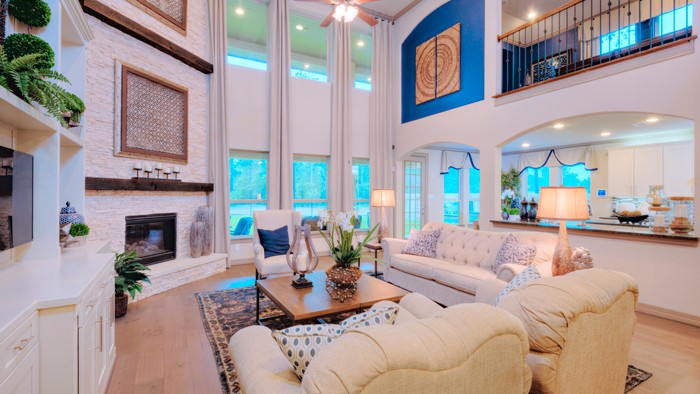 The Chateau Series at Stillwater offers one- and two-story homes, with a total of seven unique home designs. Ranging from 2,741 square feet to 3,822 square feet, each floor plan features separate details created to catch the eye. For example, the Bevington offers more than 3,780 square feet of luxurious living with a private master retreat, three upstairs bedrooms, a game room and the option for an additional master bedroom.
It truly is all in the details within this community of homes. The Chateau Series favors open, spacious floor plans with popular home design such as large garages, expansive family rooms and secluded master suites are all impressive features within this series. Options for certain homes include a rear porch, wine closet, master bay windows and covered patios with outdoor kitchens.
With four diverse floor plans, the Grande Series offers homes with four to seven bedrooms, game rooms, media rooms and spacious, modern kitchens. The 5,084-square-foot Rousseau gives homebuyers the living space they desire, including a large gourmet kitchen, which flows into the nearby dining and living rooms.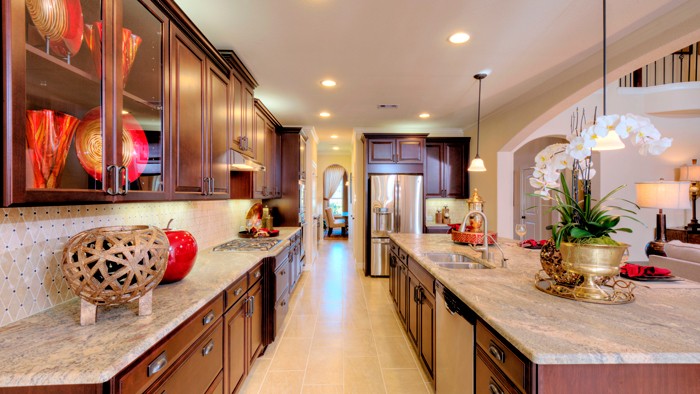 Other notable features within certain homes in the Grande Series include large secondary bedrooms, a convenient butler's pantry and beautifully crafted master suites with dual vanities and desirable walk-in closets.
Combined, the Legacy and Inspired Series deliver twelve home designs ranging from 3,265 square feet to 5,623 square feet. The Marseille within the Legacy Series is built to impress, with a grand foyer that showcases a stunning spiral staircase at the entrance, two-story ceilings and more. Within the Inspired Series, the Milano represents the importance of elegant design with luxurious elements such as a sunroom, spacious master suite and bath, optional tech room, media room and additional bedrooms.
The largest home in the series, The Positano, boasts a fabulous courtyard with an optional fireplace, a curving staircase in the foyer and a two- story family room with a stunning corner fireplace and view of the outdoor covered patio area.
There is a floor plan for every home buyer at Stillwater. "We wanted to establish a strong sense of community at this lakefront location," said Jim Ellison, Vice President of Sales and Marketing at Taylor Morrison Houston. He continued, "Stillwater on Lake Houston includes a common lake access corridor within the community allowing all residents to take part in and enjoy the lake experience. Homes along the southern border offer separation from Summerwood with its own intake canal off Lake Houston."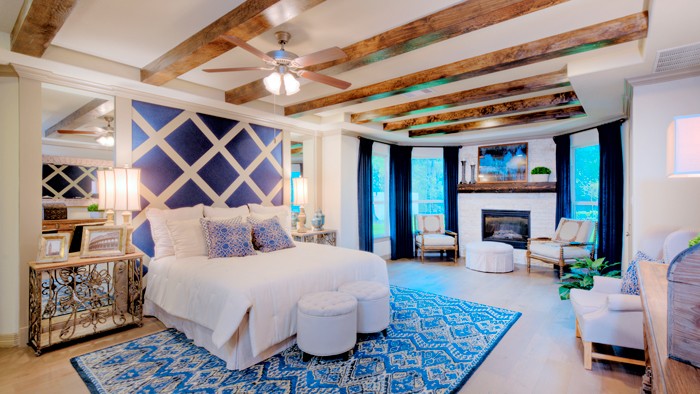 Giving homebuyers options is just one way this community stands out in the market and meet the needs for both growing and established homebuyers. Ellison explained, "We've found that second master bedroom options are popular for multi-generational living. Homebuyers within this community gravitate towards studies, home offices, game and media rooms, as well as additional garage space for boats and personal watercrafts."
Not only do these homes offer an ideal location with unique selections, Taylor Morrison also makes sustainability a priority. "Our homes at Stillwater on Lake Houston are designed and built using sustainable materials with products and practices that increase the energy efficiency of our homes," said Ellison.
The homes at Stillwater focus on energy efficiency through the use of high efficiency 15-SEER systems, programmable thermostats, fresh air ventilation and allergy reducing filter. Water-saving fixtures used include low-flow toilets and shower heads, aerators on all bath faucets and energy efficient water heaters. The builder's sustainable building practices include radiant barrier roof decking, third-party inspections and low-VOC paints.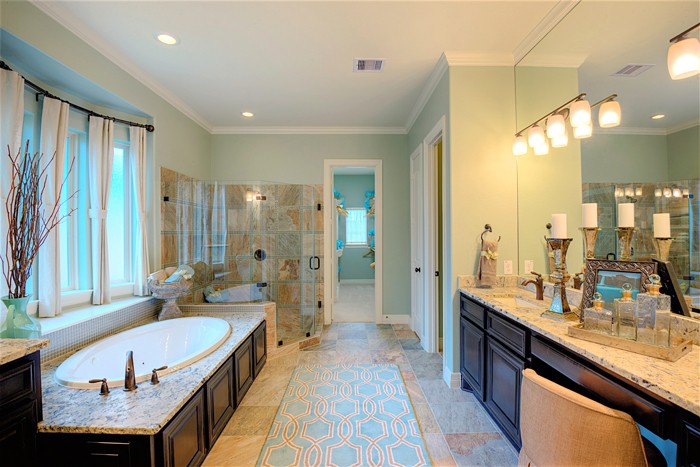 To add value and efficiency, Taylor Morrison is embracing technology by including the Interactive Home 2.0 system in every to-be-built home. The Interactive Home 2.0 offers homebuyers the ability to connect and interact with their home through their personal smart device, showcasing state-of-the-art technology that elevates everyday life. This creates a hands-on experience for the homebuyer during the homebuilding process and puts the control at their fingertips.
Stillwater will also include a small lake in the center of the community and a community recreation center with an open air pavilion and a pool. The playground is under construction and will be completed in late 2016.
Ellison summarizes, "Stillwater on Lake Houston caters to homebuyers who are looking for the security of a gated community, the fun and excitement of living on Lake Houston, and the nearby convenience of shopping, dining and entertainment."
As for future communities by Taylor Morrison, the homebuilder is also currently expanding its 55-plus Bonterra communities with a new community opening in August, Bonterra at Cross Creek Ranch in Fulshear, Texas. This will be Taylor Morrison's second 55-plus community in the Houston metro area and the first gated Bonterra community with waterfront homesites.

Carina Calhoun is the Editor-at-Large for Builder and Developer magazine. She may be reached at ccarina@penpubinc.com.