Landsea Homes Launches Sales for Homes at Alameda Marina
182 new High Performance waterfront townhomes now selling in the Bay Area 
Landsea Homes Corporation (Nasdaq: LSEA) ("Landsea Homes" or the "Company"), a publicly traded residential homebuilder, has officially launched sales at Alameda Marina in Alameda, California.
"Alameda Marina has breathed new life into the Alameda waterfront and we're very excited to officially launch sales for two new neighborhoods, Island View and Waterside," said Marc Rico, Vice President of Sales and Marketing, Northern CA Division, Landsea Homes. "Many homebuyers have been eagerly waiting for these new High Performance townhomes to become available and sales have started out strong. Each home marries elevated maritime living with a modern aesthetic that allows residents to make home their own and 'live in their element'."
A total of 182 townhomes are selling in two different Landsea Homes neighborhoods. Model homes are currently being built and will open in August. Additionally, 15 percent of the homes are offered under the county of Alameda's affordable housing program.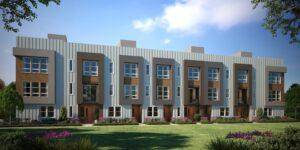 Island View at Alameda Marina includes 98 homes with seven different floor plans ranging from 1,459 square feet to 2,389 square feet. Each home features an outdoor porch and deck and select floor plans offer private roof top deck space with expansive views of the marina. Prices begin in the high $900Ks.
Waterside at Alameda Marina includes 84 homes with four floor plans ranging from 2,189 square feet to 2,744 square feet. Homes include four bedrooms and options for three-and-a-half to four bathrooms. Each home in this neighborhood boasts a private roof top deck space with a waterfront view. Prices begin in the high $1.3Ms.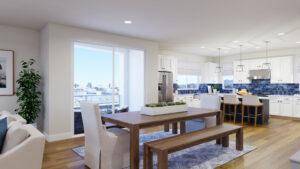 All homes by Landsea Homes at Alameda Marina contain the company's High Performance Home features. Supported by a partnership with Apple®, the homes utilize the Apple HomeKit™ environment to operate all home automation features from one mobile application. The smart home automation features installed and compatible with Apple HomeKit™ include an Apple HomePod mini, entry door locks, thermostat control, garage door opener control, light dimmer switches, doorbell camera pre-wire, and white glove service with an individualized training session.
Buyers are also able to take advantage of Landsea Homes' LiveFlex™ program, which presents the opportunity to transform spaces into whatever a homebuyer's lifestyle may need, whether that's an office or an at home gym.
Residents of Alameda Marina have access to bike trails, walking paths, sprawling parks, standup paddleboarding and kayaking, boating, waterfront dining and other outdoor activities.
Additionally, Landsea Homes has partnered with Alameda Transportation Management Association to provide transportation resources and perks for homeowners of Alameda Marina including but not limited to money to buy a new or used e-bike, instant rental cars via Gig Car, and a guaranteed free ride home from work in the case of an emergency.
With a population of about 80,000, Alameda is located about 12 miles from Oakland via the I-880 freeway, with the Oakland International Airport is just 6 miles to the south. San Francisco is just 18 miles away over the majestic Bay Bridge. The city boasts a robust park system, shopping, restaurants, outdoor recreation, and spectacular views of its neighboring cities along with its Marina Waterfront for an island life experience for residents.
In celebration of its 10-year anniversary, Landsea Homes is commemorating the milestone with a limited-time Anniversary Special. Buyers will receive up to $20,000 to use towards financing to cover closing costs or get a lower interest rate or towards design options and upgrades. The offer runs until July 16, 2023.
Other Bay Area communities currently selling by Landsea Homes include Verandah at Valley Oaks in Novato, Ellis in Tracy and Lavender in Sunnyvale.
For more information about Alameda Marina, visit: https://landseahomes.com/northern-california/alameda-county/alameda/alameda-marina/.
About Landsea Homes Corporation
Landsea Homes Corporation (Nasdaq: LSEA) is a publicly traded residential homebuilder based in Newport Beach, CA that designs and builds best-in-class homes and sustainable master-planned communities in some of the nation's most desirable markets. The company has developed homes and communities in New York, Boston, New Jersey, Arizona, Florida, Texas and throughout California in Silicon Valley, Los Angeles, and Orange County. Landsea Homes was named the 2022 winner of the prestigious Builder of the Year award, presented by BUILDER magazine, in recognition of a historical year of transformation.
An award-winning homebuilder that builds suburban, single-family detached and attached homes, mid-and high-rise properties, and master-planned communities, Landsea Homes is known for creating inspired places that reflect modern living and provides homebuyers the opportunity to "Live in Your Element." Our homes allow people to live where they want to live, how they want to live – in a home created especially for them.
Driven by a pioneering commitment to sustainability, Landsea Homes' High Performance Homes are responsibly designed to take advantage of the latest innovations with home automation technology supported by Apple®. Homes include features that make life easier and provide energy savings that allow for more comfortable living at a lower cost through sustainability features that contribute to healthier living for both homeowners and the planet.
Led by a veteran team of industry professionals who boast years of worldwide experience and deep local expertise, Landsea Homes is committed to positively enhancing the lives of our homebuyers, employees, and stakeholders by creating an unparalleled lifestyle experience that is unmatched.
For more information on Landsea Homes, visit: www.landseahomes.com.