Lennar Graces the Southern California Coast with Spacious Homes of Fiore
In the coastal town of Encinitas, located in sunny San Diego, big builder Lennar recently released the final phase of homes to the public in one of their newer communities, Fiore. Located only a mile and half from the beach, Fiore boasts single and two-story homes aimed toward a move-up or equity buyer market. Part of what makes these homes desirable to that market—other than the prime Southern California location— are their spacious floorplans. Floorplans in the Fiore community range from 2,988-5,164 square feet and have between 4-5 bedrooms and 3-5.5 baths.
"The area is highly desirable and the beach is less than 1.5 miles away, there's great retail, golf and so much more," Division President Jeremy Parness said. "We knew this area was the perfect backdrop for the luxury homes we designed at Fiore and to attract the high-end buyers we were looking for."
All 28 homes in this community are built. The community is made up of single family homes along with multi-generational homes. The multi-generational units are part of Lennar's Next Gen® line.
These floorplans offer a "home within a home," providing a private suite that's complete with its own living and kitchenette area, laundry area, bedroom, bathroom, and private entrance.
This customized layout was designed to be attached and incorporated into the main home's floorplan in a way that gives the unit direct access to the rest of the house, while still providing a private and separate space. The trend of multigenerational homes undoubtedly reflects the broader trend of homebuyers buying move-up homes to accommodate aging parents or boomerang children.
"We designed these spacious homes for buyers looking for open and modern living spaces with high-end included upgrades," Parness said.
"We also included our single-story floorplans for buyers looking for all living spaces and bedrooms on one floor. And our Next Gen®—The Home Within A Home® floorplan is a great option for buyers looking for a home to accommodate their multigenerational family."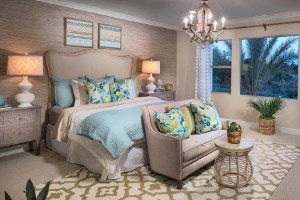 Homes in the Fiore community are stunning, both inside and out. It boasts five different models, all with the architectural detail of the exteriors designed with a Mediterranean-inspired style. Some homes feature arched entry ways and windows, along with stucco roof tiles and large open rectangular floorplans.
An open-concept style layout dons the interior and the amenities included in these homes as part of Lennar's Everything's Included® are high-end, suiting the move-up buyer demographic Lennar was aiming for. "We chose a Mediterranean architectural theme with spacious and open floorplans for a clean feel that would appeal to high-end, luxury homebuyers," Parness said.
"It doesn't get much better than being a mile from the beach, but I think the architecture design is what really makes Fiore stand out. We designed these spacious single and two-story floorplans with comfort and livability in mind and used an architectural style that makes a bold statement."
Amenities include gourmet inspired kitchens with beautiful slab granite countertops, high-end cabinetry and stainless steel appliances that include a refrigerator and wine chiller as standard. Each kitchen comes with a large island to maximize countertop space while creating another area for residents to eat, in addition to the formal dining area and breakfast nooks available in some models.
Five inch baseboards throughout the homes give them an extra level of luxury, and front yard landscaping gives these homes impeccable curb appeal. Each home features luscious carpet in the bedrooms.
Home intelligence systems by Nexia come standard in every home, along with tankless water heaters, central air, energy-efficient windows, programmable thermostats, water conserving toilets, faucets and showerheads, energy-efficient lighting, ENERGY STAR® dishwashers, low VOC interior paint, insulated air ducts and many other features that reduce monthly utility costs for homeowners all the while optimizing overall home quality.
"Our homes are energy-efficient and use products like tankless water heaters to reduce energy consumption throughout the home," Parness said.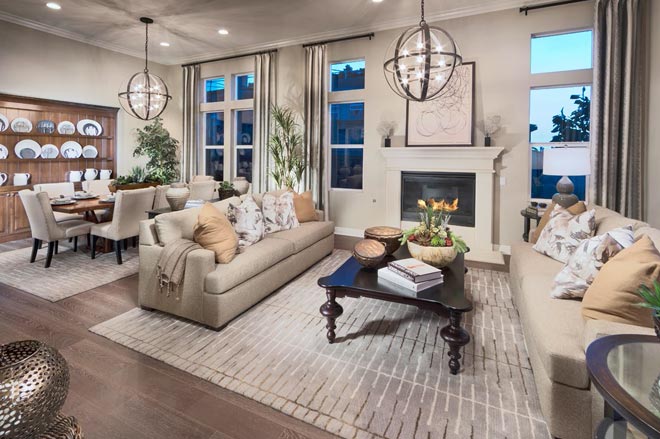 "In addition, at least 50 percent of the materials used to construct our homes are recyclable."
Home automation systems allow for homeowners to have the utmost control of all home features.
"All homes come with Nexia™ Home Automation which allows our residents to control their thermostat, lighting, doors and security cameras from their smart phone wherever they are at any time," Parness added. Home automation also allows homeowners to optimize energy-efficiency throughout their residence.
This community shines within its stunning location. Surrounded by rolling hills, the Fiore community is close to the shops, dining and entertainment options available in downtown Encinitas, and is less than 1.5 miles away from Swami's beach and near the Encinitas Ranch Golf Club.
This charming town features beautiful historic architecture, sidewalk cafes, and quaint shops.
"The San Diego area practically sells itself and has so much to offer our homebuyers. We love building in this area and plan to continue to do so," Parness said.
"We designed a community with elegant homes, luxury features and fine craftsmanship that we will carry with us on future projects." Lennar has recently opened doors for three other communities within the area. Industry experts have repeatedly ranked Lennar as the second largest builder of new homes nationwide.
"Since the opening of Fiore, we've opened new townhomes at Ziani in La Jolla and at Siena and Palermo in our Lake Pointe masterplan in Chula Vista," Parness said. "Most recently, we opened an intimate single family home community called Casero in Carlsbad."
Many of the practices, ideas and products utilized in the Fiore communities proved useful, and Parness assured that some of those practices will show up again in future builds.
"We learn from every new community we build, and Fiore is no exception," Parness said. "We will continue to use many of the features and thought processes we implemented at Fiore on our future communities."
Jessica Burger is the Editor for Builder and Developer magazine. She may be reached at jessica@penpubinc.com.